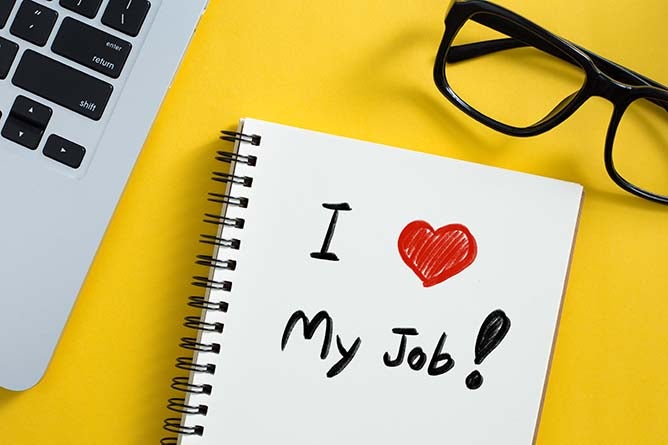 Job satisfaction is one of the primary reasons employees stay in a role. If they don't enjoy going to work every day, they're less likely to stay with the company. People in every corner of the business industry—whether in marketing, sales, operations, or IT—qualify their satisfaction based on how much money they earn and how engaged they are with their job, Entrepreneur claims. The better these are, the more satisfied the employee.
Here's a look at job satisfaction rates in some common business fields.
Accounting.
Every person in the United States must pay income tax. The same goes for businesses. Many organizations rely on accountants to manage this tax information and keep the IRS at bay. In addition to managing financial records and preparing tax returns, accountants advise organizations on ways to keep profits up and costs down.
Further Reading: Why lifelong learning is the key to business success.
While the April 15 tax deadline keeps the first quarter of the year extremely busy for accountants, tax professionals tend to stay busy year-round as they work to meet quarterly business tax deadlines. This fast-paced, engaging job allows professionals to make a financial impact during the busy season and beyond while keeping good work-life balance. That's one of the reasons Monster lists tax consulting and auditing as the top industry for job satisfaction.
But accounting professionals don't just work for corporations and for-profit organizations. According to the American Institute of CPAs, a "happiness researcher" found that accountants employed in higher education and at nonprofits were the most satisfied with their jobs. The biggest reason: they were able to make connections with clients and students.
The U.S. Bureau of Labor Statistics projects that the number of accounting jobs will grow 6 percent by 2028.
Marketing.
Between coordinating and directing strategies, managing internal teams, and overseeing customer communication, marketing managers have a lot of responsibility. In addition to being comfortable with all forms of media, marketing managers must be well versed in sales techniques and must know their product or service inside and out. While marketing managers typically focus on sales and strategy, brand managers, another part of the marketing team, focus on the brand and its customer appeal.
In Glassdoor's report of the top 20 careers with the most job satisfaction, brand manager and marketing manager ranked seventh and thirteenth, respectively. Additionally, the U.S. News & World Report Best Jobs list ranked marketing manager number one in the sales and marketing category and number 31 overall. It also notes that marketing managers generally net high salaries—the median salary is more than $132,000—and have exceptional work-life balance.
According to the Bureau of Labor Statistics, the marketing manager job market will grow 8 percent by 2028.
Operations.
All businesses benefit from a good operations manager, who creates and maintains the systems that enable other departments to run effectively. While specific duties vary depending on a company's needs, generally, operations managers hire, train, and supervise employees, and develop the policies to improve processes and ensure productivity.
There are many pros to being a project manager, such as growing demand, high earning potential, and the ability to work in almost any industry. It's not surprising, then, that the U.S. News & World Report ranks operations manager as the eighth-best business job because of its high median salary (around $100,000), the field's booming growth rate, and excellent work-life balance. It also notes that employment for operations managers is expected to grow 9 percent by 2028.
Sales.
For sales managers, it's all about the bottom line. Whether ensuring that their team makes its goals, handling customer concerns, analyzing statistics, or training sales reps, everything a sales manager does is about maximizing profit, regardless of industry.
According to Copier Career's 2019 Sales Manager Survey, more than half of the sales managers are either satisfied or very satisfied with their careers. Respondents named good health benefits, access to company cars or care service, and the ability to invest in a stock market plan as the most rewarding parts of their jobs. Sales bonuses were also a big reason for job satisfaction.
The Bureau of Labor Statistics projects that 20,600 new sales jobs will up by 2028.
IT.
Spend time in any office and you'll quickly learn how important the IT manager is. Installing and maintaining computer systems and network security while directing a team is an ongoing effort. You'd be hard-pressed to find a business or organization that didn't rely on a good IT department.
IT professionals work in all sorts of organizations: big and small, and in nearly every industry. Notwithstanding budgetary issues, which can prohibit access to necessary resources, Campus Technology's 2017 survey of IT professionals at colleges and universities found that IT professionals were, for the most part, highly satisfied with their jobs. Those who worked at private not-for-profit institutions were slightly more satisfied in their role than those at public institutions, but, overall, respondents felt satisfied in IT because of the industry's growth opportunities. More than 70 percent of respondents reported being satisfied or highly satisfied at work; they were most satisfied with their coworkers (77percent), their equipment (77 percent), and their physical comfort (76 percent).
The Bureau of Labor Statistics expects some IT professions, such as network and systems administrators, to grow at an average or slightly above-average rate; other jobs show higher-than-average growth. Employment for software developers, for example, is projected to grow a whopping 21 percent by 2028.
Business satisfaction.
Work satisfaction remains steady across many business roles, whether emerging positions or tried-and-true careers. No matter which business role interests you, WGU has an online degree program to teach you the skills you need to pursue a successful career.