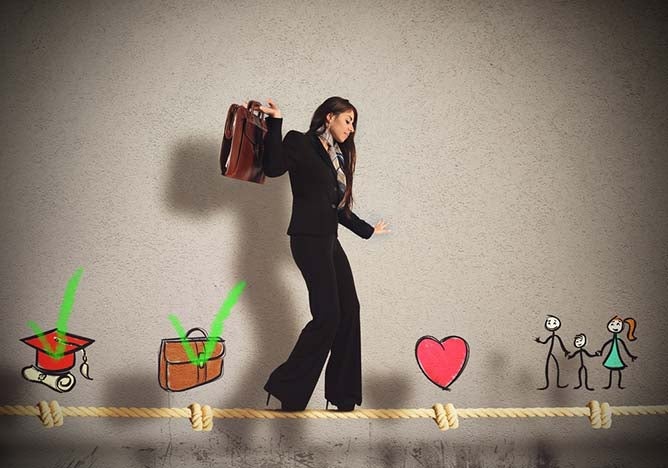 If you're pursuing a college education online, it's likely because balancing family life with work and school is a top priority for you.
While one of the biggest benefits of online learning is the ability to control your schedule, finding the time to balance your studies, your job, and your family commitments can still be challenging, especially as you embark on your educational journey.
Fortunately, there are strategies you can use to reduce stress and keep things moving smoothly.
1. Decide what matters most.
Jeremy Collier earned his master's degree in business administration (MBA) from Western Governors University while he and his wife worked full-time and started a family. Collier knew that earning his MBA was important if he wanted to grow in his career as an internal auditor, so he reorganized his priorities, choosing to focus most of his energy on school and family.
"I put aside my time for the gym and didn't watch as much TV so I could focus on my goal of obtaining my MBA," he said.
2. Set realistic expectations.
Finding the proper balance between school, family, and work means being honest about how much time you have.
"Rather than saying I would finish everything in just a few months, I tried to set realistic goals for completing my courses," Collier said. "I think allowing myself the room to breathe on the timeline made me move a little faster. Not holding myself to too strict of a schedule took some of the pressure off. That actually allowed me to work even faster than expected."
WGU's competency-based approach to learning lets you set the pace of your education. When you are able to set your own realistic expectations, you'll make the most of a competency-based program while setting aside time to dedicate to work and family responsibilities.
3. Stay organized and on task.
Procrastination is a common enemy for distance-learning students—especially if they're in programs that allow them to work at their own pace. So, while it might be tempting to leave assignments until the last minute when your plate is full, setting a schedule and establishing a routine is critical to success. It's easier to complete your work ahead of time than it is to catch up, and following a schedule can free up time that you can spend with family and friends. Plan out big projects on your calendar, and remember to check your email regularly and respond right away.
4. Study when you can.
Staying organized and sticking to a schedule doesn't mean that you have to program your study time during normal business hours. Because his wife worked overnights as a nurse, Collier had to get creative with his time.
"I would stay up pretty late after my son went to bed when I needed to get things done, when my wife was at work, so that I was moving forward on my school a little bit every day, no matter what," he said.
Many online schools are flexible and grant you 24/7 access to your lectures, schoolwork and resources. You can learn on your own time—whether it's 3 p.m. or 3 a.m.
5. Eliminate distractions.
Like Collier, many online students juggle kids and full-time jobs on top of their studies. To avoid getting distracted by your child waking up from a nap or by a phone call from your boss, create a designated study space with the supplies you need to get your coursework done. Set yourself up at the local coffee shop, the library, or your kitchen table—just make sure it's a place where you won't be interrupted.
6. Accept help.
You might not study on a physical campus as an online student, but you're not alone in your studies. Your school offers online resources that help students achieve academic success. The writing center, for instance, can tighten your term papers. And the WGU Center for Student Success can help you improve your test-taking and time management skills.
Just know that it's OK to accept help when dealing with the stress of achieving work-life balance with family needs.
"I didn't have a large support system," Collier said, "but the one I had was a good one."
Earning an online degree requires commitment, but if you're willing to do the work, the benefits are worth it. Take care of your own needs by practicing self-care and accepting that you can't do everything alone. As Collier reminds us, success is about setting realistic goals, so allow yourself time to rest and ask for help when you need it.