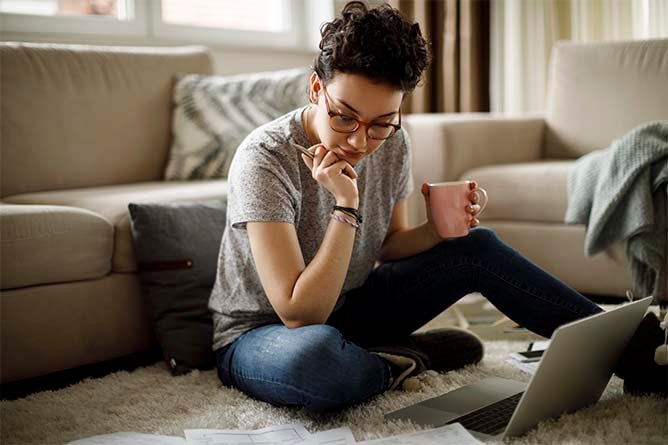 Competency-based education is a style of learning and assessment that puts you—the student—in the driver's seat. Instead of spending a predetermined amount of time completing your coursework, students in competency-based programs move through classes according to their own abilities and experience, advancing when they've proven that they've mastered the material. The flexibility of this approach is especially helpful for students who work full-time jobs or raise families on top of going to school. These students are able to complete coursework on their own terms and time.
So how exactly can you benefit from competency-based education?
1. You can be strategic with your coursework.
In any degree program, students encounter new material that requires more concentration to understand than other material. Competency-based programs let you strategize your pacing: If you take on four classes in a given term, for example, you can speed through classes with material you already know and spend more time on the courses that include difficult or new concepts.
It also lets you spend more time learning things that will directly influence your future career. If you have your sights set on becoming a marketing manager, for example, you can take more time to complete courses on the principles of management, leadership, or project management. Rather than completing coursework on a semester-based schedule, you'll complete courses when you've mastered the material—regardless of whether that takes you two weeks or a full term.
When you become immersed in a course because the material is so interesting and valuable, it's normal to want to spend more time diving into the details. Because you've saved time by flying through the coursework you were already familiar with, you now have time to focus your studies on the material that matters most to you, your interests, and your career.
2. You decide how you learn best.
When competency-based programs are coupled with online learning, as they are in the model employed by Western Governors University, you can study on your own time in whatever way works best for you. Because the details and coursework of your program are based on your individual learning style and your ability to master the material, you get to decide where and how to focus your study time. Though courses vary in terms of the resources they provide, and some (like demonstration teaching in education programs) involve more specific learning approaches, online education generally provides a wider array of options for different types of learners. Do you prefer reading about subjects? Does watching videos help you learn faster? Do you like working with peers who are covering the same material? Is there a particular area of a subject that you'd like to focus on?
It's all up to you. And you always have the option of working directly with Course Instructors and using university services, such as the writing center or math center.
3. You won't break the bank.
Completing coursework strategically on your own terms is a major plus of competency-based education, but it's even better when combined with WGU's flat-rate tuition model. At WGU, you pay the same price each term, whether you're speeding through six courses or focusing all of your energy on the required minimum.
Here's where strategy is key. If you're on the path to becoming a cloud and systems administrator, for example, you might already have some background knowledge in IT fundamentals, like the basics of application, coding, and web development. You can work with your mentor to determine how to arrange your courses in order to use your time efficiently and build momentum to carry you through your program. And if you decide to add more courses to a given term, you won't pay additional money thanks to WGU's flat tuition rate.
4. You graduate when you're ready.
You likely started your degree program to learn new things, hone what you already know, and gain the credentials that will help you land your dream job. A competency-based program allows you to do all these things and manage your time and coursework strategically. And when you finish the program, you're done. It doesn't matter what courses the other students in your program still have left, because they've set their own educational strategy. What does that mean for you? It's graduation time!
When you consider the many benefits of competency-based learning, it's an easy choice. Look for an online program that offers competency-based education—like WGU—today.