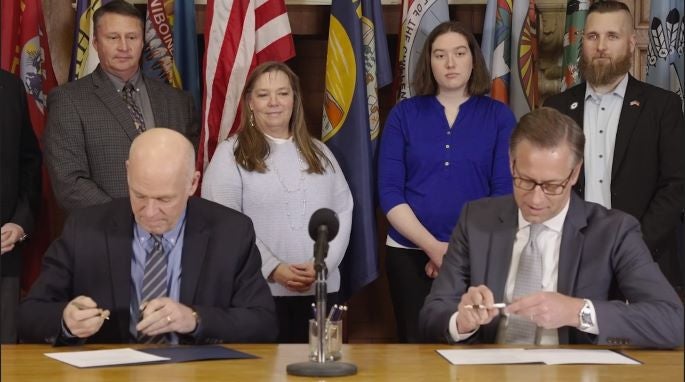 By WGU Team
In December, the State of Montana partnered with Western Governors University to increase affordable access to higher education for the people of Montana.  
Montana Governor Greg Gianforte and WGU President Scott Pulsipher signed a memorandum of understanding (MOU) to expand workforce development options for Montanans who need additional education to thrive in the state's evolving economy.
"We want every Montanan to reach his or her full potential," Governor Greg Gianforte said during the MOU signing ceremony at Montana's State Capitol. "Trusted partners like Western Governors University ensure all Montanans have access to the workforce training and education they need to succeed, regardless of where they live. Today we reaffirm and grow our 25-year partnership with WGU."
Under the MOU, Governor Gianforte and the Montana University System are expanding eligibility of state financial assistance for higher education to WGU's students in Montana. 
Furthermore, the agreement directs the Montana Department of Labor and Industry to implement appropriate and effective methods to promote online, competency-based education opportunities like those that WGU Montana will provide to dislocated workers, veterans, underserved populations in need of additional education and degrees. 
The partnership supplements the learning opportunities available through Montana's public colleges and universities and will, in part, support the estimated 120,000 Montanans that have some college but no degree. 
For its part, WGU has established a $400,000 Montana Opportunity Scholarship, which will support 100 students with up to $4,000 in annual financial aid. WGU Montana will also work with the Montana University System to provide seamless transfer and articulation for students between WGU and the state's community and two-year college and collaborate with employers and employer organizations in Montana to meet workforce needs.
Nearly 80% of WGU students in Montana are from one or more historically underserved populations, including large numbers of rural residents, first-generation college students, and those from socioeconomically disadvantaged households. Montana WGU students have a median age of 34 and 88% of students are employed—mostly full-time—while enrolled in degree programs. WGU has the experience and track record to help boost Montana's efforts in supporting postsecondary learners, especially working adults who need flexible and affordable pathways to opportunity. 
To learn more or to apply for the WGU-Montana Partnership Scholarship, visit wgu.edu/montanapartnership.