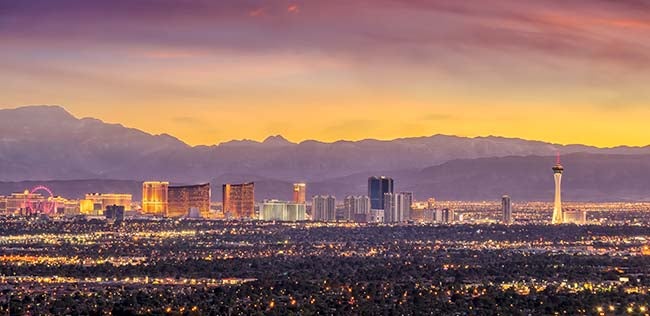 The job market in Las Vegas in 2020 is a tale of two cities. The pandemic has devastated job growth in the hospitality and tourism sectors, NBC News reports, but other professional sectors have rebounded and are starting to add jobs.
To say it's been a difficult year is an understatement. According to the Nevada Department of Employment, Training, and Rehabilitation (NDETR), Las Vegas lost more than 127,000 jobs between September 2019 and September 2020. But not all jobs are created equal. In September 2020 alone, the NDETR reports, the job market in Las Vegas saw an increase in 4,500 jobs in two areas that the U.S. Bureau of Labor Statistics (BLS) considers supersectors.
1. Professional and business services.
According to the NDETR, the professional and business services sector added 3,400 jobs in Las Vegas in September 2020. The BLS breaks down the supersector into three subcategories.
Professional, scientific, and technical services.
These are jobs that are highly technical or scientific and require a high degree of expertise and training, according to the BLS. This sector includes legal services, computer services, computer systems design, consulting and advertising services, and more. Earning a bachelor's degree or a master's degree in information technology will provide you with the know-how and the industry-leading certifications that could open the door to flexible but stable jobs.
Management of companies and enterprises.
This sector comprises operations management, accounting and auditing, financial management, and corporate management and leadership, the BLS says. Professionals in these jobs perform essential business activities in the course of administering, overseeing, or managing companies. A bachelor's degree in accounting or business management or master of business administration are the kinds of advanced educational credentials that are often required to start climbing the career ladder in this sector.
Administrative and support and waste management and remediation services.
Organizations that perform routine support services for the day-to-day operations of other organizations slot into this sector, the BLS says. Those services can include office administration and hiring and placing personnel; a bachelor's degree in human resource management or a bachelor's in business management could help you find a steady job with one of these companies—or help you start your own.
2. Education and health services.
In September 2020, Las Vegas's education and health services supersector added 1,100 jobs. The BLS breaks down this supersector into two categories.
The BLS definition of the educational services sector covers several different job categories, each of which require professionals to deliver some sort of instruction or training. Teachers in K–12 schools are the most obvious examples, but this sector can also cover teaching and adult training jobs in higher education settings and in adult training centers, teaching special education, or working in an administrative role as a principal or assistant principal. These jobs can come with high-quality benefits and provide some of the most fulfilling work out there if you have a passion for helping others learn and reach their potential.
Teaching often requires at least a bachelor's degree, and in Nevada, you'll also need to fulfill state-specific licensure requirements. A master's degree is often required for subject-specific certifications, such as special education, mathematics, and high-school level instruction.
Healthcare and social assistance.
Healthcare jobs are staffed by professionals who are highly trained and have specialized expertise. These jobs are "defined based on the educational degree held by the practitioners included in the industry," the BLS says. Specific jobs include registered nurse, home health aide, hospital or medical services manager, vocational nurse, and nursing informaticist. Because of the specialization required to perform each job, the educational degree programs and requirements can differ quite a bit.
The road to economic recovery is still very uncertain. But if you're seeking a new job, looking to change your career, or just out on the job market in Las Vegas, look into these rebounding sectors. If one sparks your interest, start researching degree programs and making a plan for your education.