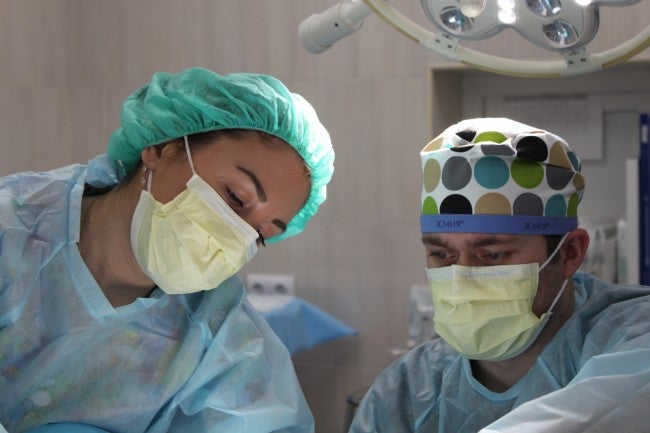 For those interested in pursuing healthcare careers, there are a wide variety of options that you can choose from. And some of the options seem really similar. For example, a nurse anesthetist and anesthesiologist. What are the differences between these two similar positions? While it may seem that they're pretty similar, the reality is that these two career paths are very unique. 
Certified registered nurse anesthetists (CRNAs) are the nurses that work independently to administer anesthesia, or may collaborate with and assist doctors, dentists, surgeons, and other medical professionals in anesthesia administration.
Anesthesiologists are physicians that specialize in the administration of anesthesia.
The major difference between these two professions is that anesthesiologist are medical doctors that administer anesthesia, while nurse anesthetists are registered nurses who may assist or collaborate with doctors in administering anesthesia, or may work entirely independently as they administer anesthesia. 
This guide will dive deeper into the differences between these two healthcare professions, their salaries and job requirements, and their career paths. 
What is a nurse anesthetist?
What do certified registered nurse anesthetists do?
Nurse anesthetists are critical members of medical care teams. Their actual role and responsibilities may vary based on the state where they are certified, but some of their job responsibilities may include:
Providing pain management

Assisting physicians with anesthesia administration

Overseeing patient recovery

Performing epidurals or spinal blocks

Providing care before, during, and after anesthesia

Being up-to-date on patient medical history to ensure anesthesia is safely administered

Discussing anesthesiology side-effects with patients

Monitoring vital signs during procedure 
In many areas, nurse anesthetists are the main providers of anesthesia. Certified registered nurse anesthetists can work in a wide variety of settings including hospitals, surgical centers, outpatient care centers, offices of dentists or plastic surgeons, U.S. military medical facilities, and more.
Earnings and career outlook for CRNAs.
Nurse anesthetists are highly trained and skilled, which means they are well-compensated. CRNAs can expect an average annual salary of about $189,000 or $90 per hour. This is much, much higher than the national average salary, and is one of the highest paying jobs for nurses. This is largely due to the high skill-set certified registered nurse anesthetists need in order to do this specific nursing job well. They are responsible for patient safety during important surgical procedures, and their work in surgery or pain management is vital to patient success. The location where you work, the nursing education you have, and your nursing experience will greatly influence your average salary as a CRNA.
The demand for nurse anesthetists is expected to grow 26% by 2028, much faster than average job growth. The field is seeing high demand as medical practices advance and more surgical and pain management options become available. There is also a nursing shortage around the country, meaning highly trained nurses like nurse anesthetists are difficult to come by. 
Requirements to become a CRNA.
The first step to becoming a CRNA is to get a bachelor's degree in nursing (BSN) and be a registered nurse (RN). WGU has options for current registered nurses to obtain their BSN, as well as options for nursing hopefuls to earn their BSN and be prepared to become an RN. Once you've become a nurse and obtained your degree and registration, you'll need at least one year of experience as an RN before you can continue with your education. You'll likely need experience in an acute care setting, like the ER or ICU, in order to have the experience you need to progress toward becoming a CRNA.
The next step to becoming a CRNA is to get a master's degree or higher from an accredited nurse anesthesia program. This usually takes 2-3 years. After you've obtained that degree, you'll need to take and pass the National Certification Examination through the National Board of Certification and Recertification for Nurse Anesthetists (NBCRNA) in order to be licensed and eligible to work as a CRNA. Every two years you'll have to prove that you've had 40 hours of continuing education in order to keep your CRNA license.
While there is a lot of work and education that goes into becoming a certified registered nurse anesthetist, for most it is well worth the time and effort. It is a great, high-paying profession that allows you to help patients heal and feel better every day.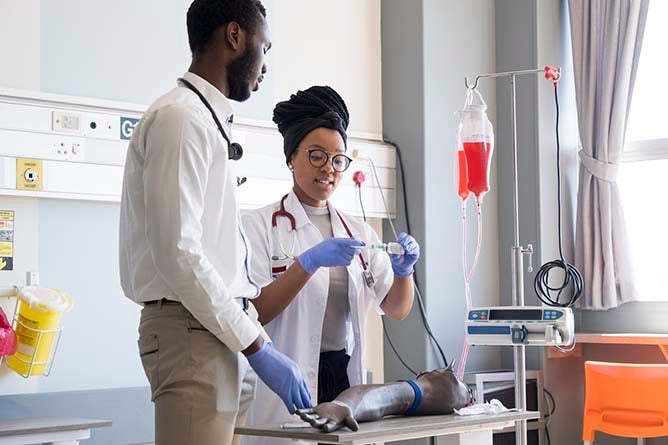 What is an anesthesiologist?
What do anesthesiologists do?
Anesthesiologists are physicians who administer drugs that reduce or completely eliminate pain before, during, or after a medical procedure or surgery. Their job description includes:
Administering epidurals, anesthesia, spinal blocks, and more

Monitoring patient vital signs during surgery or procedures

Supervising anesthesia assistants and CRNAs

Approving general, sedative, regional, or local anesthetics

Reviewing medical files and lab results

Informing patients the side effects of anesthesia

Complying with medical and hospital regulations
Anesthesiologists are in charge of helping reduce and remove pain and complications that are associated with surgery or medical procedures. 
Earnings and career outlook for anesthesiologists.
As medical doctors, anesthesiologists have an incredibly high pay. They earn an average annual salary of $261,730 per year, or $125 per hour. Doctors in general have a much higher pay than the national average because of all the extensive schooling and training that they require. The location where you work and your experience will directly impact how much you can make as an anesthesiologist. 
The job outlook for anesthesiologists is 15% growth by 2026. That's double the pace of the national average for job outlook. As healthcare needs continue to grow, as medical procedures and surgeries continue to become more safe and a good option for healing, anesthesiologists will continue to be in high demand.
Requirements to become an anesthesiologist.
Anesthesiologists have an extensive amount of educational requirements. They must begin with a bachelor's degree in a science field. After getting an undergraduate degree, students must attend medical school. They can either become a Medical Doctor (MD) or a Doctor of Osteopathy (DO). After graduating from medical school, anesthesiologist hopefuls complete a one-year internship learning about anesthesiology. They then have a three year residency in anesthesiology. After this residency program, students often spend a year or more in a fellowship program to learn an anesthesiology subspecialty. Subspecialties include cardiac, pediatric, neurologic, obstetric, pain management, or critical care. The final step to become an anesthesiologist is to pass the American Board of Anesthesiology Exam. Becoming an anesthesiologist will require extensive schooling, training, and study.
Choosing the right career path for you.
After learning about both of these career paths, you may wonder which one is the best fit for you. There are key differences between these two career paths, including the major job responsibilities, salary, and education requirements. If you're interested in anesthesia and pain management and are torn between these two career paths, it may be valuable to consider how much time you have to give to schooling, your current healthcare experience, and what your future career goals are.
Making a career game plan.
It's important to create a clear, but flexible, plan for your career in the future. It's important to understand the career options you're interested in and how they can fit into a career game plan. If you know what you want and the options you have for getting there, you're much more likely to meet your goals. Spend time setting goals, reflecting on your past and future, and utilize those things to help you create an actionable game 
Plan.
Whatever path your career takes, a bachelor's degree is a key place to start. A bachelor's degree will help you learn about the things you're good at and the things you enjoy, which can aid you in deciding what your future career goals will be.