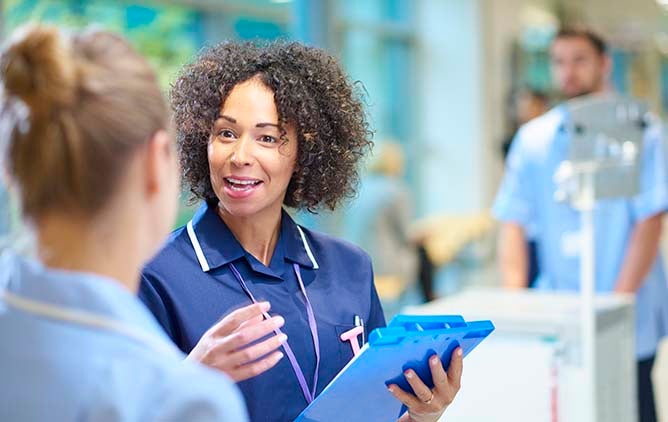 Nurse matron might be one of those nursing roles that's less familiar to American ears, as the term is much more common in the United Kingdom. Chat with any UK-educated nurse, though, and they'll have distinct memories of their matrons.
A nursing role on two sides of an ocean.
In the UK, matrons have long been highly respected, as the role carries great responsibility. Matrons are expected to hold at least an undergraduate degree in nursing. They oversee and lead teams of nurses in hospitals or clinics, and they ensure that patients receive the best possible care. They are also responsible for infection control and cleanliness, and other responsibilities as required.
Further reading: How my BSN degree changed my career and life.
In the US, the matron is most analogous to the clinical nurse manager, an experienced nurse who manages one or more care teams. These nurses are almost always at least bachelor's-prepared, and they're often required to hold a master's degree in nursing.
Required experience.
Matrons and clinical nurse managers are often expected to have some leadership experience in addition to extensive clinical experience in order to move into this role. Many charge nurses ascend to this role, but some organizations will hire bachelor's-prepared nurses who have excellent leadership skills and are willing to learn on the job.
Common responsibilities.
These nurse leaders schedule staff, manage patient assignments, and track admissions and discharges. They are information and teaching resources for their departments, and they ensure that those departments run smoothly.
They participate in planning their department's budget, oversee accounting, and assist with the preparation of financial reporting. They resolve staff and patient care issues. They also meet with peers from other departments and collaborate as needed on projects to enhance organizational efficiency.
Required skills.
Matrons need to be excellent clinicians, but they must also be good communicators to manage people effectively and find creative solutions to problems. The staff in a nursing department looks to its matron for leadership with clinical challenges, staff disputes, issues with patients or their families, and any difficulties with supplies or equipment.
Matrons must also be able to interact professionally with physicians who have issues with a patient's care or who might require special equipment or have other unique needs. Matrons must be flexible to face these challenges with competence.
A matron's average day.
The average day for a matron is not unlike any department manager's average day. They must wear numerous hats—but the key difference is that human lives are directly affected by their decisions. They must manage their staff's expectations while supporting their physicians and patients, all of whom have different but equally important needs.
Matrons must be detail-oriented to ensure that they provide leadership and give their best effort no matter the circumstances. The days are long, and it's difficult—if not impossible—to please everyone they work with. Matrons answer to nurses, patients, physicians, and the executives who manage the facility or organization. But it can be tremendously satisfying to develop a department that works well and takes pride in being a cohesive unit.
Whether you know them as matrons or clinical nurse managers, the people who work in this nursing role shoulder great responsibility in their medical facility. Nurses with strong leadership skills, medical experience, and education could find a rewarding opportunity for career growth in this position.