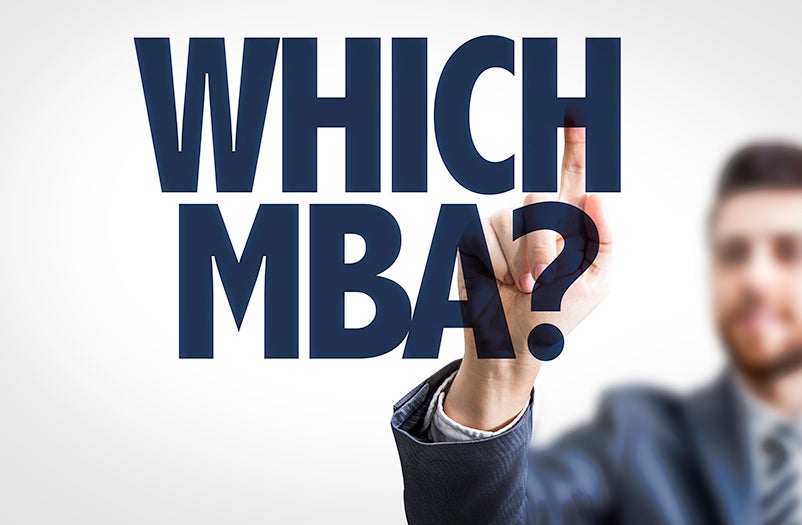 As a working professional, you have probably assessed the benefits of earning an MBA. Perhaps you have researched schools offering a top-notch curriculum applicable to your specific goals and interests. Maybe you have even dared to dream of a career trajectory that lands you in the rarefied air of an executive office and its corresponding long-term earnings potential. And yet... you just haven't been able to make the numbers work in your favor.

You're not alone. Applications for traditional, two-year MBA programs are on the decline, and many top-tier business schools, from well-known public and state universities to a number of revered private colleges have either shut down or are in the process of assessing the viability of their graduate business degree programs in an increasingly ambivalent marketplace.
Whether it's the idea of committing two years of your life to rigid class schedules or the prospect of taking on the considerable expense of a graduate-level program, pursuing an MBA is ultimately a big decision, and you're wise to consider all your options. Fortunately, there are not only realistic alternatives, but an ongoing and steady demand for career-focused professionals with sharply honed entrepreneurial strengths, strategic insights, decision-making expertise, and management potential.

The case for hire learning.
Global economies and flourishing job markets have created stiff competition in almost every industry for anyone recruiting the most promising executive talent. In fact, 96% of employers say that hiring recent business school graduates creates value for their companies, according to the Graduate Management Admission Council (GMAC), a non-profit organization of 220 leading graduate business schools from around the world. In its recent Year-End Poll Report, GMAC® also found that:
Recruiting MBA graduates is a priority for 71% of employers.
58% of employers expecting to hire MBA graduates plan on increasing their starting annual base salaries either at or above the rate of inflation.
Nine of every ten companies surveyed have internship programs, and 66% of these organizations plan to offer internships to MBA candidates.
Thus, while some traditional MBA programs may be in decline, the MBA credential itself remains meaningful and relevant in today's job market. Forward-thinking manufacturers, nonprofits, and government organizations continue to value accomplished professionals who have strong communication skills, demonstrable leadership experience, and collaborative problem-solving abilities.    
Crunching the numbers on MBA value.
The reasoning and justification for earning an MBA are many and varied, but the deciding factor usually comes down to money and the realistic long-term earning potential associated with adding this advanced credential to your resume. According to a Forbes magazine article, which cites GMAC's 2015 survey of corporate recruiters, more than half of employers will increase starting salaries for new MBA hires. And Ronald Yeaple, who studies and writes about the economics of earning an MBA degree, recently found that graduates can expect "substantial increases in pay after earning an MBA, suggesting that for most students an MBA degree from a quality school is a good investment."
The key question when evaluating the ROI of an MBA therefore isn't whether or not earning one will help you make more money, but whether you'll make enough extra to justify what you'll pay to earn it. The typical MBA candidate in a traditional program can accumulate between $100,000 and $200,000 in debt and expenses in the two years required to complete the program. That means you'll need a lot of future promotions, career mobility, and salary increases to justify the cost of your education. Unless, of course, you can find a more cost-effective way to earn your degree.
Finding a better way to MBA.
A respected, high quality MBA curriculum could teach you how to finance, build, and manage a successful business. But do you need to sacrifice 2 years out of your life and a small fortune to get it done? For working professionals in particular, that's a tough call.
Many MBA applicants seek advanced knowledge and skills that can take their careers in an entirely different direction. Others have set their sights on companies that require an MBA for upper management positions. Many like working for their current organizations but have hit a ceiling that keeps them from being promoted. For most business professionals, it's impractical to go back to school full time. Even part-time and executive MBA programs often have rigid class schedules that can wreak havoc on your personal life and professional responsibilities.

So, what are your options? A few innovative educational institutions, such as Western Governors University, have disrupted the landscape of online education by becoming more sophisticated in the way they use technology. As GMAC® reports, "At the very center of a graduate business education is an optimistic individual looking to improve his or her future. It is imperative for graduate schools of business to find new ways to enhance their current value proposition to ensure it remains meaningful and relevant to the future lives of students who pass through their doors."

If you could earn a highly respected MBA without disrupting your current lifestyle and responsibilities, complete your degree in as few as six months, and spend under $4,000 per term, your next big career move could be a lot closer than you think.

Making the right connections.
Your next employer will care far more about your capacity to bring value to the organization than where you earned your MBA. One good measure of a high-quality program is how previous graduates have fared in their professional pursuits. GMAC® reports that career outcomes are a key factor in candidates' school selection decisions, ahead of other factors such as costs, specific program aspects, curriculum, school culture, and class profile.
As long as you choose an accredited institution of higher learning, you'll find yourself on solid ground and in good position to achieve the career growth, personal development, and financial well-being you seek. In fact, according to Forbes, one of the best kept secrets in higher education might just be a surprisingly affordable online MBA program with a strong reputation for focusing on management, strategy, and teamwork.

Shop around; after all, going back to school can be a life-changing decision. Consider pursing your MBA online from a respected, nonprofit school, like Western Governors University, which holds the same regional accreditation standards for educational quality and institutional effectiveness as some of the most prestigious universities in the country. Look for a curriculum that challenges you to work with a real-world organization to develop a solution to a business problem. Choose a competency-based program that empowers you to take the most efficient path to complete your studies by letting you progress more quickly through material you already know.

Perhaps most importantly, find a school that supports your goals and dreams, and you'll be well on your way to achieving your true potential in this global business environment.