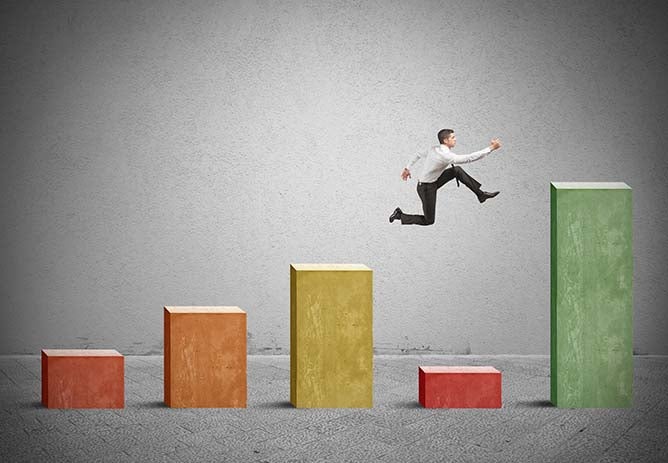 In business, being recession-proof is important. Just ask the people who experienced the Great Recession. A December 2019 report from the National Association of Business Economists puts the chance of an economic recession—when the value of goods and services produced declines in successive quarters, according to The Motley Fool—by the end of 2020 at 43 percent. Though that's down from the 60 percent odds set in spring 2019, the risk nonetheless highlights the need for business students to set their sights on stable careers.
Let's look at some of the most recession-proof jobs in the business world.
Recession-proof jobs in accounting.
The financial services sector is one of the safest places to be in a declining economy. No matter how the economy looks, individuals and businesses need to file taxes, and they often rely on accountants—particularly certified public accountants (CPAs)—to prepare them. Businesses also hire accountants to help file their quarterly taxes and ensure the correct federal income, Social Security, and Medicare withholdings from employee paychecks.
Auditors also prepare financial documents and examine business records, and they're also necessary in sagging economies. Internal auditors (i.e., those who work directly for a company) and external auditors (i.e., auditors who are contracted through a third party) prevent fraud by reviewing financial statements, and they also identify and reduce wasteful spending.
According to the Bureau of Labor Statistics, the projected job growth for accountants and auditors is 6 percent, which is about on pace with average job growth rate. The Bureau of Labor Statistics also expects globalization to increase the need for accountants with knowledge of international trade and mergers and acquisitions.
Recession-proof jobs in healthcare administration.
People are living longer, and, as a result, they're experiencing additional healthcare challenges and requiring more care. This improves job security for healthcare professionals such as doctors and nurses, and it also makes jobs in healthcare administration a little more recession-proof, too.
Healthcare administrators coordinate and direct the administrative side of healthcare settings, including physicians' offices, nursing care facilities, and hospitals. They're part of a booming industry, even in an economy facing a decline; the Bureau of Labor Statistics expects 18 percent job growth by 2028.
Health information technicians review patients' medical records and oversee data for clinical databases and registries. Thirty-four percent of health information technicians work in hospitals, according to the Bureau of Labor Statistics, but they also work in physicians' offices and nursing care facilities. Like healthcare managers, projected job growth for health information technicians is high: the Bureau of Labor Statistics estimates 11 percent growth by 2028.
Preparing your career for economic changes.
Thinking about a potential economic recession can be scary, but being prepared for one is key to career survival. Whether you work in finance, healthcare, or some other business field, you can take some concrete steps to help protect your career from a recession.
Keep learning. Build your skill set by taking a continuing education class—or by finally going for your MBA. An MBA provides you with the business knowledge and experience to stand out in any field.
Build your reputation. Even if your job is secure for now, being a reliable employee can protect you from future layoffs. Keep a positive attitude, volunteer for projects when appropriate, and nurture your office relationships.
Make connections. Building your network could pay off if you need to find another job down the road. Keep your LinkedIn profile and résumé updated. Attend as many free networking events in your area as you're able to build your contacts.
Economies run in cycles—it's not a matter of if another recession strikes, but when. Keeping your knowledge base fresh and maintaining good habits can help you safeguard your career against the slings and arrows of economic turmoil.