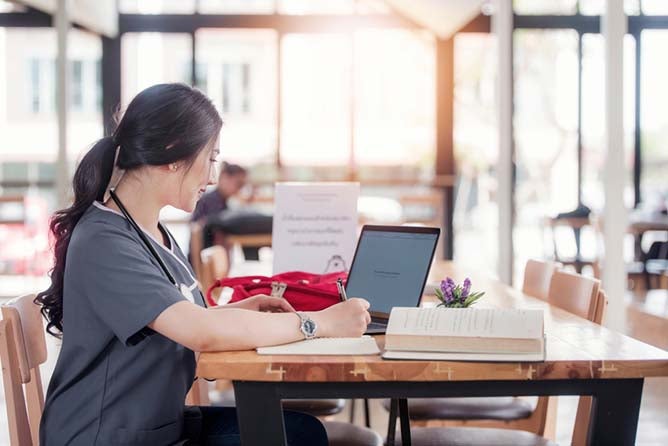 Changes in the healthcare industry, the insurance industry, and technology over the past decade-plus have encouraged nurses to advance their educations—so much so that the Institute of Medicine dedicated an entire section of its 2010 report The Future of Nursing: Leading Change, Advancing Health to nursing education. In the section, the Institute of Medicine recommended that at least 80 percent of working nurses obtain a bachelor's degree in nursing (BSN) by the year 2020.
While some nurses pursue a BSN directly out of high school, a large percentage of today's nursing workforce became registered nurses through a nursing diploma program or by earning an associate degree in nursing (ADN). Thanks to RN-to-BSN online programs, many of these individuals are able to earn their BSN from the comfort of their own homes, around their existing work and family life schedules.
How do you know if getting a BSN online is right for you? Exploring the differences in opportunities between registered nurses and nurses with BSNs may help your decision.
RN, BSN—What's the difference?
RN diplomas and BSN degrees are a lot alike, and RNs and nurses with BSNs are each prepared to practice in a variety of healthcare settings. Each program requires you to take the National Council Licensure Examination. Their curricula are alike, too, with special emphasis placed on biology, psychology, and basic pharmacology. And each program involves clinical practicums or internships, where students work alongside licensed nurses in hospitals, private practices, and other medical facilities.
Their differences, however, are much more significant. You can qualify to become an RN through an ADN program, which usually doesn't take as long to obtain as a BSN. An ADN may take two or three years; most programs enhance the learning experience through classes such as pediatrics, behavioral health, and nursing fundamentals.
A BSN program expands on the knowledge imparted through an RN program. Most BSN programs tackle more complex and specialized subjects, such as leadership, management, and informatics, and usually take 18 months to two years to complete in brick-and-mortar programs. 
Some RN-to-BSN online programs, though, can be completed in as little as one year.
Online programs build on the knowledge you already have and develop your skill set and expertise. This prepares you for a wide range of opportunities within the field of nursing, including many advanced nursing roles.
Opportunities abound with BSN.
While RNs and nurses with BSNs typically have the same opportunities at the beginning of their careers, BSN-equipped nurses are better able to transition into advanced nursing roles or roles outside patient care. Your BSN is a stepping stone to more responsibility within your practice, and it's a necessary requirement for any postgraduate degrees, like a master's in nursing informatics or a master's in health leadership. Many employers prefer, and often require, nurses to have a BSN to work in specialized areas of nursing, such as addictions, surgery, genetics, and neonatology.
An increase in professional opportunities isn't the only perk of earning your BSN. You can make more money, too: recent statistics from the American Association of Colleges of Nursing show that RNs earn an average of $66,620 per year, while BSN-prepared RNs earn an average of $75,484.
Juggling school, work, and life.
The choice to enroll in an RN-to-BSN online program is yours alone, but there are definitely benefits to doing so. Even though it means returning to school, these types of programs can usually be completed quickly, even while you're still working. You get to keep making your regular income, and you put yourself in a better position to make more money and take on greater responsibility.
But it can be difficult to balance your studies, your job, and your responsibilities to family and friends. Fortunately, RN-to-BSN online programs give you the flexibility to complete coursework on your schedule. If you have difficulty managing work and school, however, you may need to talk with your nurse manager about changing your work schedule or reducing your hours. Many employers are eager to help students maintain their work and school schedules, especially if you plan to stay with your employer after finishing your degree.
It's also important to set aside time to be with your family outside of work and school. Self-care should be a top priority, but it's easy to neglect yourself when you have a lot of work to do. If you find yourself feeling stressed or overwhelmed, healthy coping mechanisms—such as exercise, deep breathing, coloring, and spending time with loved ones—can help put things in perspective.