Best Online RN to BSN Program
What Is the Best Online Degree for Nursing?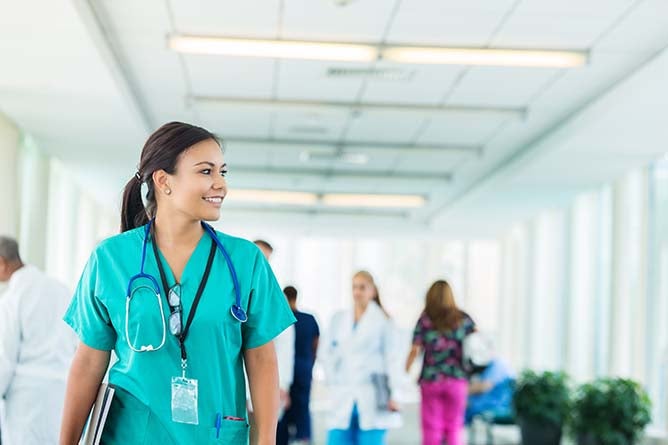 Many current registered nurses are looking to pursue higher education and earn their BSN. And an online BSN program can be ideal for many of these nurses. An online program allows current registered nurses to continue to work full-time while pursuing their degree. They can utilize their experience and knowledge to transfer credits and accelerate their courses to graduate even faster.
In an RN to BSN program you will learn about nursing theories and practice, evidence-based practice, leadership, and more. A BSN is wanted by more hospitals looking to meet Magnet status, and makes nurses more valuable and credible in the workforce.
But not all online BSN programs are created equal. It's vital to research carefully when comparing BSN programs to determine which one is really the best fit for you. 
Best Online School for an RN to BSN Degree
Research is critical as you compare online RN to BSN degree programs. The cost of the program, course offerings, graduation times, and more are all important when doing your research. Additionally, it's valuable to understand the ROI of a degree and if a school is prepared to do online education at scale. Compare top RN to BSN programs here to decide which one will meet all of your needs. 
---
1. Western Governors University
Exclusively Online Students: 136,139
Tuition: $6,670 per year

Exclusively Online Students: 25,245
Tuition: Not Available

3. University of Phoenix—Arizona
Exclusively Online Students: 93,777
Tuition: $9,552 per year

4. Colorado Technical University—Colorado Springs
Exclusively Online Students: 26,143
Tuition: $12,529 for the 9 month program

5. Arizona State University—Skysong
Exclusively Online Students: 43,721
Tuition: $10,806 per year

6. Southern New Hampshire University
Exclusively Online Students: 106,703
Tuition: $31,136 per year

Exclusively Online Students: 37,859
Tuition: $14,540 for 9 month program

Exclusively Online Students: 48,420
Tuition: $12,150 per year

9. Chamberlain University—Illinois
Exclusively Online Students: 25,244
Tuition: $19,900

10. Purdue University Global
Exclusively Online Students: 37,757
Tuition: $8,037 per year

Our goal in this ranking is to objectively look at how many online university programs compare to one another. This is why we have used third-party data to help us reach our conclusions about programs we rank. 
Data sources:
Explanation and requirements for ranking:
Universities were ranked on their ROI ratio. The ROI ratio is a comparison of two-year post-graduation earnings and student debt at graduation. High ROI is better.
Universities must offer four-year degree programs to be considered
Universities had to have non-zero debt and earnings numbers.
We chose to include only online universities by only including schools that have at least 90% of their total student population be exclusively online. This eliminates brick and mortar institutions with online programs from our ranking.
We chose to include only institutions that are doing online education at scale because we believe this is a better experience for students pursuing an online degree. We chose to only include institutions that had at least 15,000 total online-only students for this reason.
The use of the word "best" is subjective, but we are using the term based on the ranking methodology explained above, and in a way that reflects WGU's values.
Learn about WGU's RN to BSN Program
If you're an RN looking to earn your BSN, WGU's program could be the perfect fit for you. Our online program is designed to work within your busy schedule and give you opportunities to implement what you're learning into your work immediately. You'll be able to utilize your credentials to help your hospital obtain Magnet status, get a promotion or a raise, and better care for the patients you interact with. Learn more about the specifics of our program to see if it's the best fit for you.
Nursing (RN-to-BSN Online) – B.S.
An online BSN degree program for registered nurses (RNs) seeking...
An online BSN degree program for registered...
An online BSN degree program for registered nurses (RNs) seeking the added theoretical depth, employability, and respect that a bachelor's degree brings:
Time: 66% of graduates finish within 18 months.
Tuition and Fees: $3,795 per 6-month term, plus a Health Professions Student Fee of $350.
Transfers: On average, students transfer 81 credits.
With over 35,000 BSN alumni, this is one of WGU's most popular online degree programs. View our RN to BSN degree guide.
If you don't currently have an RN and don't qualify for your nursing prelicensure program, consider getting our Bachelor's Degree in Health Services Coordination instead. This degree allows you to work inside the healthcare industry in a unique way.
College of Health Professions
---
---
This guide is designed to give you information about common nursing terms RN and BSN, and help you determine if an RN to BSN degree program is a good option for your education. 
What is an RN?
An RN is a certification that states you are licensed and registered with your state and can practice nursing. Nurses obtain their RN status by attending an associate degree or bachelor's degree program, as well as passing specific tests and meeting state certification requirements. Registered nurses work in doctors offices, hospitals, clinics, public health centers, schools, and more. RNs can also specialize, gaining more credentials and skills to work with certain types of patients.
What is a BSN?
A BSN stands for Bachelor of Science in Nursing and is a bachelor's degree program that can help those who are wanting to become a registered nurse, or give current nurses additional credentials. BSNs are increasingly becoming more necessary for registered nurses as more hospitals are looking to hire nurses who have a BSN. A BSN for those who are not yet nurses takes about 4 years to complete and will help you obtain your nursing license. For current nurses a BSN may only take 2-3 years to complete.
What is the difference between RN and BSN?
The difference between RN and BSN is the level of education received. Someone who is a registered nurse may not have a bachelor's degree—they may have gotten a nursing diploma or associate degree that allowed them to become licensed. A BSN is a registered nurse who also has a bachelor's degree—this higher level of education can lead to more job opportunities, higher salary, and more. 
3 Common Questions about RN to BSN Degree Programs
Are you a nurse with your RN license, ready to take your career to the next level? The RN to BSN program at WGU is designed for nurses like you—a completely online RN to BSN program that allows you to continue working and keep up with your other responsibilities while going to school, flexible with no set class times or due-dates, with a focused curriculum designed for current nurses. Boost your résumé with the help of the online RN to BSN program at WGU.
An RN to BSN degree program is designed to help current RNs further their education and earn a bachelor's degree. Current RNs have important skills and experience, and a BSN just helps boost their résumé and can help them get needed credentials to be qualified for additional nursing positions.
The online RN to BSN program at WGU is focused on helping current nurses pursue higher education. This nursing program is focused on helping expand on a nurse's experience and skills through evidence-based practice and additional courses. An online bachelor's degree program is a great option to help RNs receive collegiate nursing education in a way that is doable for their lifestyle.
2. What can I do with a BSN?
A BSN is a nursing program designed to help nurses stand out and enhance their résumé. Some nursing positions and specialties require a BSN as proof that a nurse has credentials and experience. An online RN to BSN program or a traditional nursing program both include evidence-based practice and other collegiate nursing education skills that enhance an RNs ability to perform their work.
Registered nurses with a BSN can be qualified for many nursing positions including:
Addiction nurse
Critical care nurse
Surgical nurse
Rehabilitation nurse
Hospitals across the country are working toward Magnet status, and part of the requirements of Magnet status involve having a nursing workforce with bachelor's degrees. Earning your RN-BSN degree enables you to add to your hospital numbers for Magnet status. Traditional or online RN programs both can give you the credentials needed to help your hospital reach this designation.
Additionally, an RN-BSN degree gives you valuable credentials that can help you stand out, boosting your résumé and giving you important experience. Traditional and online RN to BSN programs both stand out on a résumé. This can make you eligible for raises, promotions, and opportunities in the nursing field.
---
Today more than 60% of nurses still enter the workforce with an associate's degree or diploma in nursing. Because of increasing desire for hospitals and clinics to add BSN educated nurses to their workforce, there are now more than 700 RN to BSN programs in the United States. Because of the accessibility of these options, growing numbers of BSN graduates are earning RN to BSN degrees. Nearly 50% of BSN graduates today have earned an RN to BSN degree.
So what can you expect in an RN to BSN degree program? In an online RN to BSN program you can expect to take general education courses required for a bachelor's degree, as well as some nursing courses that will help you gain additional skills. In many online RN to BSN programs, your experience and RN license will allow you to waive many of the courses, accelerating your program. Many RNs choose this kind of online program because they are able to continue working while they attend school—they don't have to log in to classes at a certain time to listen to lectures. Instead they have the ability to be in charge of their degree program,
It's important to research and find a school that is recognized and accredited for your RN-BSN program. For example, WGU is CCNE accredited, demonstrating that it is a school that is recognized in the United States as qualified to teach healthcare professionals. This accreditation will validate your online bachelor's degree, and is vital to showing employers and peers that your online RN to BSN program credentials are reputable.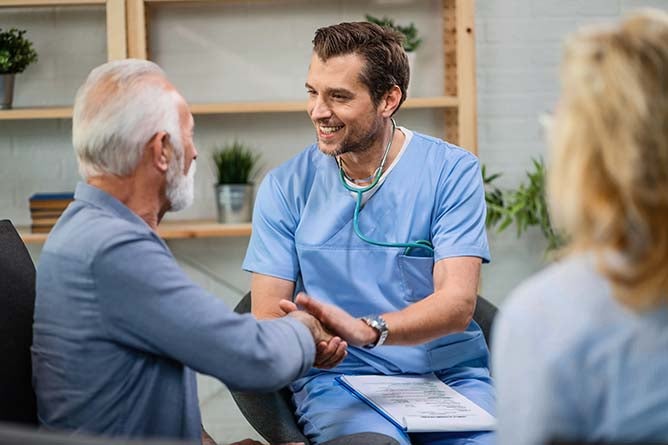 As more hospitals work to achieve Magnet status, they may be looking to only hire nurses who have a bachelor's degree. In fact, some job listings may explicitly state not to apply unless you have a bachelor's degree. A BSN is becoming increasingly important for nurses who want to stand out from the competition and be considered for positions. BSN nurses often have many more options and opportunities in the nursing field.
Similarly, nurses who earn a BSN through a traditional or online program can expect a pay raise. This may vary by facility, but the industry standard is that nurses who earn a traditional or online bachelor's degree can expect a percentage pay raise to accompany their new credential. Hospitals see great value in BSN nurses, and want to reward RNs who work to earn their degree. The average annual salary for a registered nurse is around $75,000 per year, and nurses can usually expect a 3-5% pay raise when they earn their degree. Research shows that RNs with an associate's degree can expect to earn around $75,000, RNs with a diploma can expect to earn around $78,000, and RNs with a BSN can expect to earn around $80,000 per year.
Additionally, a traditional or online RN to BSN can help prepare nurses for additional certifications and job opportunities. Many specialized nursing positions will prefer a nurse with a BSN. While it may not be required to become a critical care nurse or a trauma nurse, your degree can help you stand out from the competition for these positions. There are also many nursing positions that require a BSN nurse, including pharmaceutical RNs, public health nurse, case management, and more.

A RN to BSN degree is an important step in furthering your education, and many nurses may want to continue their education and earn an MSN to help propel their career. A BSN is required to earn an MSN degree, and an MSN can open doors to nurse management, nurse education, and other important leadership positions in the field.
If you're ready to earn a raise, promotion, or prepare for your future, a traditional or online RN to BSN program is a critical first step.
There are many benefits for nurses and employers when it comes to BSN degrees, including:
Preparation. Nurses who earn their BSN will be prepared for specific situations in the hospital setting. They will have learned extensively about nursing research, ethics, and informatics, equipping them to know how to handle challenging situations in their profession.
Magnet status. Magnet status designates a hospital as one of the best in the country. As more hospitals are working to obtain Magnet status, they are looking to have their current RNs obtain bachelor's degrees, or plan to hire only BSN holding nurses. A BSN can help you move to a Magnet hospital, or can help your current hospital move up in status. 
Clinical skills. The American Association of Colleges of Nursing say that BSN nurses tend to have better clinical skills than ADN nurses. BSN nurses are shown to have lower mortality rates, lower failure-to-rescue rates, and better ability to diagnose and evaluate patients. A BSN can help you improve clinical skills and be a better nurse.
Career opportunities. A BSN degree can help current nurses be prepared for career opportunities in a nonhospital setting. They are able to move into teaching, case management, policy review, and more. Some of these career opportunities will require a master's degree or MSN, and a BSN is required for students to move forward into higher educational opportunities.
Is an RN to BSN Degree Worth It?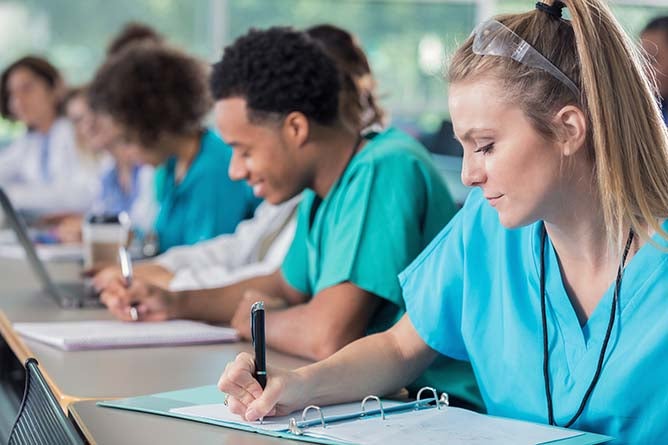 Most RNs who have gotten their BSN degree will tell you it is 100% worth it. The potential for raises, promotions, new career opportunities, and skills you gain in your BSN are key for your future. A BSN can help you propel your own career and can help you become a better nurse. You can see better patient outcomes, learn new techniques and strategies, and overall help improve the healthcare industry moving forward.
So who should obtain an RN to BSN degree? Any currently licensed RN is a great candidate for an RN to BSN degree. Your skills and experience earning your RN and working as a nurse will help make this program meaningful and impactful for you. 
Some nurses worry about the time commitment and cost of earning a BSN. At WGU, we work to make sure nurses can earn their degree without headache. We focus on keeping tuition costs low so current nurses won't break the bank to earn their degree. Our tuition is charged per-term instead of per-credit, so taking more courses doesn't raise your cost. We also offer financial aid and scholarship options to make our tuition even more affordable. 
Similarly we use a unique educational method called competency-based education to help current nurses move through their program faster. You can use your knowledge and experience to waive courses and to help you move faster through the courses you do take. You don't have spend time logged in to a class, and your assignments don't have deadlines. You can move through your courses as quickly as you can master the material. This allows you to graduate faster and spend less money on your BSN degree.

WGU's RN to BSN at a Glance
66% RN-BSN students at WGU are able to finish their degree program in 18 months or less!

On average, RN-BSN students can transfer 81 credits due to their RN license and experience.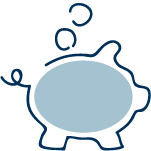 WGU's RN-BSN tuition is charged per-term instead of per-credit, so finishing faster helps you save.

The curriculum of the RN-BSN degree program is designed for working professionals.
Admission Information for the RN to BSN Degree Program
To be considered for this program, you must:
Next Possible Start
Start dates are the 1st of every month. Meet requirements by the 15th to start next month. Discuss steps and deadlines with your Enrollment Counselor.
APPLY TODAY
Get your Enrollment Checklist
Download your step-by-step guide to enrollment.
View checklist
Get your questions answered and take the next step: Talk to an Enrollment Counselor.
866-225-5948
Request info
How Much Does an RN to BSN Degree Cost?
Affordable tuition is key at WGU. Our tuition is charged per-term instead of per-credit, so you are in control of the overall cost of your degree. The majority of students finish the RN to BSN program in just 18 months, making the cost of your degree just over $10,000. We also offer scholarships and financial aid to help make your degree even more affordable. 
Flat-rate tuition of $3,795 per term links cost to time.
By charging per 6-month term rather than per credit hour—and empowering students to accelerate through material they know well or can learn quickly—WGU helps students control the ultimate cost of their degrees.
Adjust the time and see your costs change
1 yr
1.5 yrs
2 yrs
2.5 yrs
3 yrs
1 yr
1.5 yrs
2 yrs
2.5 yrs
3 yrs
Common questions for this program:
Must I be working as a nurse to enroll?
No, but you must have an unencumbered RN license, and your previous nursing experience will be valuable and could help you move through the program more quickly.
Do I get credit for having my RN license?
Yes! Almost every student with a license as a registered nurse can clear on transfer 50 to 90 credit equivalents from a previous program into this program. If you've taken courses or received a degree from another college or university, you may be able to clear some of these requirements through transfer credit. You will need to provide WGU with your official transcripts for review.
Why does WGU require a background check (and why can't I submit my background check secured by my employer)?
WGU is accredited by the Commission on Collegiate Nursing Education (CCNE) and, in order to uphold this accreditation, we must require our own background checks. A third-party company is used to provide this service and the information is proprietary; therefore, we are unable to access a background check completed for, or requested by, another entity.

Are there clinical components required in this program?
No, this program does not require clinicals; however, you will be expected to complete a Field Experience that correlates with coursework during your program. Ninety practice hours are required as part of this field experience, some of which will be fulfilled through community assessments, simulations, and other activities.
Why am I required to take core courses at WGU that I may have taken previously (ex: Nutrition, Health Assessment)?
You will find that these courses are typically higher-level courses that are an integral part of our core BSN program and vital to your success.  The good news is, because of your prior knowledge and experience with these subjects, you are likely to master the competencies easier and progress through the course faster.  That's why competency-based education is so appealing!
Is this degree recognized by the state board of nursing?
Yes! Our BSN program is recognized by the board of nursing in all 50 states! This recognition is due to our esteemed accreditations, both regionally and through the Commission on Collegiate Nursing Education (CCNE).
Are the WGU nursing programs accredited?
Yes. The bachelor's and master's nursing degree programs at WGU are accredited by the Commission on Collegiate Nursing Education (655 K Street, NW, Suite 750, Washington, DC 20001, 202-887-6791).    
How does WGU keep its tuition so low?
As a nonprofit university, WGU doesn't need to benefit shareholders. Our students are our main concern. We also try to keep our operating costs low. And since we're an exclusively online university, we don't need to maintain expensive classroom buildings, a campus, and other nonacademic programs.    
How can I satisfy my tuition obligation?
WGU has several options available including Payment Plans, Federal Financial Aid, Third-Party (Employer) Payment, Military Tuition Assistance, and Veterans Benefits. We also offer hundreds of scholarships every year through several specialized scholarship programs. 
When does tuition need to be paid?
Payments received or payment arrangements must be completed on the student portal by: new students on the 22nd of the month prior to term start, or for renewing/returning students on the 1st of the new term.
Are there scholarships available?
Through the generosity of numerous corporations and foundations, plus special federal government appropriations, WGU maintains a robust program of scholarships made available to qualified students. Scholarships are one of the many ways in which WGU removes obstacles from your path to achieving your education goals and improving your career opportunities. It's part of our investment in the future of our students.
What if I get stuck and need help? Will there be someone for me to reach out to with issues and questions?
In this nontraditional setting, the availability of one-on-one academic and personal support on an as-needed basis is critical, so the role of faculty has been redefined, with mentorship at its core. Two distinct mentor roles—Program Mentors and Instructors—exist at WGU to focus solely on supporting students' academic success. Other faculty functions, such as curriculum development, grading and assessment, and degree program management, are assigned to other members of WGU's faculty, each specializing in a specific function. This allows mentors to devote their full attention to students. The type and intensity of instructional support varies based upon the needs of each student in a particular course, from help with specific questions that arise to more fully engaged tutorial support.
Can a graduate of this program get into a nurse practitioner or other post-graduate nursing program?
Admissions requirements vary widely from program to program and from school to school. Nurse practitioner programs—including Master of Science in Nursing (MSN), Doctor of Nursing Practice (DNP), and post-MSN NP certificate programs—can be among the most competitive. One factor commonly considered for enrollment in post-graduate nursing programs is grade-point average (GPA) from previous college work. The nature of WGU's competency-based model means WGU graduates do not have a GPA when they earn their degree.
However, other factors beyond GPA are considered by many programs across the country. WGU provides opportunities for students to demonstrate excellence beyond a GPA, including participation in nationally recognized honors programs, real-world projects that you complete as part of your program that you can showcase in your post-graduate applications, and letters of recommendation from WGU faculty or leadership.
For any aspiring graduate student, it is important to maximize your own qualities as well as do the research to understand the schools that offer the programs you seek to join.
You can start your research by reviewing this list of post-graduate programs that have admitted WGU alumni in the past. Look on LinkedIn for WGU nursing alumni who have gone on to become nurse practitioners, and check their profiles to see which schools they attended for the MSN or DNP program. Contact the school to ask whether they enroll students from competency-based programs like WGU's. And talk to your WGU Enrollment Counselor. WGU can provide alumni with a letter they can share with graduate schools, explaining our competency-based model. This letter has helped WGU alumni be accepted into a variety of graduate programs in a number of fields and disciplines.
What is the deadline for transcript submission?
Transcripts must be received by the 1st of the month before your intended start date. WGU requires that ALL official transcripts of previous academic work completed at other colleges and universities be submitted for evaluation.
CCNE accreditation: The bachelor's and master's nursing degree programs at WGU are accredited by the Commission on Collegiate Nursing Education (655 K Street, NW, Suite 750, Washington, DC 20001, 202-887-6791).