Best Online RN to BSN Program
What is the best online degree for nursing?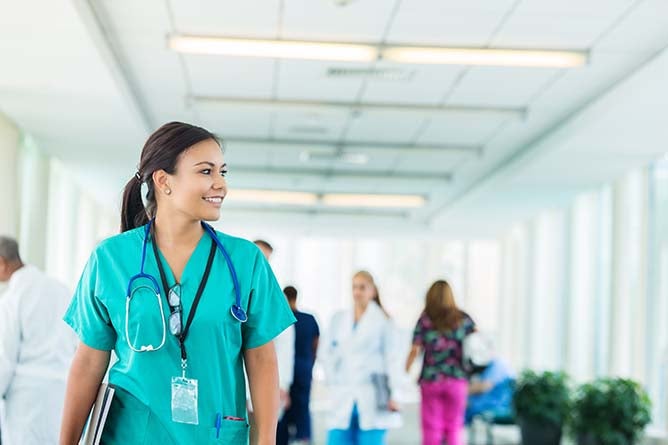 Many current registered nurses are looking to pursue higher education and earn their BSN. And an online BSN program can be ideal for many of these nurses. An online program allows current registered nurses to continue to work full-time while pursuing their degree. They can utilize their experience and knowledge to transfer credits and accelerate their courses to graduate even faster.
In an RN to BSN program you will learn about nursing theories and practice, evidence-based practice, leadership, and more. A BSN is wanted by more hospitals looking to meet Magnet status, and makes nurses more valuable and credible in the workforce.
But not all online BSN programs are created equal. It's vital to research carefully when comparing BSN programs to determine which one is really the best fit for you. 
Best online school for an RN to BSN degree.
Research is critical as you compare online RN to BSN degree programs. The cost of the program, course offerings, graduation times, and more are all important when doing your research. Additionally, it's valuable to understand the ROI of a degree and if a school is prepared to do online education at scale. Compare top RN to BSN programs here to decide which one will meet all of your needs. 
---
1. Western Governors University
Exclusively Online Students: 136,139
Tuition: $6,450 per year

Exclusively Online Students: 25,245
Tuition: $15,300 per year

3. University of Phoenix—Arizona
Exclusively Online Students: 93,777
Tuition: $9,000 per year

4. Colorado Technical University—Colorado Springs
Exclusively Online Students: 26,143
Tuition: $12,480 for the 9 month program

5. Arizona State University—Skysong
Exclusively Online Students: 43,721
Tuition: $14,175 per year

6. Southern New Hampshire University
Exclusively Online Students: 106,703
Tuition: $9,600 per year

Exclusively Online Students: 37,859
Tuition: $9,600 for 9 month program

Exclusively Online Students: 48,420
Tuition: $10,050 per year

9. Chamberlain University—Illinois
Exclusively Online Students: 25,244
Tuition: Less than $14,000 for the program

10. Purdue University Global
Exclusively Online Students: 37,757
Tuition: $9,450 per year

Our goal in this ranking is to objectively look at how many online university programs compare to one another. This is why we have used third-party data to help us reach our conclusions about programs we rank. 
Data sources:
Explanation and requirements for ranking:
Universities were ranked on their ROI ratio. The ROI ratio is a comparison of two-year post-graduation earnings and student debt at graduation. High ROI is better.
Universities must offer four-year degree programs to be considered
Universities had to have non-zero debt and earnings numbers.
We chose to include only online universities by only including schools that have at least 90% of their total student population be exclusively online. This eliminates brick and mortar institutions with online programs from our ranking.
We chose to include only institutions that are doing online education at scale because we believe this is a better experience for students pursuing an online degree. We chose to only include institutions that had at least 15,000 total online-only students for this reason.
The use of the word "best" is subjective, but we are using the term based on the ranking methodology explained above, and in a way that reflects WGU's values.
Learn about WGU's RN to BSN program.
If you're an RN looking to earn your BSN, WGU's program could be the perfect fit for you. Our online program is designed to work within your busy schedule and give you opportunities to implement what you're learning into your work immediately. You'll be able to utilize your credentials to help your hospital obtain Magnet status, get a promotion or a raise, and better care for the patients you interact with. Learn more about the specifics of our program to see if it's the best fit for you.
Nursing (RN-to-BSN Online) – B.S.
An online BSN degree program for registered nurses (RNs) seeking...
An online BSN degree program for registered...
An online BSN degree program for registered nurses (RNs) seeking the added theoretical depth, employability, and respect that a bachelor's degree brings:
Time: 66% of graduates finish within 18 months.
Tuition and Fees: $3,225 per 6-month term, plus a Health Professions Student Fee of $350.
Transfers: On average, students transfer 81 credits.
With over 35,000 BSN alumni, this is one of WGU's most popular online degree programs. View our RN to BSN degree guide.
If you don't currently have an RN and don't qualify for your nursing prelicensure program, consider getting our Bachelor's Degree in Health Services Coordination instead. This degree allows you to work inside the healthcare industry in a unique way.
College of Health Professions