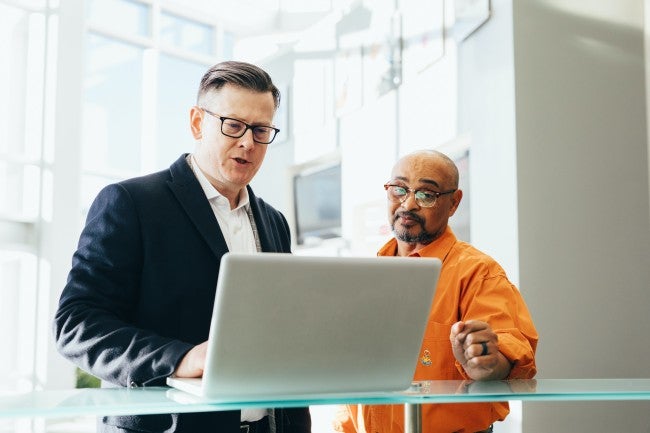 You log in to Google Sheets to make a spreadsheet for your boss. You log into your Gmail account to check your emails. You access books you've purchased on Audible to listen to them. You use Salesforce at work to track your customers and products. All of these simple tasks all have one thing in common—the cloud.
So what is the cloud and what is cloud computing? Cloud computing is simply the idea that you can access software programs and save data using the internet instead of your computer hard drive. It's a computing infrastructure focused around helping an enterprise utilize unique resources to get their work done. And the cloud is simply a metaphor for the internet itself. In the past we saved our documents or ran our programs on CDs or Floppy Disks, or had downloaded them directly to our computer hard drive. Now we have additional options for running our programs using the internet. Cloud services allow enterprises to find new solutions and resources for doing their work—setting up infrastructure that allows them to continue working at any time, any place.
Businesses and individuals alike need cloud computing in order to access all of their computer programs and data for their job. Individuals use the public cloud which has privacy options for them to keep their data secure. Businesses may also use the public cloud, but they may have a private cloud created just for their organization, its data, and applications. Individuals will have to log in to access the private cloud as an additional layer of security.
Cloud salaries and careers.
So how much money can you earn in a cloud career? Getting a bachelor's degree in cloud computing can enhance your salary options considerably, in fact research shows that a bachelor's degree can increase salary about $24,000 more per year on average—and that number is likely to be higher in the technology industry. Higher salary opportunities come with cloud computing jobs due to the highly technical nature of the job, and the infrastructure built around cloud services.
There are several careers that involve cloud computing where professionals enjoy high salaries. Some of the most lucrative cloud computing job opportunities include:
Computer and information systems manager. The average annual salary for computer and information systems managers is $142,530— well above the national average salary in the U.S. which is $56,000. Entry-level salaries are around $85,000 per year, with the top 10% earning more than $200,000 per year. A cloud computing degree can help make you stand out for this career, giving you unique insight into cloud systems and how to manage them well for an organization.

Computer network architect or cloud architect. According to the BLS, computer network architects can expect to earn an average yearly salary of $109,020. The lowest 10% of computer network architects earn around $60,000, with the highest 10% earning over $164,000 each year. A cloud computing degree is critical for this career, as it can help network architects be prepared to build private cloud systems and create network architecture built around the cloud for a company. 

Computer systems analyst. Computer systems analysts can earn an average salary of $88,000 per year, with the top 10% earning more than $142,000 per year, and the lowest 10% earning around $54,000 per year. This can vary based on your location, and the size of the organization where you work. It also greatly depends on your education and work experience. A cloud computing degree can help analysts be prepared to work with all kinds of systems, particularly cloud systems, for an organization.

Cloud administrators. The average salary for cloud administrators is around $82,000 per year, with the lowest 10% of workers earning an average annual salary of $50,000 per year, and the highest 10% earning an average annual salary of more than $130,000 per year. This will greatly vary on the type of organization you work for, as well as your experience and education. Cloud computing is critical for this career—a cloud degree prepares students for understanding of how cloud systems work and how to manage them effectively. 

Cloud engineer. Cloud engineers are highly specialized software engineers who work specifically with cloud software. A cloud engineer salary is likely to be over $130,000, with salary levels largely depending on location and experience. A cloud degree is vital in helping professionals learn about software programming and design, with the additional cloud specialization they'll need to succeed. 

Cloud consultants. Cloud consultants earn an average annual salary of $111,000, with salaries varying based on where they are located. Cloud consultants help organizations understand their cloud needs, so a degree in cloud computing and extensive knowledge in cloud systems is key for this role.
Understanding the cloud is important in deciding if you want to get a job in cloud computing, but so is understanding the road to getting there. If you want a career in cloud computing, a degree in cloud computing can be an ideal place to start. 
For many cloud jobs, a degree will be required in order to be considered. A bachelor's degree in cloud computing can open many career options that otherwise may not be possible. In fact research shows that the number of jobs that will require a bachelor's degree will raise 10% by 2026. A bachelor's degree is becoming more critical for every industry and career path, and particularly in the IT realm. A bachelor's degree demonstrates to potential employers that you have specific skills and training that can be vital for your success. It also signals that you are willing to put in hard work to excel in your field. 
During your cloud computing degree program you'll take courses on many subjects. These courses will give you important skills and understanding of cloud services, computing, infrastructure, technology, developer and engineer skills, and more. These skills will be valuable to your employer as you demonstrate your ability to do important jobs that help your organization. The courses in a cloud computing degree that will help you get important job skills include:
Web development

Network and security

Linux

Cloud

Cloud applications

Cloud deployment and operations

Emerging technologies

Project management

Business of IT

Scripting and programming

Scripting automation

Python

Desktop virtualization 

Data center virtualization 

Cloud platform solutions 

Cloud architecture 

Data management

Cryptography

Software engineering

Automation and scaling
These courses will help prepare students for many different roles that involve cloud computing and security. A cloud computing degree will give you skills for software development, web development, network architecture, computer systems, systems management, and more. Many students who graduate with a cloud computing degree find they are qualified for a wide range of IT roles, and stand out from the competition because they have additional cloud training and capabilities. If you're looking for a way to land a cloud architect, developer, engineer, or other kind of technology job, a cloud computing degree is an important place to start.
Are you looking for a steady, stable position in an ever-changing and exciting field? Do you want a lucrative career where you can continue to grow and develop your skills? Cloud computing may be an ideal fit for you if you are looking for an exciting job where you can earn a high salary. Start preparing for a future in cloud computing by earning a degree in cloud computing.