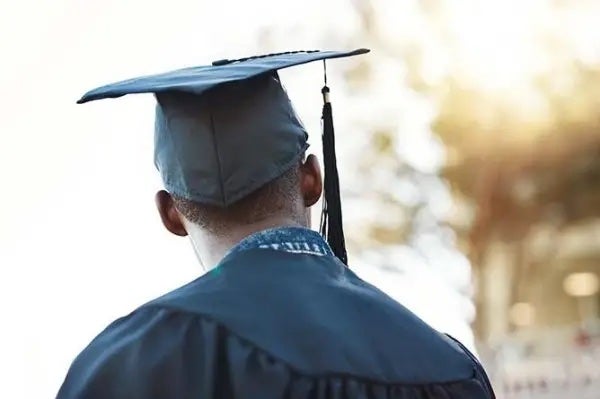 Western Governors University (WGU) is unique in that it was specifically designed to serve working adult learners and was built with the needs of those learners in mind. Four out of five WGU students work while enrolled, and their average age is 37.3. They come to WGU seeking a path to opportunity that fits in their lives, that meets them where they are, that allows them to leverage their experience and move quickly when possible, and that enables them to thrive—financially and otherwise. 
WGU Public Policy created the State Policy Playbook to help states support working adult learners and address state workforce needs. The playbook offers recommendations that help working adult learners succeed. 
Evidence-based policies can help ensure systems are designed around student needs so that, no matter the realities working adult learners face, they have affordable and flexible options that provide them with the opportunity to succeed and thrive in the workforce.
Research indicates that adults enroll or re-enroll in postsecondary education to improve their socioeconomic circumstances. Motivations reported by working adult learners include seeking a career change, advancing in their current career, needing to update their skills, or desiring personal improvement. Working adult learners are often married or divorced, and many have children at home. As a result, they face multiple competing demands when working to obtain higher education credentials, such as work schedules and course attendance. Affordability is also a concern, as working adult learners must incorporate educational costs into their existing budgets, which include crucial expenses like housing, food, and health care. 
Two segments of working adult learners—rising talent and stranded talent—have additional challenges that create barriers to success. Individuals in both groups primarily work in low-income positions with little job security, but while stranded talent have college degrees, rising talent do not. In addition, individuals in these groups may face difficulties such as disability, single parenthood, prior incarceration, or homelessness. Despite their hardships, these groups of working adult learners have unlimited potential for achievement if provided with fitting postsecondary pathways. 
In addition to sharing the struggles of all working adult learners, rising and stranded talent may experience other barriers to education and training. These barriers can include the following:
Low digital literacy and limited access to computers and high-speed internet
Restricted physical access to educational institutions and training programs
Unfamiliarity with college resources, support, and processes
Lack of college preparation
Lack of relevant skills for upskilling and reskilling
Uncertainty of postsecondary education's return on investment  
Often, these barriers exist because institutions fail to provide targeted opportunities to the populations of rising and stranded talent.
Given the proper support and direction, the opportunities for growth that college provides can be available to rising and stranded talent. Policymakers can help ensure systems are designed to adapt to learners' needs so that no matter the realities working adult learners face, they have affordable options that allow them to succeed. 
WGU believes that higher education should be
Accessible
Accommodating
Achievable
Affordable
Applicable
These beliefs guide policy recommendations that are designed around the unique post-secondary educational journey of the working adult learner. Each belief is tailored to the distinctive policy needs of working adult learners so that states can tailor affordable and flexible options that provide rising and stranded talent with the opportunity to succeed and prepare them to meet current and future workforce demands. 
Policymakers can use the following recommendations to ensure that working adult learners have accessible, accommodating, achievable, affordable, and applicable pathways to higher education.
Higher education should be accessible.
Policymakers can support policies that improve access to postsecondary education by removing technological and institutional barriers for working adult learners.
Higher education should be accommodating.
Policymakers can allocate funding for wraparound support services to accommodate educational success for working adult learners.
Higher education should be achievable.
Policymakers can help working adult learners achieve by opening channels to competency-based education and quality short-term training programs.
Higher education should be affordable.
Policymakers should tailor state aid programs to increase post-secondary educational affordability for working adult learners.
Higher education should be applicable.
Policymakers can support alignment between employers and higher education systems to ensure that credentials and degrees are applicable to state workforce needs. 
Numerous studies have demonstrated that a college education improves personal income, job security, and well-being. Despite evidence linking education to individual and societal prosperity, millions of Americans lack higher education and crucial work skills. For working adult learners, including rising and stranded talent, who desire career growth, effective policies can remove barriers that prevent them from achieving their potential.
Policy creation, however, is not the last stop on the journey to educational improvement. Policies become effective when state, local, and institutional leaders ensure that the individuals addressed by these policies understand the opportunities available to them and have the resources and support they need. WGU invites all state and local policymakers to join us as active partners in our pursuit to better serve today's working adult learners.