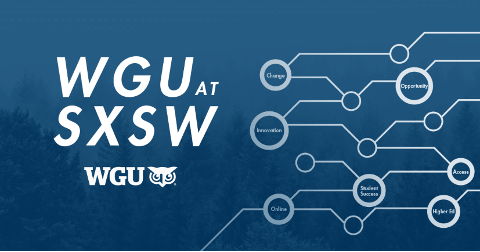 Community voting is now open for SXSW EDU 2023 and your votes help decide if we will present our work and ideas at this year's conference.  
SXSW EDU 2023 will take place March 6-9 in Austin, Texas. The annual event brings together diverse people and perspectives to elevate teaching, learning, and educators across the entire scope of the education industry.
The conference is known for being highly engaging because they create the event with input from the audience. This is your opportunity to start the conference session selection process.
If you want to hear more about putting learners first, please vote for our proposals. Every "Vote Up" helps us make it to the SXSW EDU stage.
Public voting is open now through Sunday, Aug. 21. We invite you to create a PanelPicker account and vote.  
Creative Solutions to the Rural Health Care Crisis — Vote Up
Rural communities are losing access to quality health care. Creative public-private partnerships can produce innovative solutions that eliminate barriers, create jobs and provide desperately-needed care to patients who are oftentimes most vulnerable. This discussion will highlight how private, non-profit and public sectors can work together to meet the economic and health care needs of our rural communities.
Rise and Thrive: Training for the Metaverse — Vote Up
The metaverse–a convergence of virtual reality (VR) and a digital second life –can revolutionize quality education. In the metaverse, we have the ability to have an immersive exploration into concepts, and its function is critical for next-generation learning that breaks socio-economic barriers for students. See how this university leverages the metaverse through VR and course competencies–building a transformative experience that levels the playing field where all students can rise and thrive.
Centering Program Development Around DE&I — Vote Up
When students feel accepted and can be their authentic selves, they can focus more fully on learning. When students see that others like them have succeeded, they are more likely to persist. Seeing others whom they perceive to be different helps them to grow. If the majority of learners' experience in education is via curriculum and assessments, how can content designers ensure diversity, equity, and inclusion is at the heart of those experiences? Program development experts will share frameworks, strategies, and experiences to help institutions keep DE&I at the heart of this effort.
Closing Educational Gaps for the Underserved — Vote Up
The R&D for Growth & Equity grant from the Bill & Melinda Gates Foundation is designed to close the access and attainment gap for Black, Latinx, Indigenous learners. Through this grant, Arizona State University, Southern New Hampshire University, and Western Governors University are researching learner experiences at scale to optimize targeted policies and practices. In this session presenters will share powerful insights from the research that are actionable across educational settings. 
Preventing Burnout Among Educators — Vote Up
Daily work demands combined with a pandemic, politics, fears and more are contributing to burnout in K-12 and higher education – but burnout is preventable. Learn how to reverse the trajectory of educators who are heading for burnout and how to proactively support teachers and faculty members by helping them thrive in their roles. Experts will outline how employee resilience programs will not only empower educators, but students and educators' loved ones can also reap the benefits.
Improving the Student & Faculty EdTech Experience — Vote Up
Does your institution know how students and faculty are experiencing the EdTech transformation in higher ed? Diving deep into the data from three surveys of 2,500 students and faculty, this panel will share new insights about the EdTech learning experience, including the digital divide, EdTech needs of faculty, and systems-level barriers to adoption in the classroom. Audiences will come away with actionable strategies for improving the student and faculty EdTech experience at their institution.
How to Use EdTech to Boost Student Belonging — Vote Up
Amid a rapid transition to tech-enabled and hybrid learning in higher ed, building belonging among students has emerged as a pressing need to ensure student success. But how can EdTech be used to address this need? In this panel, higher ed leaders and EdTech founders will discuss collaborative research demonstrating how EdTech boosts belonging, and share strategies for designing and implementing EdTech that students will use.
Equitable Design as an EdTech Business Strategy — Vote Up
Traditional education systems aren't designed for the diversity of America's learners, and EdTech is no exception. This discussion will offer attendees a new paradigm for balancing learner and financial impact, offering tangible examples from leading EdTech companies of how identifying equity blindspots has allowed them to be better and more desirable partners to higher education institutions.
Pitching EdTech: Designing for Social Impact — Vote Up
Many EdTech founders think there's a disconnect between supporting student equity and profit—we disagree. This session will feature leaders from leading EdTech funds and two of the nation's most innovative colleges and universities to discuss impact as a business strategy and what they're looking for when meeting prospective EdTech partners.
Breaking Down Barriers Through Education Benefits — Vote Up
EdAssist and WGU are working together to help adult learners reach their greatest potential through partnerships with companies like McDonald's. In this session, EdAssist, WGU, and McDonald's will provide three different perspectives on how education benefits, including low- and no-cost degrees, upskilling and reskilling, and student debt repayment programs, can break down barriers to education and help working learners climb the ladder of opportunity from entry-level all the way to the C-suite.
Online Backlash: Bad Policy Holds Students Back — Vote Up
Today, 65% of jobs require some education beyond high school. In the U.S. 62% of working age adults do not have a degree. Together, these numbers illustrate why we have a skills gap; we need to help more Americans upskill to find sustainable employment. This demands coordination among education providers, employers and policy makers. Unfortunately, current policy proposals undermine potential solutions like online learning which could help quickly expand education access to millions of learners.