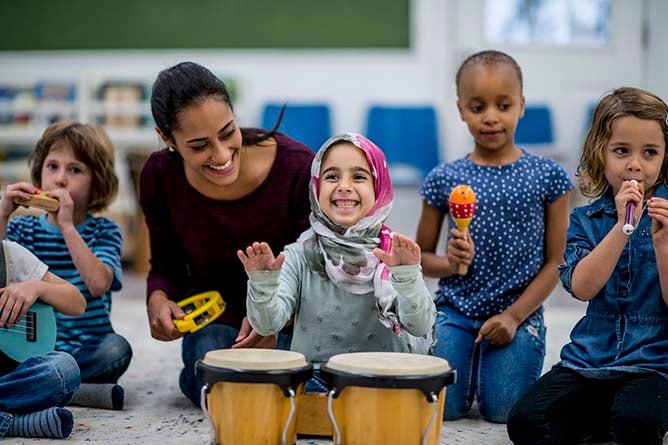 In the U.S. public school system, the proportion of students of color to teachers of color is widening. The U.S. Department of Education predicts that by 2024, students of color—including Black, Latinx, Asian, and American Indian students—will make up 54 percent of the student body in public schools, a slight increase from previous years. Yet 82 percent of educators in elementary and secondary schools are white, and only 20 percent of educational leaders are people of color.
Many state school systems are working to address this disparity through innovative programs aimed at recruiting racially diverse educators. Leaders in these schools realize the value that teachers of color bring to students and schools. These teachers don't just inspire and guide students of color to better academic outcomes; they benefit every student, preparing them to live and work in an increasingly diverse society.
Role models and advocates.
In a commencement speech at Howard University, John B. King, Jr., former U.S. Secretary of Education, made a powerful statement about the impact of Black teachers in the classroom. He said that "Black teachers make it a priority to help children build resilience and develop life skills, which can help children in the classroom and beyond."
Further Reading: Demand for special education teachers is booming.
Research supports King's claim. A Learning Policy Institute study found that having teachers of color in the classroom affects students of color in several ways, including:
Boosting overall academic performance
Improving reading and math test scores
Improving graduation rates
Increasing aspirations to attend college
Reducing the number of absences
The report also notes that many non-white teachers say that they feel a calling to teach in low-income communities of color, where teaching posts can be especially difficult to fill.
The Department of Education noted similar findings, reporting that teachers of color are more likely to refer students of color to gifted programs, help students of color confront racism, advocate for students of color in the school system, and develop more trusting relationships with students, especially those from similar cultural backgrounds.
In a system where students of color often face barriers to educational success, having teachers of color to represent, support, and advocate for them is critical.
Assets for all students.
It's not just students of color who benefit from being taught by teachers of color. White students reported feeling academically challenged and cared for by their teachers of color, according to the Learning Policy Institute. And when white students are exposed to greater diversity in their elementary and secondary classrooms, they're able to address topics such as bias and racism and gain a deeper level of appreciation for people of different races, ethnicities, and backgrounds.
A study published in Educational Researcher discovered a preference for teachers of color among students in urban school districts regardless of students' race or ethnicity. One possible reason, the study noted, is that these teachers more effectively draw on their own experiences and identities to connect with students of various backgrounds.
Diversifying the school system.
Across the board, the research is clear: teachers of color leave a strong, positive, and lasting impact on schools and students. As schools across the country strive to educate their increasingly diverse student populations more effectively, hiring a diverse teaching workforce is a high priority. That's why teachers who look like the students they serve and bring qualities like empathy and cultural sensitivity to the job are in such high demand. If making a difference in students' lives and working to diversify the public school system resonates with your goals, consider becoming an educator.