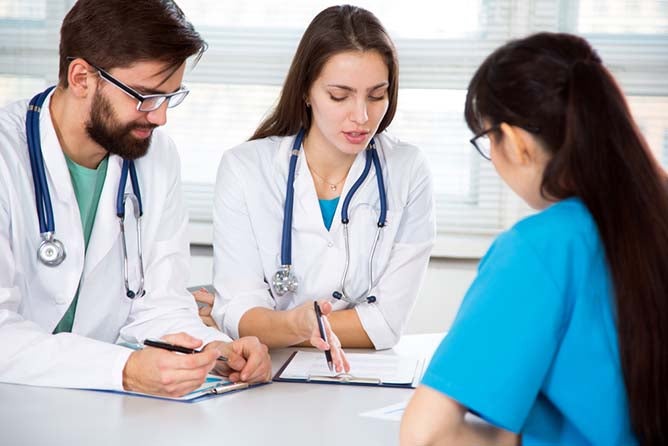 You have plenty of options for obtaining an education that qualifies you to enter the nursing field, but not all of them will provide you with the ability to significantly advance your nursing career. To attain positions with greater professional challenges and more responsibility, you'll need to continue your education.
The American Association of Colleges of Nursing's 2017 National Nursing Workforce Survey found that 64 percent of RNs held at least a bachelor's degree. The Bureau of Labor Statistics reports that the job outlook for advanced-practice nurses is among the fastest-growing (28 percent) through 2028. For nurses with an eye on the future, there are many career options available that ensure advancement and longevity in the nursing field.
Preparing for professional growth.
Many newly-minted nurses graduate with a bachelor's degree in nursing, moving the proportion of BSN-prepared nurses in the workforce closer to the National Academy of Medicine's (formerly Institute of Medicine) recommended 80 percent by 2020. Your BSN, along with your state nursing license, qualifies you to join the nursing field in a variety of entry-level positions, and you can begin your career in a nursing specialty you're passionate about. While nurses generally spend between one and five years in entry-level roles of being a staff nurse or floor nurse, there are other roles available to BSN-prepared nurses, including infection control nurse, charge nurse, quality control nurse, informatics nurse, case manager, and assistant nurse manager. 
After getting a few years of experience, many nurses decide to pursue certification and advanced education. Certification demonstrates dedication and additional knowledge gained in a specialty, and continuing nursing education offers greater potential for career advancement and a more flexible career path in the nursing field.
Here are some advanced roles that you can work toward once you have some nursing experience under your belt.
Clinical nurse leader.
Clinical Nurse Leader (CNL) is a relatively recent nursing role created for master's- or doctorate-prepared nurses to function at the point of care, according to the American Nurses Association. Rather than providing direct patient care, the CNL focuses on broader aspects of the care delivery continuum, such as team leadership, interprofessional communication, care coordination, implementation of evidence-based best practices, and quality improvement. CNLs balance hands-on care with organizational responsibilities, ensuring that nursing care is safe and effective.
CNLs facilitate care delivery and improve quality measures across nursing's varied disciplines; they're regarded as advanced generalists, according to the American Association of Colleges of Nursing. After gaining a few years' experience and undergoing some management training, you could move into a CNL role, where you'd make about $78,000 a year, according to PayScale.
Clinical nurse specialist.
Graduate-prepared nurses, who have a master's or a Ph.D. in nursing, might also consider an advanced-practice nursing role with clinical nurse specialist certification. Clinical nurse specialists (CNS) differ from Clinical Nurse Leaders in that the CNLs are in a generalist role providing and supervising direct patient care. CNSs are advanced-practice registered nurses in a specific specialty. CNSs are experts in evidence-based practice, expert clinicians, patient advocates, and consultants to staff nurses. Clinical nurse specialists have prescriptive and diagnostic authority in most states. They identify and suggest changes to systems and processes that could improve care delivery. CNSs share these change recommendations with CNLs, where available, and other administrative team members and assist in their implementation.
The National Association of Clinical Nurse Specialists delineates the potential areas of specialization by
Patient populations, such as pediatrics, geriatrics, and women's health

Care delivery settings, such as critical care facilities and emergency rooms

Disease or medical subspecialties, such as diabetes and oncology

Care setting, such as psychiatric care and rehabilitation
CNSs and CNLs complement each other. CNLs lead staff nurses who provide patient care; CNSs ensure that organizational systems support the best possible nursing care in an advanced-practice nursing role. CNSs make nearly $89,000 a year, on average, PayScale says.
Nurse practitioner.
The nurse practitioner certification, with its particular focus on practice, is available to graduate-level advanced-practice registered nurses. Nurse practitioners serve the field in myriad ways, including as independent and collaborative practitioners, working in urgent care clinics, and as providers in hospitals. But there are also many opportunities for nurse practitioners outside the usual settings. 
The Association of American Medical Colleges reports that the United States will be short some 122,000 physicians by 2032. Nurse practitioners can help bridge this gap by providing healthcare to areas, rural or urban, that don't have access to regular and preventative care. As more states embrace full-practice authority for nurse practitioners and eliminate laws requiring them to work under a collaborative agreement with and under the supervision of a physician, opportunities for these advanced-practice nurses will continue to expand. Nurse practitioners usually earn around $108,000 a year, salary.com reports.
Advanced nursing degrees—the new norm.
Many RNs, even those who are BSN-prepared, find their upward mobility is limited without an advanced degree. Attitudes about careers are shifting in younger generations of nurses, HealthLeaders reports, and many young nurses already have those advanced degrees in their sights.
An advanced nursing degree and professional certification in one of the nursing disciplines described above—in any nursing discipline—provides a strong trajectory for growth, leadership, and longevity in your nursing career. If you want to move up the nursing ladder into management or an advanced-practice role, consider pursuing a higher degree.