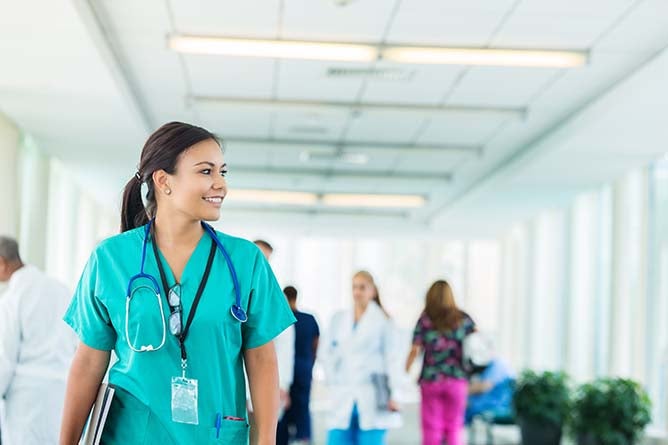 Driven by aging baby boomers and an increased emphasis on preventive treatment, employment growth for registered nurses is projected to outpace the average growth for all occupations until 2028, according to the Bureau of Labor Statistics. The growing demand makes nursing an even more attractive career option than it already is.
But there's a push toward requiring nurses to hold a bachelor's degree in nursing, which could send many working nurses back to school. Many nurses pursuing bachelor's degrees already have associate's degrees in nursing or nursing diplomas—and that educational experience could earn them significant nursing credits.
Further Reading: 4 ways to become a nurse leader.
If you hold an associate's degree or a diploma, many of the credits you've earned could be transferable to your nursing program—but there are some things you'll need to keep in mind when you look over your transcript. Jamie Self, enrollment manager at the College of Health Professions at Western Governors University, sheds some light on how you could already be well on your way to becoming a bachelor's-prepared registered nurse.
What college experience is transferable to nursing?
The courses you took when earning your associate's degree or your diploma provided you with a well-rounded education. Not all of these credits will transfer over to nursing school, but students entering WGU's RN-to-BSN program transfer an average of 81 credits from their previous degree.
"Courses accepted for transfer credit must be college-level courses from an institution that's recognized as an institutional accreditor by the U.S. Department of Education," Self says. "When students apply to WGU for any health professions program, we require a transcript review, including a course-by-course evaluation, for credit transfer."
College courses that could yield transferable nursing credits include:
English Composition 1
Human Growth and Development Across the Lifespan
Applied Healthcare Statistics
Your enrollment counselor will help you determine which credits are transferable.
"Also, keep in mind that each potential student must already possess an associate's degree or diploma in nursing," Self says. "Plus, students must have a current, unencumbered RN license."
How can prospective students capitalize on their experience?
Because applicants to WGU's RN-to-BSN online program are already nurses, they're able to build off their experience.
"WGU is unique in that we use a competency-based education model, allowing students to progress at their own pace through the coursework," Self says. "The curriculum is built around competency mastery, and prior healthcare experience may enhance a student's ability to demonstrate proficiency in any given subject. Some students accelerate their pace, and others may take more time and practice to advance."
What skills will help new students succeed?
Most nurses are already excellent at time management and multitasking, and these skills can be invaluable when beginning a new degree program. But those aren't the only skills that boost your chances of success.
"Online schooling requires students to possess a certain level of computer and technology skills," Self says. "Also, consistency is crucial. Regular study and coursework habits will enhance the student's experience and solidify program-specific content for the BSN student."
"Moreover," she adds, "communication and organizational skills are highly beneficial. The student must be in regular contact with key individuals—such as enrollment counselors, program mentors, and course instructors—throughout their program."
What else should prospective students know?
If you're interested in transferring your prior experience into nursing credits, it's easy to get started. But Self has a few more tips that you should keep in mind.
You must submit your official transcripts by the first date of the month prior to your start date. It takes time to review your information, and you'll need to plan accordingly if you have a specific start date in mind. Your transcripts must come directly from the institution you earned them from, and they must be delivered to WGU officially by mail or electronic delivery.
Be sure to include any AP test scores or college-level exam program scores you have, and note any military credits you might have, too. Sometimes students forget that they've earned these credits.
A head start on getting ahead.
The decision to go back to school can help propel your career to the next level—and you might be further along than you think. Talking with an enrollment counselor at WGU can help you better understand which credits you can transfer to help you achieve your goals faster.