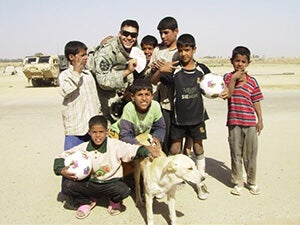 Jason Sims, pictured with local boys in Iraq.
In 2004, Jason Sims enlisted in the Army for two key reasons that will resonate with many veterans: to see more of the world and to further his education. He had recently finished his bachelor's in art, but wasn't finding many job opportunities in his hometown and planned to pursue another degree in science.
"The idea that the Army paid for school was huge for me. But it also gave me the opportunity to push myself and go somewhere I hadn't before. Before enlisting, I had a lot of uncertainty and doubt in myself and joining the Army gave me confidence, direction, and motivation to push myself and excel. The challenges were all so unique. I was hitting these goals and milestones and achieving things that I never thought were possible for myself."
After serving for six years, Jason was honorably discharged and returned to school to earn his bachelor's in biology, applying his G.I. benefits to pay for his degree.

"The military gave me all this discipline that I could apply to my studies. Coming back to civilian life, I had to find my place again. Doing biology re-grounded me, it gave me a new sense of the world. Going into science put things in a framework that helped me put myself back together."

Post-graduation, Jason was offered a biology position in his hometown of Wenatchee as a Watershed Coordinator. After three years in the role, he found his morale low, witnessing firsthand the impact humans had on the ecology of the local wildlife. Jason felt that it was time to explore a new career path.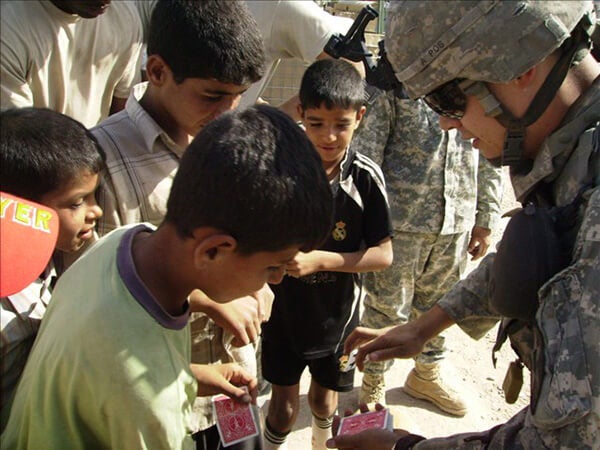 Jason Sims performs a card trick for children he met while serving in Iraq.
There was already a certain career that had been in the back of Jason's mind. The suggestion of becoming a teacher had been brought up by his aunt, who taught in the Eastmont School District. He could apply his biology knowledge while fostering an appreciation for the science in others. Jason decided to give it a try and started as a paraeducator at his local high school.
Like many of his fellow veterans, Jason has painful memories to cope with. Transitioning back into civilian life after experiencing the difficulties of the Iraq War left Jason feeling unsettled, but teaching provided the perfect outlet.

"I stumbled into this substitute thing and I loved it, it was so much fun. I feel like I'm making a positive impact on my students. Coming into the classroom I was able to redirect some of those confusing feelings—I felt like I had a mission and a purpose again."

To hone his skills as an educator, Jason realized he needed to go back to school, but required a program that didn't interfere with his teaching hours. Enter WGU Washington; the flexible model and flat-rate tuition fit perfectly with his working schedule and desire for quick progression.

"You can set your pace 100 percent. It's all about how much you want to put into it. There are correlations there with the military, you can decide to make the most of it and you get back what you put in. If you can be disciplined enough to stick to a good schedule, you can accelerate your program. I was able to complete eighteen credits in six months."

He also has the support of his faculty mentor, Nancy Cartwright, who keeps him balanced and on track. "Her attitude is just infectious," says Jason. The two have formed a close bond, Nancy's friendship is an anchor when Jason feels stressed and overwhelmed.

The university recognized Jason's service and commitment to his education with the Military Appreciation Scholarship, which has helped pay for the majority of his program. After receiving his master's degree, Jason is considering continuing at WGU in the special education program.

Right now, Jason is happy in position as a high school biology teacher in the Eastmont School District. When his school moved to online learning this year, Jason turned to unconventional methods to keep his students engaged—luckily, he has a few tricks up his sleeve. In his free time, Jason performs standup comedy and close-up magic, two hobbies that started as coping mechanisms but have great value in the classroom. He quickly became known as 'the magic guy' in his school. "To have that sort of reputation and build that into my teaching practice has been fun. And I have an audience that has to listen to me, it's the best."
Watch Jason perform a magic trick >
Learn more about WGU's benefits for military personnel, veterans, and their families - including exclusive scholarship opportunities.