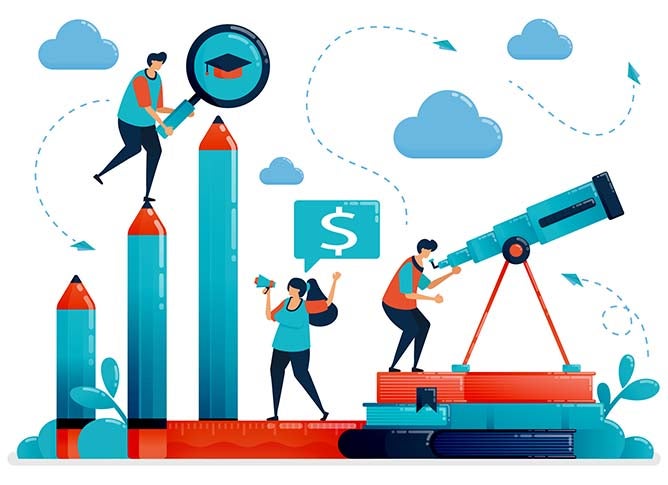 SXSW EDU is known for being one of the most eclectic and innovation-forward events of the year and one of the best places to discuss current trends, explore emerging best practices, and challenge outdated ideas in education.

WGU believes in breaking down the barriers that prevent people from embracing opportunity. This year, WGU is excited to have submitted over a dozen sessions to be considered for SXSW EDU. These sessions cover a range of topics, from how to close the digital divide to how higher ed can be designed to prepare a diverse student population to thrive in an increasingly uncharted moment.
Unlike most conferences, SXSW EDU selects events through a PanelPicker process. Proposed sessions will be evaluated by the SXSW staff, an advisory board, and the public, and the most positively favored proposals will be selected for the virtual event March 9-11, 2021.
Public voting opens on Tuesday, Nov. 10, 2020, and runs through Friday, Nov. 20, 2020. We invite you to make a PanelPicker account and vote!
REMOVING BARRIERS
Offline and Left Behind: The Lost Generation
A year after the onset of the COVID-19 pandemic, our internet infrastructure remains ragged and uneven, leaving 21 million Americans and an estimated one out of five schoolchildren disconnected. The internet is no longer a luxury; it is the pathway to learning and opportunity in the 21st century, and particularly so in the COVID era. The digital divide compounds the structural disadvantages of race and poverty and is the critical educational issue of our time. WGU President Scott Pulsipher and former Florida Governor Jeb Bush come together to discuss the digital divide and the role policy makers and higher education leaders have in remedying this crisis. 
The "Kids" Aren't All Right: Higher Ed Reform We Need Now 

For too long, we've romanticized the "Hollywood" version of college. But the campus-based experience is a reality for just 13% of today's college students. The majority of students work while in school, half are financially independent, and a quarter are parents. Traditional higher ed isn't designed to serve these students and it shows in low graduation rates, high levels of debt, and poor outcomes. Higher ed's most innovative thinkers—including WGU Provost Marni Baker-Stein, Chronicle of Higher Education Editor Goldie Blumenstyk, thought leader and author Michelle Weisse, and Higher Learning Advocate's Julie Peller—are calling for a new era in higher education. 
Beyond Debt: The Future of Paying for College
College = Opportunity. But in the fine print, it's more complicated. The United States produces two million bachelor's degrees each year—and one million student loan defaults. The problem is not just how much students pay for college, it's also the way we pay for it. Our current system places two enormous burdens on students: a complex, buyer-beware financial aid process and the risk that college doesn't pay off. WGU's Vice President of Financial Aid Bob Collins comes together with University Development leaders Andre Bueno and Rachael Marangu to address both of these burdens by reimaging how students pay for school. 
Breaking Barriers to Opportunity: Licensure Reform
This session will be a dialogue on professional licensure of teachers, nurses, and accountants during professional preparation and upon entering the workforce. Moderated by WGU's Vice President of Accreditation & Compliance Lucas Kavlie, a national expert in state regulations and compliance, this panel includes WGU's Senior Vice President of the College of Health Professions, Jan Jones-Schenk, and The Diversity Movement's Florence Holland. Together they will address challenges in transferability and licensing.
Closing the Digital Divide
Twenty-one million Americans currently lack meaningful access to the internet. It is fast becoming a full-blown crisis as schools resume use of virtual learning models. As government stalls on much-needed legislation and as internet providers shrink away from ensuring internet access, the digital divide widens and a whole generation of students will fall behind. It's time to sound the alarm.
REINVENTING EDUCATION
How to Regulate a Radical Rethink of Higher Ed
The four-year degree was designed for the first post-college job opportunity; today's learners need options for the next. Employers are increasingly focusing on whether job candidates have the skills they are looking for, not necessarily a degree. Breakthrough innovations are emerging: micro-credentials, skills-based curriculum, and alternative funding models. But how does traditional higher ed policy intersect with a future in which learning is a lifelong endeavor? What are the key elements of a new policy framework for investing in human potential? WGU's Alana Dunagan interviews New America's Director for Higher Education, Amy Laitinen.
From COVID to Social Justice: Meeting the Moment
From a pandemic to social justice movements, educators across the K-20 spectrum have had to lead their institutions with purpose, passion, and flexibility. In this conversation, WGU's Senior Vice President and Executive Dean of the Teachers College Dr. Mark Milliron will be joined by Bennett College President Suzanne Walsh and El Paso Community College President Dr. William Serrata to discuss how they have met these moments with student care and success at heart, and how they are looking to the future for their schools and communities. "What did we learn?" and "What will we bring forward?" are questions that will be answered, and the audience is encouraged to explore these and other questions with the panelists as well. 
Developing Resilient Learners in Difficult Times

Effective academic readiness efforts must consider the student as whole person, not just get them through remedial courses, and this approach is more important than ever as COVID-19 creates new barriers for underserved groups. WGU Academy helps students develop essential non-academic competencies: self-awareness and self-efficacy, belonging and growth mindset, and ownership and accountability. Academy has enrolled 10K+ students in its first 18 months and plans to serve hundreds of thousands more, regardless of the institution they attend. WGU Academy's President Pat Partridge and Director of Learning Experience Chelsea Barnett come together to discuss the work and methods of WGU Academy. 
Anarchy NXNW: Creating Good in Times of Turmoil
The Pacific Northwest has long been a cradle for innovation and social change. Now, in a country eager to reunite, pioneering examples of how education advances culture are emerging from the frontlines of "anarchy:" universities bridging the gap between talent and opportunity, activists supporting increased access to learning and career opportunities, police turning to education to improve training and ensure communities are protected justly. WGU's Regional Vice President Dr. Tonya Drake is joined by Covington, Washington's Chief of Police Andrew McCurdy and KING-TC anchor Joyce Taylor. 
Reinventing Nursing Education through Technology
In the age of COVID-19 and social distancing, increasing the ranks of qualified nurses has become even more challenging as traditional higher education institutions struggle to adjust. The demand for all types of nurses will soon exceed the workforce supply, and we cannot afford to slow down the development of qualified nurses. Though nursing education traditionally recognizes in-person live clinicals rather than alternatives such as simulation labs, now is the time to rethink what has worked in the past. As we adjust to new realities, virtual education using AI, VR, and AR will be crucial to meeting the demand for nurses. WGU's Director of Prelicensure Nursing Kim Kelly-Cortez is joined by Janelle Shepard, formerly of the Texas Health Resource, and the National Council of State Boards of Nursing's Nancy Spector to discuss new pathways to creating more qualified nurses. 
Faculty Development: Online Teaching
WGU's Northeast Regional Vice President Dr. Rebecca Watts and Director of Academic Engagement Deb Eldridge will be joined by Professor Sandy Figueroa to offer insights and learnings from a rapid response faculty development series focused on student engagement in online learning. They will discuss the successes, challenges, lessons learned, and recommendations from the pilot implementation at a large traditional system. They will also address rapid response faculty support, considerations for design, delivery, recruitment, participant engagement, and assessment to optimize value to faculty members across a broad range of online experience and knowledge.
Equity Lessons from the Nation's Largest Online University
Join WGU Labs for a panel discussion on the latest research around the equity gap in higher education. WGU Labs' Executive Director Jason Levin, VP of Diversity & Inclusion Jason Thompson, and University of Pittsburgh Assistant Professor Esohe Osai will discuss research insights, challenges, and tools to reduce inequality in education. Using student and faculty stories as their guide, they uncovered three key insights that are especially pertinent not only to the conversation at WGU, but the larger academic community as we commit to equity and fully inclusive academic experience for all students.
Plateaus in University-Driven EdTech Innovation
Higher education institutions can be the birthplaces of innovative ideas, but when it comes to advancing ed tech, universities struggle to scale. In this discussion, leaders of institution-based accelerators will talk about strategies that universities should employ to successfully support ed tech innovation.
Strength in Numbers: A Discussion on EdTech Support

Technology is now the primary channel that connects students with their learning. Strains on operating budgets have made it more difficult for educators to invest the time necessary to identify and implement needed EdTech solutions. The College Innovation Network (CIN) supports institutions' goals of sourcing and implementing needed EdTech targeting students' evolving needs. Join CIN directors as they identify common challenges and share innovative ways to help schools thrive today and beyond.
THE FUTURE OF WORK
How Skills & LER Are Shattering the Glass Ceiling
Imagine a day when employers can seamlessly match skilled talent with opportunity. Imagine a day when learners gain immediate return on their educational investment by earning workforce relevant skills on their way to degree. Imagine a day when every individual is empowered with career and educational pathway insights to pursue their next best opportunity. This day is now, and it is enabled through the power of skills. WGU's Director of Program Architecture Kacey Thorne and Director of Academic Records and Credentials Darin Hobbs will be joined by the CEO of National Student Clearinghouse Ricardo Torres and IBM's Alex Kaplan to discuss how these imaginations can turn into reality. 
Diversifying Pathways to Entrepreneurship

The overwhelming majority of venture capital flows to firms backed by white male founders; less than 1% of startup founders are Black and only 2% of venture capital flows to women. Learn how a group of innovators are attacking this problem from multiple key chokepoints on the pathway to entrepreneurship, including building programs to equip a diverse set of future founders with skills, experiences, and connections, as well as building out diversity within the ranks of venture capitalists. WGU's Senior Vice President of University Development Matt Sanders teams up with Senior Manger & Head of Strategy Michael Morris and University Development Director Charlie Nguyen to tackle these disparities head-on. 
A Multi-Generational View of Next-Generation Work
WGU's Vice President of Evaluation Operations Maureen O'Brien will be joined by her son, Sean O'Brien, the CTO and co-founder of Mavely, to explore the next generation of work. As the gig economy explodes, what does that mean for individuals, companies, and the economy? While COVID has accelerated learning and working remotely, will this trend continue? How will workforce management evolve to meet the challenge of a more independent, diverse, and geographically dispersed workforce? What knowledge and skills will be required to thrive?
How to Create Belonging in an Online Working Environment. 
This conversation with WGU Regional Vice President Alison Bell and Regional Director K.L. Allen will explore the impact of a pandemic that has changed how we work. How do we, as leaders, implement lessons learned about flexibility and efficiency while maintaining connectedness and engagement? How do we support our teams to maintain balance as they manage children in blended learning settings, uncertainty about health, and financial well-being, and a transformed social, and leisure landscape? How do we effectively address the digital divide and equitable access?