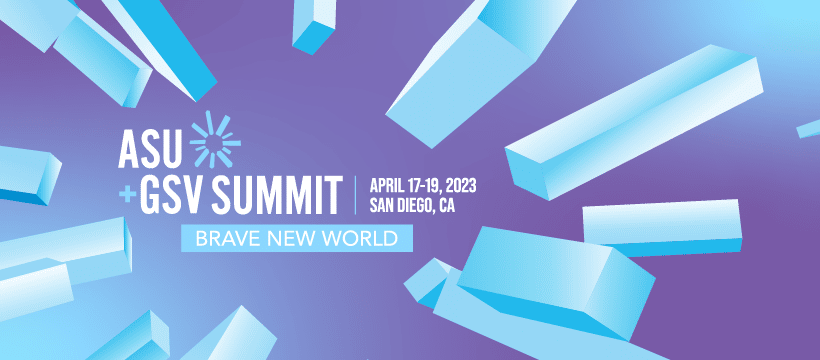 At the upcoming ASU+GSV Summit in San Diego (April 17-19), leaders and innovators from Western Governors University (WGU) and other education and workforce development organizations will convene to discuss and advance solutions to current challenges that will create pathways to better opportunities for all types of learners. 
WGU is proud to share stages with many other organizations—from large employers to EdTech startups—that are tackling big challenges in education and job training, while also providing the audience with actionable takeaways to create more flexible, personalized, and student-centered approaches to better serve learners. 
Be sure to tune in to programming from WGU and its affiliates—WGU Labs and the Open Skills Network—who, along with many partners, are leading conversations and convenings at the Summit.  
Although the in-person event is sold out, it's not too late to register to attend virtually. If you'll be joining us in person or virtually, be sure to add our panels to your schedule (full schedule and links included below). 
 We look forward to seeing you in San Diego!
WGU Sessions
Open Skills Network (OSN) Reception
5:30 – 7 p.m. / Lou & Mickey's, 224 Fifth Avenue, San Diego, CA 92101
Are you excited about exploring a "Brave New World" at the ASU+GSV Summit? We at OSN certainly are excited to explore open skills in this new frontier! And to kick off our time in San Diego, we're inviting you to join us for a special reception.
Picture yourself sipping on delicious cocktails, nibbling on mouth-watering appetizers, and engaging in conversation with like-minded individuals who are just as passionate about building an open skills-based future as you are. It's an opportunity to connect with thought leaders, educators, and innovators who are leading the charge in shaping the future of work and learning.
Come join us at the Open Skills Network reception and kick off the ASU+GSV Summit with us. We can't wait to see you there!
Space is limited
RSVP for the Open Skills Network Reception
Stage X Monday Breakfast: No Holds Barred. . .The Brave New World of Learning and Earning
9–10:45 a.m. / Seaport Ballroom A-E, Level 2
It's been said that crises don't create trends; they accelerate them. The pandemic's impact on the world of work is no exception. Taking no prisoners and providing a dynamic view of the brave new world, this group will have a lively interchange about changes that must happen in HirED (pathways to employment).
‍Johnny C. Taylor, Jr. (President & CEO, Society for Human Resource Management)
Patrick Methvin (Director of Education, Postsecondary, Bill & Melinda Gates Foundation)
Deborah Quazzo (Managing Partner, GSV Ventures and ASU+GSV Summit)
Scott Pulsipher (President, Western Governors University)
Moderator: Talia Milgrom-Elcott (Executive Director and Founder, Beyond100K)
Hands-On Experience with Learning and Employment Records
11–11:45 a.m. / Solana Beach A, Level 3
Corporate practitioners, academic organizations and subject matter experts will discuss the value of Learning and Employment Records (LERs) as a tool to support the adoption of digital, interoperable, skills-based credentials for employees and to support students in finding their path into careers and jobs. Our session will explore how WGU, IBM and others are accelerating the journey towards a national skills-based infrastructure using Learning and Employment records. The session will address:
What is an LER, and why are LERs important for making it easier to connect students, employees and job seekers with jobs, education, and career growth?
How have our organizations used LERs in hiring and advancing talent and supporting students?
What impact have we seen so far?
What is working well and what has been challenging with implementing LERs?
What are practical actions attendees of the Session should take?
Speakers

Alex Kaplan (Partner, IBM Talent Transformation, IBM)
Darin Hobbs (Vice President of Academic Records, Credentials & Career, Western Governors University)
Kacey Thorne (Senior Director, Skills Architecture, Western Governors University)
Kymberly Lavigne-Hinkley (Director, Community of Care Ecosystem, Western Governors University)
I Want You: Enlisting Doers to Solve Wicked Problems for Rising Talent
2–2:40 p.m. / Harbor F, Level 2
There are roughly 30 million people in the U.S. without a postsecondary degree who are working in low-wage jobs. These individuals – a group we call Rising Talent – have been systematically kept out of opportunities and face the "wicked problems" most organizations avoid solving for. WGU is dedicated to understanding the needs and creating solutions for these individuals, but we know that we cannot do it alone. In this session we will present the case and "enlist" a group of like-minded organizations who will work together long after the 2023 ASU+GSV Summit to scale "what works" for the hardest problems facing Rising Talent.
Ben Helland (Senior Manager of Strategy and Insights, Western Governors University)
Megan Brewster (Director, Impact Strategy, Sorenson Impact Center)
Matt Kelly (Director of Strategic Marketing & Communications, PeopleGrove)
Holly Custard (Senior Director, Strategic Partnerships, Strada Education Network)
Shad Ahmed (Chief Operating Officer, Opportunity@Work)
Maximizing Student Success and Faculty Impact: Embracing AI-Driven "Just-In-Time" Interventions
2–2:45 p.m. / Solana Beach A, Level 3
Why wait for students to ask for help? What if we could automatically detect when a student needs help in an online environment and assist faculty in delivering their "just-in-time" interventions to the student within minutes? Interventions that are personalized to the student and their learning pathway, driven by expert faculty members, and assisted by AI? Students will benefit from help when they need it leading to better outcomes while faculty can be more targeted, effective, and efficient in helping their students Join us at our panel to hear about this emerging work from experts at WGU and founders of AI startups focused on solving this problem.
Quddus Pativada (Founder/CEO, DigestAI)
Rajen Sheth (CEO and Co-founder, Kyron Learning)
Tom Wagner (Senior Director of Learning Analytics, Western Governors University)
Joe Dery (VP & Dean of Data Analytics, College of Information Technology, Western Governors University)
Anant Agarwal (Chief Platform Officer of 2U and Founder of edX)
Moderator: Ashutosh Tiwary (SVP and Executive Dean, Western Governors University)

LEGO Towers, Not Ivory: The Power and Promise of Stackable Credentials in Higher Ed
3:40–4:20 p.m. / Coronado E, Level 4
Adult learners today have more diverse needs than ever before. So let's stop thinking of higher education as this grand ivory tower in the sky, where academic pursuits are separate from everyday life and accessible only to the few. And let's start giving all learners LEGO-like building blocks to help them build their own towers to success. Stackable credentials are gaining more and more traction as incremental, skills-based, career-relevant learning that forges direct links between education and work—and that puts learners' needs front and center. Join a panel of experts from the fields of education, business, and workforce development for an insightful discussion on the benefits and challenges of creating stackable credentials that give everyone, everywhere more affordable and flexible pathways to opportunity, advancement, and lifelong learning.
Anant Agarwal (Chief Platform Officer of 2U and Founder of edX)
Ashutosh Tiwary (SVP and Executive Dean, Western Governors University)
Liesl Riddle (Dean, GWU College of Professional Studies)
Bill Hughes (CEO, Education Design Lab)
Moderator: Doug Lederman (Editor and co-founder, Inside Higher Ed)
Do We Need a New College Movement?
10:10–10:50 a.m. / Coronado E, Level 4
New college formation is difficult and rare, for lots of legal and practical reasons. Is that a problem?  Is there any way to real change and improvement in US higher education without the benefit of new entrants and the competition and design innovation that might come with them?
Scott Pulsipher (President, Western Governors University)
Peter (Pano) Kanelos (President, UATX)
Shai Reshef (President, University of the People)
Leila Makarechi (Chief Business Officer, Merit America)
Moderator: Stig Leschly (President, Postsecondary Commission)
What Else Do You Got? When the Degree Isn't the Standard Anymore
11–11:40 a.m. / Coronado D, Level 4
Less than a third of Americans believe you need a bachelor's degree for financial security, and just 50% of Gen Z teens are considering a four-year degree. Instead, many learners today are seeing non-college pathways to opportunity, including apprenticeships, bootcamps, and professional certifications. In this session, we will work collaboratively with attendees to detail why more Americans are choosing non-college pathways, what types of pathways are better meeting specific segment needs, and how higher education institutions can adapt.
Mercedes Aquilini (Associate Strategy & Corporate Development Manager, Western Governors University)
Parminder Jassal (CEO/Founder, Unmudl Skills-to-Jobs Marketplace)
Bob Sherriff (CEO, CareerDash)
Meena Naik (Director, Skills First Design, Jobs for the Future)
Stage X Tuesday Lunch: A Conversation with Bill Gates
12–2:15 p.m. / Seaport Ballroom A-E, Level 2
Jessie Woolley-Wilson, CEO of Dreambox and WGU Board Member, is moderating a fireside chat with Bill Gates during the Stage X lunch session.
Creating the Prison-to-College Pipeline
2:30–3:10 p.m. / Solana Beach A, Level 3
In July 2023, upwards of 500,000 incarcerated individuals will be able to take advantage of Pell Grants to enroll in college programs following the end of a 25-year ban. Earning a college degree can provide access to well-paying jobs and the ability to reintegrate into communities after leaving prison. Evidence suggests participants in college-in-prison programs are 48% less likely to return to prison. However, only 35 percent of state prisons provide college-level courses, and these programs only serve six percent of incarcerated individuals nationwide.
In this session, panelists will explore the barriers to entry for prison education programs, how WGU is investing in this learner population, and why it is imperative that we educate incarcerated individuals for the betterment of society.  We will also discuss how to take advantage of the new Pell program and address the unique challenges to delivering educational programs in correctional facilities.
Noah Freedman (CEO, Nucleos)
Rob Scott (Executive Director, Cornell Prison Education Program)
Jodi Anderson (CEO, Co-Founder Rézme Inc.)
Moderator: Brad Bernatek (Managing Director of WGU Labs Accelerator)

Improving Outcomes for Black, Latinx, & Indigenous Learners at Scale
3:30–4:15 p.m. / Solana Beach A, Level 3
The National Scale Enterprise work through the Bill & Melinda Gates Foundation is designed to close the access and attainment gap for Black, Latinx, and Indigenous learners. Through the Research & Design for Growth & Equity grant, Arizona State University, Southern New Hampshire University, and Western Governors University are researching learner experiences at scale to optimize targeted policies and practices. In this session presenters will share powerful insights from the research that is actionable across all educational settings.
Adrian Haugabrook (EVP & Managing Director, Social Impact Collective, Southern New Hampshire University)
Patrick Rossol-Allison (Associate Vice President, Strategic Initiatives, Arizona State University)
Dale Whittaker (Sr. Advisor, Postsecondary Success, Bill & Melinda Gates Foundation)
Adam Cota (Vice President, Advanced Analytics, Western Governors University)
Moderator: Annalisa Holcombe (President, WGU Advancement, Western Governors University)