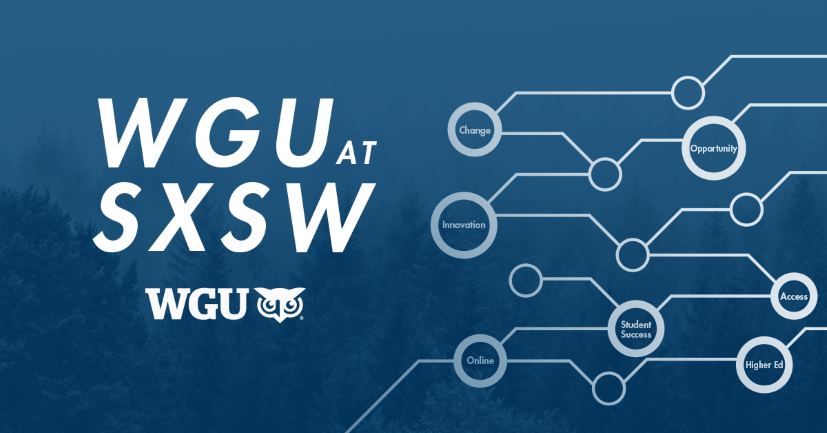 On March 9–11, leaders and educators from WGU will participate in several sessions at SXSW EDU Online. They will discuss ways to make higher education more accessible and equitable for all learners.  Keep reading for details and registration links for each session.
Offline & Left Behind: The Lost Generation
Scott Pulsipher, WGU President
Jeb Bush, former Governor of Florida and Founder/Chairman of ExcelinEd
The nation's internet infrastructure remains inadequate, leaving 21 million people—and an estimated one out of five school children—disconnected. Internet access is no longer a luxury; it is a necessity, especially in the era of COVID-19. Join the speakers as they discuss what has become the pivotal educational issue of our time.
Tuesday, March 9, 2021 at 11 a.m. CT
The "Kids" Aren't Alright: Reinventing Higher Ed

Marni Baker Stein, WGU Provost and Chief Academic Officer
Michelle Weise, Senior Advisor at Imaginable Futures
Goldie Blumenstyk, Senior Writer at The Chronicle of Higher Education
Julie Peller, Executive Director of Higher Learning Advocates
For the majority of higher ed learners, their experience doesn't match the "Hollywood" version of college. Most students work while in school, half are financially dependent, and a quarter are parents. During this session, the panelists will discuss how to move toward a new era in higher education, one that meets learners where they are.
Tuesday, March 9, 2021 at 12:30 p.m. CT
From COVID-19 to Social Justice: Meeting the Moment
Mark Milliron, Senior Vice President and Executive Dean of the WGU Teachers College
Suzanne Walsh, President of Bennett College
William Serrata, President of El Paso Community College
This past year, educators across the K–20 spectrum have led their institutions with purpose, passion, and flexibility. In this panel discussion, the speakers will talk about lessons learned and which strategies should continue, inviting the audience to contribute to the discussion.
Tuesday, March 9, 2021 at 10:30 a.m. CT
How Skills & LER Are Shattering the Glass Ceiling
Darin Hobbs, WGU Director of Academic Records & Credentials
Kacey Thorne, WGU Director of Skills Architecture
Alex Kaplan, IBM Global Leader of Blockchain and AI for Industry Credentials
Ricardo Torres, National Student Clearinghouse CEO
The shift to skills-based learning and hiring is happening sooner than we think. In this session, the speakers will discuss why focusing on workforce-relevant skills and the Learning and Employment Record (LER) can provide immediate returns to individuals and employers.
Tuesday, March 9, 2021 at 3:30 p.m. CT