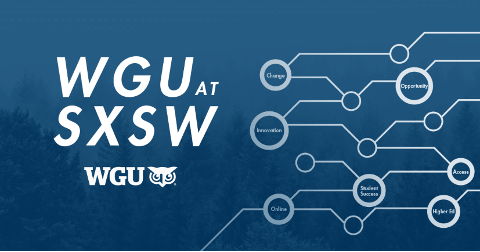 On March 7-10, WGU leaders will participate in a variety of panel sessions at SXSW EDU 2022 in Austin, Texas. They will discuss innovative solutions to current challenges in higher education that will create pathways to better opportunities for all types of learners. Keep reading for details and registration links for each session.
In with the New: Rating Higher Ed by Economic Mobility
Marni Baker Stein, Chief Academic Officer and Provost of Western Governors University
Michael Itzkowitz, Senior Fellow, Higher Education, Third Way  
Greg Fowler, President, University of Maryland Global Campus  
Jose Gomez, Provost, CAL State LA
Are schools living up to the promise of economic mobility? Experts take an in-depth look at a report by panelist Michael Itzkowitz of Third Way, which assessed economic mobility among higher education institutions using the innovative Economic Mobility Index (EMI). The analysis is designed to give policymakers, researchers, and consumers a better way to assess which colleges are delivering on the promise of economic mobility for low- and moderate-income students—and which ones are falling short.
Monday, March 7 at 11 a.m. CST
Learner Revolution: How to Become Truly Student-Centered
Marni Baker Stein, Chief Academic Officer and Provost of Western Governors University  
Paul Fain, Contributing Editor, Inside Higher Ed  
Ashish Vaidya, President of Northern Kentucky University  
Cole Clark, Managing Director, Higher Education, Deloitte Services, LP
Higher education must re-center around students in a way that helps learning personalization thrive. This can be done by making students the primary focus in a way that is sustainable. Now is an opportunity to refocus on what's best for students and imagine innovative faculty models with revolutionized curriculum. Explore what the future looks like for academic institutions and how frameworks can be reimagined to better support students while also coping with the pandemic.
Wednesday, March 9 at 11 a.m. CST
Register for Learner Revolution
Fail Safe Experiential Learning with Immersive VR
Mark Milliron, Senior Vice President & Executive Dean of the Western Governors University Teachers College
Aaron Popham, Academic Vice President & Dean of the Western Governors University Teachers College
Mamie Pack, Senior Instructor Faculty, Head of Teachers College Diversity and Inclusion at Western Governors University
Ever wish you had a do-over? Teachers must explore new ways to work with children with special needs, master specific instructional routines, and lead difficult conversations in complex classrooms in the quest to create inclusive environments that support learning and belonging. Live avatar-based simulations provide a fail-safe environment for experimenting, learning and growing skills. See how this university trains teachers in an authentic, replicable, scalable and diverse simulated classroom.  
Wednesday, March 9 at 12:30 p.m. CST
Register for Fail Safe Experiential Learning with Immersive VR
The Future of Workforce Education – The Edges of Learning and Work
Maria Flynn, President and CEO, JFF  
Kristina Francis, Executive Director, JFFLabs  
Scott Pulsipher, President, Western Governors University
David Sutphen, Chief Impact Officer, 2U  
Jeremy Wheaton, CEO, ECMC Group
Workforce education and lifelong learning are rapidly changing and becoming essential to the economy. Join JFF and workforce education experts as we evaluate the biggest trends impacting the work-and-learn ecosystem today. With the rise in new educational models and marketplaces, what does "quality" look like? How will students—and companies—know what to trust? How will emerging technologies like AR/VR and the metaverse enable us to reimagine what high-quality learning could look like?  
This dialogue will feature interstitial content from human-centered design firm IDEO, bringing the voice of learners and workers into the room through brief storytelling experiences.  
Hear from college presidents, employers, entrepreneurs, tech experts and policymakers on what they see as the biggest challenges and opportunities in our field.
Thursday, March 10 at 9 a.m. CST