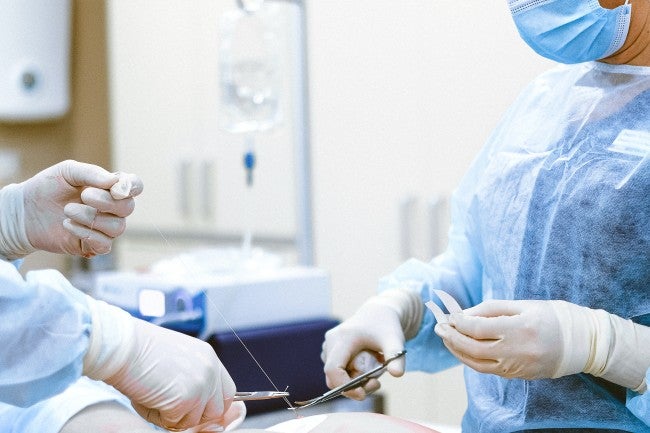 Perioperative nurses fill a very important role. They bring a sense of comfort, organization, and stability to the sometimes uncertain world of surgery. Specialized in clinical pre- and post-operative surgical care, perioperative RNs ensure safe and efficient operations by assessing patient needs, directing patient care, handling sanitation concerns, and assisting surgeons during procedures.
In this guide, we'll explore the responsibilities, education, and salary for perioperative nurses, along with the hard and soft skills you'll need to enter this exceptionally rewarding profession.
What does a perioperative nurse do?
Not to be confused with triage nurses, perioperative nurses are focused solely on patient care before, during, and after surgical procedures. In clinical and hospital settings, these registered nurses ensure that surgical procedures run smoothly. They work alongside surgeons, anesthesiologists, and nurse practitioners and relay vital communications about patient care to other nurses and medical staff.
The day-to-day responsibilities of a perioperative registered nurse include:
Helping patients complete surgical paperwork, answering their questions, helping them understand what will happen in the operating room, and calming their fears before surgery.
Monitoring patient conditions during and after surgery.
Managing nursing care in the operating room to maintain a safe and comfortable environment.
Sterilizing surgical equipment and the operating room.
Educating patients on best practices for recovery, including how to keep wounds clean and pain management options and routines.
Perioperative nurse vs. OR nurse.
Operating room (OR) nurses, scrub nurses, and surgical nurses are, in fact, perioperative nurses. While they all are dedicated to patient care, there are many surgical subspecialties that you can pursue based on your area of interest or the patient group that you'd like to help:
Neurosurgery

Cardiac surgery

General surgery

Plastic and reconstructive surgery

Transplant surgery

Trauma

Oncology

Urology

Orthopedics

Ophthalmology

ENT

Pediatrics
You can also choose a job depending on the type of perioperative nursing or nursing environment that you enjoy. Scrub nurses work exclusively in the OR, whereas circulating nurses work with patients only before and after surgery. And then there are PACU (post-anesthesia care unit) nurses who help patients awaken and stabilize from anesthesia. As well as RN first assistants that directly assist doctors in surgery, from administering stitches to monitoring patients for complications. For first assistants and other perioperative nurse job specialties, you may need additional clinical nurse training or testing to be prepared.
How to become a perioperative nurse.
In addition to being an RN, you'll need at least one year of on-the-job experience or a certification specific to perioperative nursing. Let's discuss the steps and requirements in more detail.
The first step in becoming a perioperative nurse is earning your associate nursing degree or bachelor's degree in nursing (BSN). Of course, a BSN makes you much more competitive for top perioperative nursing roles and will lead to higher pay.

If you're already working as a registered nurse and would like to get your bachelor's to move into a perioperative specialty, there are many accredited RN-to-BSN programs that you can attend online. These enable you to earn your advanced degree at your pace and on your own schedule, while still working full-time.
Whatever route you take, you'll also need to pass the NCLEX—the nationwide examination for nursing licensure.
After earning your degree and passing the NCLEX, you can then apply for your first nursing job. And if you'd like to become a perioperative nurse that works in the pre-, intra-, and post-op areas, you'll typically need to work as an RN for at least one year.
Some hospitals and surgery centers offer on-the-job programs for transitioning into a perioperative role. Working as an emergency or critical care nurse can also prepare you for these jobs. Or you can earn a post-bachelor's certification specific to perioperative nursing, such as the one offered by AORN—the Association for periOperative Registered Nurses.
Because perioperative RNs serve many roles—assisting doctors, serving as patient liaisons, and communicating with patients and their families about courses of care—they need a broad set of skills to be effective.
The most common skill requirements for successful perioperative nurses include being:
Able to work in a challenging, fast-paced environment
An effective communicator with solid interpersonal skills
Perioperative nurses also possess a great deal of emotional stamina since they regularly manage life-threatening situations and console anxious patients and family members.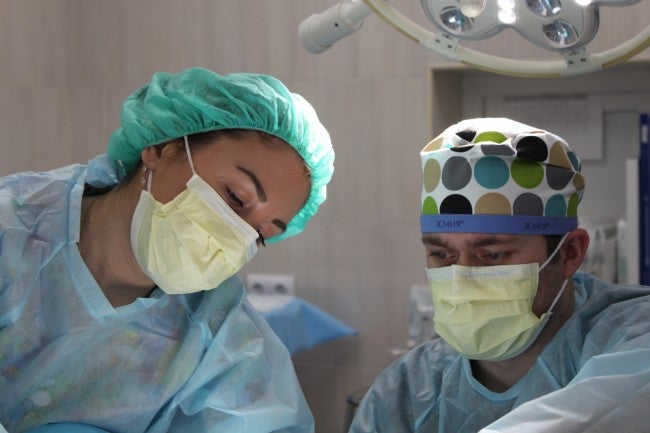 How much does a perioperative nurse make?
As with most specialty nursing positions, your salary will depend on your level of education, years of experience, employer, and where you live and work.
The Bureau of Labor Statistics (BLS) reports that RNs with their bachelor's degrees earn annual salaries between $52,080 (the lowest 10%) and $111,220 (the highest 10%). This equates to a median hourly wage of $35.24, which is well above the average for all other U.S. occupations. Additionally, an AORN survey found that 65% of perioperative nurses received extra pay from sources such as overtime, shift differential, on-call compensation, and bonuses.
Four other ways you can increase your salary are:
Earn your master's degree—consider a BSN-to-MSN program to accelerate your time to graduation.
Factor in non-salary compensation—including paid days off, health insurance coverage, and tuition assistance.
Relocate or become a traveling nurse—research which cities offer the highest salaries with the best cost of living.
Perioperative nursing outlook.
Considering the current U.S. nursing shortage, the growing healthcare needs of our aging population, and many baby boomer nurses nearing retirement, there is a high demand for qualified perioperative nurses. The BLS expects this occupation to grow much faster than average with 221,900 new positions added over the next 10 years.
Career opportunities in this field can also be heightened depending on the industry or type of facility that you work at. For example, surgical centers and hospitals are forecasted to offer the highest levels of current and future employment.
Wherever you choose to work, perioperative nursing is a fulfilling RN specialty that's constantly evolving. You can look forward to a stimulating career that challenges you to stay on top of your game. And you can sleep well at night knowing that you're helping your patients receive the best quality of care with a positive surgery experience.