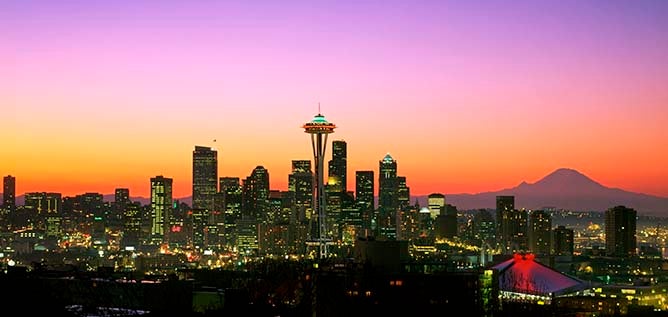 If you're looking for cloud computing jobs, look no further than the Evergreen State.
Two of the world's four major cloud computing companies, Amazon Web Services (AWS) and Microsoft, are headquartered in Washington. In 2020, according to Forrester research cited by TechRepublic, those companies, along with Alibaba and Google, will generate 75 percent of the $75.4 billion global cloud computing enterprise.
AWS and Microsoft are global giants, but they're hardly the only game in town when it comes to cloud computing jobs. Google and Salesforce are also laying down roots in Seattle to get closer to the action. All this action points to one thing: cloud computing jobs are booming in Washington state.
Understanding the cloud.
Cloud computing is all about access. For decades, your access to information, media, and other data depended on the size, speed, and strength of your hard drive—maybe even how many floppy disks, flash drives, and CDs you had. You needed local storage for all your data, whether it was photos, files, games, or applications. Companies functioned similarly, using local storage to keep client, financial, and operational data.
Further Reading: 6 of the fastest-growing jobs in IT.
Today, the opposite is true. The internet lets users of any connected device tap into the cloud to use programs, download files, and save data. Using Google Drive? That's the cloud. Dropbox? The cloud. Reading your email? Streaming a video on YouTube? Cloud and cloud.
Don't take the term too literally: the cloud is actually a series of huge servers that live in data centers and store gigantic amounts of information to be accessed on-demand. Cloud computing professionals create, manage, and maintain these servers, ensuring that all relevant parties can access the right data when they need it. They construct an organization's cloud architecture and protect the data that moves through it.
Cloud computing jobs in Washington.
The emergence of tech giants in Washington is largely responsible for the influx of cloud computing job openings.
But it's not just AWS and Microsoft that need cloud computing professionals. At the time of this writing, LinkedIn listed more than 2,400 Seattle-based cloud computing job openings, many of which were at smaller but still mighty companies—companies such as Salesforce, which in 2019 announced the opening of a big new office in Seattle, a move that sparked speculation that the company was looking to expand its cloud computing capabilities, TechCrunch reported. Other companies looking for cloud computing professionals included Oracle, a cloud network solutions architect, and Google Cloud, which just opened a 600,000-square-foot campus across the street from Amazon, GeekWire notes.
Washington job data shows just how important cloud computing is to the state's employment numbers. According to the Seattle Times, the number of cloud computing professionals grew by 26 percent between 2013 and 2016—nearly four times as fast as Washington's average job growth during that time.
Beyond the tech giants, Built in Sea reports, there's an entire ecosystem of Seattle-based small businesses and startups that have emerged to support cloud computing. And because nearly every organization relies on the cloud to store, share, and manage data and valuable digital assets, there's a huge and growing need for a variety of IT cloud and systems administration professionals.
Becoming a cloud computing expert.
Even for established IT professionals, cloud and systems administration is a fast-paced and ever-changing profession, so it's important to know what credentials you'll need to make the leap to the cloud. To get a cloud computing job, you need to have a combination of knowledge, skills, and credentials in an array of IT fields, including network and systems administration, data management, security and DevOps. Earning a bachelor's degree in cloud and systems administration is essential to becoming a cloud computing professional, as it trains you in systems maintenance and cloud optimization methods.
The cloud and systems administration program at Western Governors University gives you the experience and skills you need to succeed in the profession—and it boosts your résumé by providing respected industry certifications, such as Amazon's AWS SysOps Administrator–Associate certification and CompTIA's Cloud Essentials certification, as you complete your coursework. Another extra perk is that, as an official AWS Academy member institution, WGU integrates AWS-authorized learning content into the cloud and systems administration program, offering an AWS cloud computing curriculum that's always up to date.
With a degree and the right certifications, you might be able to land one of these common cloud computing roles:
Cloud support specialist. Cloud support specialists provide ongoing infrastructure support to an organization or to clients integrating cloud computing services with their existing systems.
Cloud administrator. Admins cover the basics of cloud implementation, but they often also manage multiple systems and ensure that the data therein is protected.
AWS support specialist. AWS support specialists are more specially focused admins; they provide system engineering and integration support within AWS frameworks. In most cases, employers require candidates to have earned Amazon AWS SysOps certification.
Other titles include network and computer systems administrator, data center administrator, and computer systems analyst. Many of these roles support companies as they replace their traditional hardwired computer networks with software- and cloud-based storage solutions and operating systems delivered directly over the internet.
Keeping up with tech.
Cloud computing is expected to see continued growth, and it's increasingly orienting itself in Washington. That means that there will be more demand for cloud computing experts who understand where the industry is headed. There might not be a better time to get involved.