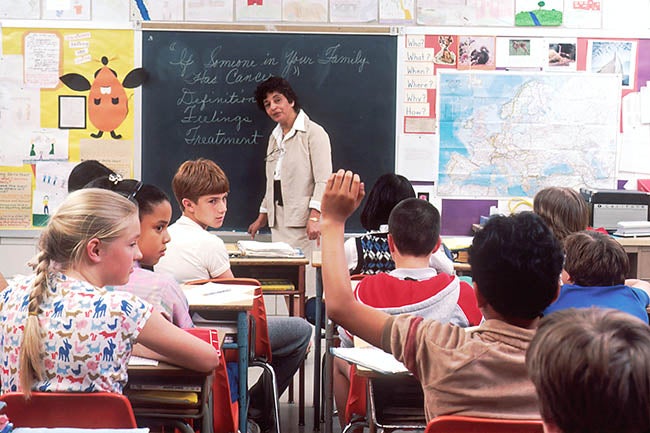 What is World Teachers' Day?
We all love the teachers who have shaped and enriched our lives, but did you know there's a day dedicated to celebrating their contributions to society? That's what World Teachers' Day is all about. World Teachers' Day is celebrated every October 5th,marking a special day every year that we honor the teachers who are making a difference in our communities and the world at large, while also generating awareness about the issues facing teachers today.
World Teachers' Day has been celebrated since 1994 by more than 100 countries. This annual celebration is marked by a theme that guides the festivities. For example, the theme for 2017 was "Empowering Teachers," while 2018's focus was "The right to education means the right to a qualified teacher." In 2020, the theme for World Teachers' Day was "Young Teachers: The Future of the Profession," designed to call attention to the value of teaching and reaffirming the mission of teachers. 

Why is World Teachers' Day Celebrated?
As of 2020, there were nearly 85 million teachers worldwide. The teaching field encompasses a wide range of roles and credentials, including special education teachers, subjects such as math and science, instructional education, and more. Teachers work hard to earn the degrees and certifications they need to lead a classroom, and their hard work is honored on World Teachers' Day.
The History of World Teachers' Day

The origins of World Teachers' Day can be traced back to 1966, when UNESCO (United Nations Educational, Scientific, and Cultural Organization) passed the 1966 ILO/UNESCO Recommendation concerning the Status of Teachers. The Recommendation established guidelines for the responsibilities of teachers, standards for how teachers are prepared, taught, and recruited. There are also standards for teaching and learning conditions and recruitment. World Teachers' Day takes place on the anniversary of this historic event.
World Teachers' Day is now celebrated in partnership with UNICEF, the International Labour Organization and Education International, aiming to honor progress in teaching while addressing challenges and encouraging others to pursue their dreams of teaching. While many students celebrate World Teachers' Day, it's not just a day of reflection and acknowledgement by those who are still in school. Everyone is encouraged to celebrate, from parents of students to current students of any age and anyone whose life has been touched by a teacher who has made a difference.
The Demands of the Teaching Career
Many careers face challenges and complications, but the demands that teachers face are on a different level. Some of those demands include:
Creating engaging lessons and keeping them fresh
Grading papers
Managing paperwork and student data
Collaborating with parents
Giving more time to students who may be struggling
Juggling the demands of multiple classes
Handling classroom complications, from student issues to technical problems
Dealing with in-class demands in conjunction with after-school tasks
Taking care of supply needs
Working with administrators to address needs of both students and teachers
The Societal Value of Teachers
There's no question that teachers are invaluable to society. In addition to helping shape young minds (and preparing them to become tomorrow's leaders), they often support their students' dreams and encourage them to work hard to achieve them. This helps set students up for success, teaching them the skills they need to create the kind of lives they want to live and give back to their communities in a similar way. Teachers' passion for education is infectious and can make a big difference in the lives of students who may not have support for their own educational passions at home. The more teachers are able to have a positive impact on their students, the more that positivity spreads throughout the community. 
How Can You Celebrate World Teachers' Day?
You can contribute to World Teachers' Day whether you work directly with educators or not, and even if  you're not a current student. In fact, it's encouraged! The more that people celebrate World Teachers' Day, the more teachers will know how much we appreciate them and that we understand and support them through all of their challenges.
Show Appreciation

There are numerous ways you can show appreciation to teachers and encourage teacher appreciation if you're the parent or guardian of a young student. Some examples include:
Giving heartfelt gifts, like drawings, cards, or handmade crafts

Offering pampering gifts that can help them de-stress
Working with the PTA to set up a potluck breakfast or lunch
Collaborating with the community on a teachers appreciation event
Listening to podcasts that educate you about teachers around the world
Sharing your appreciation for teachers on social media
Reaching out to a teacher from your youth and let them know how much they meant to you
Engage in Advocacy

Teachers are constantly dealing with countless issues both in and out of the classroom. Many teachers are dealing with low wages, and their schools often struggle with funding that allows them to address basic classroom needs. This is why you often see teachers sharing Amazon wish lists to get supplies for their students. Many also don't receive the mentorship or administrative support they need that can help them advance in their careers, particularly teachers from diverse backgrounds. Some struggle with getting the support they need from a student's parents so that they're able to adapt to that child's educational needs.
You can help advocate for teachers by:

Collaborating with fellow parents in the community to give teachers extra support

Joining the PTA or other like-minded organizations in your public school system
Sharing your concerns with teaching administrators and work with them to create plans
Leading fundraisers that can help with supplies and other educational tools
Connecting with elected officials to encourage their support in the education system
Researching legislation and understanding how these laws affect teachers 
In addition to honoring the teachers who are making a difference by providing a quality education, World Teachers' Day is also about empowering our teachers to be their best. For some, that means creating more opportunities for them to thrive, while others may need support and freedom in their efforts to elevate their skill set. However you choose to celebrate World Teachers' Day, make sure the teacher you're celebrating knows how much you appreciate them and all that they do.