Industrial Production Manager Career
How to Become an Industrial Production Manager
Industrial production managers coordinate and oversee production operations in manufacturing plants and factories. These important professionals ensure that plants produce high-quality products efficiently and safely. If you're a natural leader and are interested in the manufacturing sector, then a job as an industrial production manager might be right for you. 
This guide provides an overview of the industrial production manager career path, including the typical job duties performed by production managers, the educational requirements to enter the profession, and the skills and talents you'll need to succeed as an industrial production manager.
What Is an Industrial Production Manager?
Industrial production managers, also called plant managers or manufacturing coordinators, play a pivotal role in the production of goods and materials that sustain various industries across the globe. They develop production schedules and strategies, optimize the manufacturing process, manage workers, implement quality control measures, and much more. 
Industrial production managers usually lead a team of technicians, operators, and other staff. They are responsible for hiring, training, and supervising workers. They also ensure that the workers comply with safety rules and industry regulations. Because the job involves significant managerial responsibilities, you'll need excellent leadership skills to be a successful industrial production manager.

Key Responsibilities of a Production Manager
The daily responsibilities expected of an industrial production manager vary depending on the size and type of the production operation they're involved in. But all industrial production managers share the same main objectives of optimizing the production process and ensuring product quality. Key responsibilities expected of production managers include the following: 
Production planning and optimization. Forecasting product demand and developing a schedule to meet that demand is a crucial aspect of production management. Production managers often contend with tight deadlines and strict budgets. Employers expect them to make the production process as cost-efficient as possible without sacrificing product quality or worker safety. 
Resource management. Production managers analyze inventory levels, sales data, product yields, and market trends to determine production needs and allocate resources accordingly. They must determine how to use raw materials, equipment, and production staff as efficiently as possible. This often requires finding creative ways to decrease waste, increase productivity, and satisfy production demands. 
Quality control. Production managers work with quality assurance teams to establish quality standards and ensure that the products meet these standards. They regularly inspect the quality and consistency of raw materials, intermediate products, and final outputs. If the plant produces substandard products, the production manager will investigate why and how the problem occurred, devise a plan to mitigate the issue, and teach staff best practices to avoid the problem in the future. 
Enforcement of safety policies and procedures. Safety is a crucial concern in factories and plants because laborers in the manufacturing industry often work with hazardous chemicals and powerful equipment. Failure to follow safety procedures and maintain tools and equipment properly can lead to fires and explosions, equipment accidents, electric shock, chemical burns, falls, and other potentially deadly incidents. Ensuring that staff follow all safety regulations is one of the most important duties an industrial production manager performs. 
Personnel management. Industrial production managers hire, train, and supervise production teams. They monitor work productivity, identify areas for improvement, and enforce rules and standards. Staff look to industrial production managers for guidance and support during the production process, feedback on their job performance, and help with meeting challenges and overcoming obstacles. 
Education and Certification Requirements
If you're interested in a job as an industrial production manager, you'll need at least a bachelor's degree in a relevant field. Many industrial production managers hold a bachelor's degree in engineering, supply chain and operations management, or business management. Earning a master's degree in business administration or a graduate degree in industrial management can further expand your career opportunities. 
Educational requirements for industrial production manager positions can vary from job to job. However, earning a degree from a respected university will give you a firm foundation on which to build a thriving career. You can further improve your employability and potential earning capacity by obtaining professional certifications such as:
The IASSC Certified Lean Six Sigma Green Belt (ICGB)
Certification in Production and Inventory Management (CPIM) 
Certification in Security Supervision and Management (CSSM)
The U.S. Bureau of Labor Statistics (BLS) reports that most employers seek production managers with at least five years of related work experience. Many production managers gain industry knowledge and on-the-job experience as regular production staff before entering management positions. 
Best Degrees for a Industrial Production Manager
Supply Chain and Operations Management – B.S.
This online supply chain and operations management program will...
This online supply chain and operations...
This online supply chain and operations management program will prepare you for real-world experiences in business.
Time: 70% of graduates finish similar programs within 42 months.
Tuition: $3,575 per 6-month term.
Courses: 41 courses in this program.
Some careers and jobs this business degree will prepare you for:

Operations Manager
Facilities Manager
Industrial Production Manager
Distribution Manager 
Buyer/Purchasing Agent
Project Management Specialist
With incredible growth opportunities in supply chain and operations management, this program helps prepare student to meet industry needs and become credentialed experts.
College of Business
Master of Business Administration
The flexible MBA program you need, focused on business...
The flexible MBA program you need, focused on...
The flexible MBA program you need, focused on business management, strategy, and leading teams:
Time: Graduates can finish in 12 months.
Tuition: $4,755 per 6-month term.
Sample careers and jobs this business degree will prepare you for:

President and CEO
Vice president
Executive director
Chief strategic officer
Our competency-based model gives you an innovative learning experience you won't find anywhere else—and our MBA grads tell us they loved accelerating their program to see a faster ROI.
College of Business
Business Management – B.S. Business Administration
Hone your business acumen and garner added respect:...
Hone your business acumen and garner added...
Hone your business acumen and garner added respect:
Time: 68% of graduates finish within 36 months.
Tuition: $3,755 per 6-month term.
Sample careers and jobs this business degree will prepare you for:

Account executive
Business analyst
Program manager
Director or senior director
Vice president
This online degree program is an excellent choice for kick-starting your organizational management career.

College of Business
---
Our Online University Degree Programs Start on the First of Every Month, All Year Long
No need to wait for spring or fall semester. It's back-to-school time at WGU year-round. Get started by talking to an Enrollment Counselor today, and you'll be on your way to realizing your dream of a bachelor's or master's degree—sooner than you might think!
---
Essential Skills for a Production Manager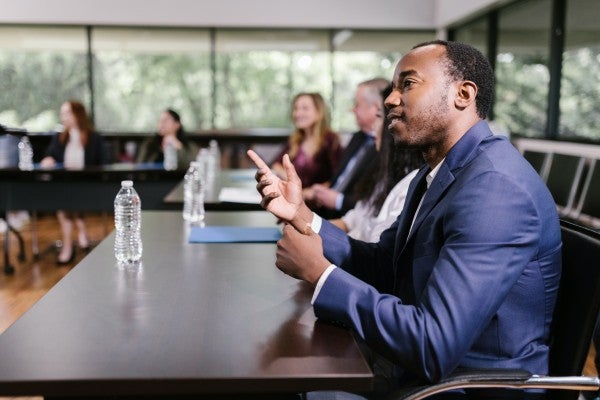 Industrial production managers play a vital role in sustaining a safe, efficient manufacturing operation. Some of the key skills needed to succeed as a production manager include the following:
Management skills. Industrial production managers hold important leadership positions in manufacturing facilities. They oversee projects, direct staff, enforce rules and standards, and keep processes running as smoothly as possible. Production managers delegate responsibilities to staff and keep their teams on target. They must learn the delicate art of balancing motivation and encouragement with constructive feedback and discipline when managing staff.
Communication skills. Industrial production managers lead teams of engineers, operators, technicians, and other staff. They need excellent written and verbal communication skills to clearly convey information, instructions, and expectations to staff . Conflict resolution skills are also essential tools in the production manager's toolbox. Disagreements are bound to arise between staff, supervisors, customers, vendors, and other parties, and industrial production managers must be ready to intervene when needed. 
Decision-making skills. Strong decision-making skills are fundamental to success as an industrial production manager. These managers make decisions about how to prioritize projects, handle conflicting demands, adapt to changes, and make informed choices. In the event of an emergency such as an equipment failure or fire, production managers must take swift, decisive action to address the situation and keep workers safe. 
Problem-solving skills. Production managers may deal with production delays, supply chain interruptions, quality control issues, conflicts between staff, and countless other issues, so strong problem-solving skills are crucial. Managers must be able to assess a problem, think critically about potential resolutions, and then determine the best course of action for solving the problem. 
Attention to detail. Whether a production manager is ensuring precise measurements during a chemical manufacturing process, keeping track of equipment maintenance schedules, accurately reporting an incident, or performing other work duties, attention to detail is vital. The stakes are extremely high when working with dangerous manufacturing equipment and materials, and even a small mistake could be disastrous. 
Organizational skills. Production managers need to manage multiple projects, inventories, and teams simultaneously. They must maintain excellent organizational and time management skills to meet deadlines and quality specifications.
How Much Does a Production Manager Make?
$107,560
The BLS reports that production managers make a median salary of $107,560 a year. This equates to about $51.71 an hour. Production managers in chemical manufacturing jobs have the highest median annual salary at $127,140 when compared to production managers in other industries. 
What Is the Job Outlook for a Production Manager?
2%
The job outlook for production managers is optimistic. The BLS reports that the employment of industrial production managers will grow by approximately 2% from 2022 to 2032. Technological advancements such as computer-aided manufacturing and robotics will continue to mold the manufacturing process, so the exact nature of the industrial production manager job may change over time. However, manufacturing plants will always need educated, motivated managers to direct staff, coordinate projects, and optimize workflows. 
Where Do Industrial Production Managers Work?
Varies
Industrial production managers work in any company involving manufacturing or production processes. Many are employed by chemical manufacturing plants, automobile manufacturing plants, and pharmaceutical manufacturing companies. Others work in metalworking and fabrication, textile factories, electronics manufacturing, and the food and beverage industry.