Nurse Recruiter Career Guide
How to Become a Nurse Recruiter
Nurse recruiters help medical facilities fill job openings with qualified nurses. They write eye-catching job advertisements, evaluate applicants' résumés, conduct interviews and background checks, and facilitate the relationship between new nursing employees and their employers. Nurse recruiters play an essential role in improving patient outcomes because they allow healthcare facilities to spend less time filling vacancies and more time directly caring for patients.  
Many people pursue the nurse recruiter career because they're interested in using their nursing background for a non-nursing job that still makes a positive difference in patients' lives. Nurse recruiter jobs are often conducted remotely and involve other valuable perks, including the possibility of earning commissions. 
If you're curious about how to become a nurse recruiter, read on to learn more.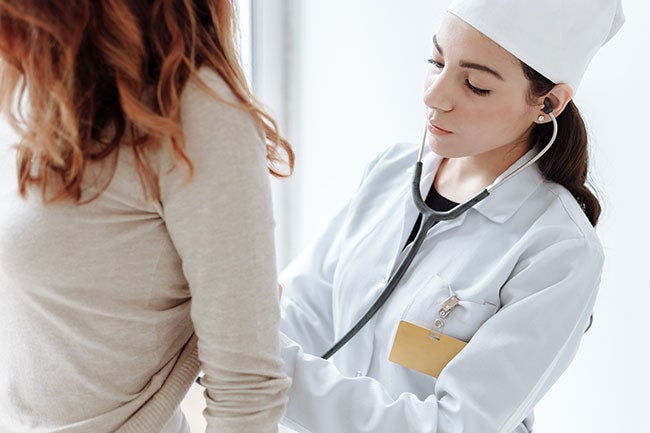 What Is a Nurse Recruiter?
Research shows that the U.S. population is aging rapidly, with the number of adults aged 65 and older growing at a rate five times faster than the general population. The aging population, combined with rising rates of chronic illnesses like diabetes, has increased the demand for skilled nurses and other healthcare staff, and many healthcare organizations are struggling to keep up.  
A nurse recruiter is a specific type of healthcare recruiter responsible for finding and hiring qualified candidates for nursing jobs. They ensure that healthcare institutions have the nursing staff needed to adequately meet their patients' needs. The job duties vary depending on whether a nurse recruiter works for an agency or a specific company or operates on a freelance basis. Still, all nurse recruiters share the overarching goal of matching nurses to the healthcare organizations that need them.
Nurse recruiters can also staff traveling nurse positions. A travel nurse takes short-term positions in high-demand areas. For example, a travel nurse may temporarily work at an understaffed hospital or lend a helping hand in a facility with a higher-than-usual caseload. During the COVID-19 pandemic, many travel nurses relocated to areas that didn't have the nursing staff needed to meet the increased demands from COVID-19 cases. Nurse recruiters can help healthcare facilities meet temporary staffing needs in situations like these. 
What Does a Nurse Recruiter Do?
The process of marketing open positions, vetting potential candidates, and finding the right nurse for the job is time consuming and labor intensive. Many healthcare organizations simply don't have the staff needed to handle these crucial responsibilities. Nurse recruiters act as intermediaries between organizations in need of nursing staff and nurses looking for jobs.  
Some key responsibilities of nurse recruiters include the following:
Advertising open positions. An important part of being a nurse recruiter is writing compelling job descriptions and getting the word out about open nursing positions.
Networking with potential candidates. Nurse recruiters may reach out to qualified candidates through job boards, online nursing communities, nursing schools, or even social media.
Processing applications. Nurse recruiters review applications and find the candidates best suited for the available positions.
Responding to interested candidates. Once the pool of applicants is narrowed down, the recruiter reaches out to selected applicants and schedules interviews.
Conducting preliminary interviews. During interviews, the nurse recruiter explains the employer's needs and the job responsibilities. They ask the interviewee a series of questions to learn more about the interviewee's education, experience, and skill set. Finally, they answer any questions the interviewee has about the job. The interview process can vary depending on the type of nursing position available.
Traveling to college campuses and career fairs. Some nurse recruiters travel to nursing schools, college campuses, career fairs, and healthcare industry conferences to seek out potential candidates in person.
How Do I Become a Nurse Recruiter?
You typically need a bachelor's degree in nursing or a related field to be a nurse recruiter. Some employers only hire individuals who have a nursing degree such as a Bachelor of Science in Nursing. Others will hire individuals with degrees in human resources, business administration, healthcare administration, or another field.  
Having experience as a nurse, HR professional, or healthcare recruiter is a major benefit for those interested in a career as a nurse recruiter. Although many employers will provide on-the-job training to new recruiters, having a background in a relevant industry is highly advantageous.
Best Degrees for a Nurse Recruiter
Nursing (RN-to-BSN Online) – B.S.
An online BSN degree program for registered nurses (RNs) seeking...
An online BSN degree program for registered...
An online BSN degree program for registered nurses (RNs) seeking the added theoretical depth, employability, and respect that a bachelor's degree brings:
Time: 66% of graduates finish within 18 months.
Tuition: $4,685 per 6-month term.
Transfers: On average, students transfer 81 credits.
With over 35,000 BSN alumni, this is one of WGU's most popular online degree programs. View our RN to BSN degree guide.
If you don't currently have an RN and don't qualify for your nursing prelicensure program, consider getting our Bachelor's in Health and Human Services instead. This degree allows you to work inside the healthcare industry in a unique way.
College of Health Professions
Human Resource Management – B.S. Business Administration
A SHRM-recognized online business degree program:...
A SHRM-recognized online business degree program:...
A SHRM-recognized online business degree program:
Time: 65% of graduates finish within 36 months.
Tuition: $3,755 per 6-month term.
Sample careers and jobs this business degree will prepare you for:

Human resource specialist
Director of talent acquisition
Recruiting manager
Organizational learning specialist
Vice president of HR
Earn your B.S. in Human Resources and help build strong organizations.
College of Business
Healthcare Administration – B.S. Business Administration
You can become a healthcare industry leader:...
You can become a healthcare industry leader:...
You can become a healthcare industry leader:

Compare with B.S. Health Information Management
Time: 73% of graduates finish within 30 months.
Tuition: $3,755 per 6-month term.
Sample careers and jobs this business degree will prepare you for:

Health information manager
Community service manager
Clinical manager
Medical records manager
Social service manager
The online courses in this career-focused business degree program will prepare you with management-level skills and an up-to-date understanding of our healthcare delivery system.

College of Business
Human Resource Management – M.S.
A SHRM-recognized master's degree in human resource management...
A SHRM-recognized master's degree in human...
A SHRM-recognized master's degree in human resource management
Time: 72% of graduates finish similar programs within 23 months.
Tuition: $4,755 per 6-month term.
Courses: 10 total courses in this program.
Sample careers and jobs this business degree will prepare you for:

DE&I Manager
Learning and Development Manager
HR Director
Vice president of HR
Earn your M.S. in Human Resources and help companies create excellent cultures.
College of Business
Master of Healthcare Administration
A master's focused on managing comprehensive, value-based care,...
A master's focused on managing comprehensive,...
A master's focused on managing comprehensive, value-based care, directly in line with innovations in health and healthcare.
Time: 78% of grads finish within 18-24 months. 
Tuition and fees: $4,755 per 6-month term.
Examples of careers and jobs this degree will prepare you for:
Managed care executive
Director of integrated care management
Health center manager/clinic manager
Director of integrated facilities
Your rich experience in a health-related field can mean more when you bring a master's level of understanding to the problems that organizations need to solve.
Compare degrees
This program is not the only degree WGU offers designed to create leaders in the field of healthcare. Compare our health leadership degrees by clicking the button below.

Compare Similar Degrees
College of Health Professions
---
Our online university degree programs start on the first of every month, all year long.
No need to wait for spring or fall semester. It's back-to-school time at WGU year-round. Get started by talking to an Enrollment Counselor today, and you'll be on your way to realizing your dream of a bachelor's or master's degree—sooner than you might think!

---
What Skills Does a Nurse Recruiter Need?
Understanding the needs of both employers and employees, finding qualified nurses, and determining who is best for a specified position can be challenging. However, the nurse recruiter career path can also be highly rewarding.
Some of the key skills needed to succeed in the nurse recruiter career include:
Negotiation. Nurse recruiters facilitate mutually beneficial relationships between nurses and employers. This often includes negotiating compensation and benefits packages, arranging relocation assistance, finding a work schedule that meets both parties' needs, and assisting the parties with contract negotiations.  
Clear communication. Nearly every aspect of a nurse recruiter's daily tasks requires strong communication skills. Whether through phone calls, video conferences, emails, or other means, nurse recruiters must convey information clearly and ensure that all parties understand their rights and expectations during the recruitment process. Perhaps even more importantly, nurse recruiters need solid active listening skills so they can fully understand both parties' needs and limitations.
Time management. Nurse recruiters often receive a large volume of applications for open positions. They may also encounter urgent and frequently changing staffing needs from healthcare organizations. Managing dozens, if not hundreds, of applications, scheduling interviews, handling administrative tasks, assisting new hires with the onboarding process, and completing other responsibilities require excellent time management skills.
Organization. Just as nurse recruiters must manage their time carefully, they also need to manage documentation and information effectively. They often deal with numerous candidates and healthcare organizations simultaneously, so keeping everything organized and maintaining confidentiality is essential.
Interviewing skills. Effective job interviews require creativity, empathy, attention to detail, and exceptional communication skills. Nurse recruiters only have a short amount of time to ask meaningful interview questions and assess the nurse's qualifications and experience during an interview. They must use their time wisely and ask the right questions to gain maximum insight into whether the nurse would be the right fit for a particular job.
Networking skills. Networking allows nurse recruiters to expand their talent pool, establish relationships with potential candidates, and gain a well-rounded understanding of the healthcare industry. They may attend seminars, conferences, networking events, and other gatherings to meet other people and grow their professional network.
How Much Does a Nurse Recruiter Make?
$79,000
Nurse recruiter salaries typically fall between $79,000 and $98,000. However, factors such as education, experience, and location can heavily influence a nurse recruiter's salary. Generally, the greater your education and years of experience, the higher your potential salary. Salaries for executive recruiters who fill high-level nursing positions tend to be on the higher end of the pay scale.  
In many cases, nurse recruiters make a commission based on the time a new hire works for an employer. This commission structure incentivizes the recruiters to find ideal candidates for open positions who will get hired and stay with the employer long-term. Nurse recruiters may also hire nurses for temporary per diem positions and recieve a one-time commission.  
What Is the Job Outlook for Nurse Recruiters and Traveling Nurse Recruiters?
6%
The U.S. Bureau of Labor Statistics reports that the employment of registered nurses is expected to grow by 6% between 2021 and 2031, with approximately 200,000 new openings every year. As the demand for nurses grows, the need for nurse recruiters to find and place nurses into open positions grows accordingly. Many healthcare organizations will face increased pressure in the coming years, and these organizations will need help ensuring that they have sufficient staff.  
 The employment of nurse anesthetists, nurse midwives, and nurse practitioners is expected to grow by an astounding 40% from 2021 to 2031! The demand for nurses in certain nursing specialties is projected to explode in the next few decades, making the need for nurse recruiters even greater. The employment of travel nurse recruiters who hire nurses to fill temporary positions is also expected to increase.
Where Do Nurse Recruiters Work?
Varies
Many nurse recruiters and travel nurse recruiters work for nursing agencies. Working for an agency provides a recruiter with professional support and resources they may otherwise not have access to. Nurse recruiters can also work directly for healthcare facilities such as hospitals, rehabilitation facilities, or doctor's offices. Individuals who want a greater degree of autonomy can operate as freelance nurse recruiters and take on the responsibility of finding, retaining, and billing clients themselves.  
WGU offers career-aligned degrees in health and nursing, business, education, and IT. Our innovative approach lets you earn a degree online at your own pace. At WGU, degree programs are competency-based, meaning that you can progress through courses faster by demonstrating your mastery of the material, potentially saving time and money. If you're interested in starting a new profession or advancing in your current career, a degree from WGU can prepare you for continued success.