Technical Writer Career Guide
How to Be a Technical Writer
Technical writing is the process of communicating complex information into easy-to-understand materials for an intended audience. Whether writing manuals for software engineers or white papers for a finance company, technical writers can communicate instructions and ideas concisely to the reader.
Technical communication uses words, graphics, screenshots, photographs, animation, and video to blend with their writing. Some of the most popular fields for these writers include information technology (IT), healthcare, government, finance, and research.   
Those who love writing and have a passion for learning may feel drawn to the field of technical writing. The position allows individuals to discover new information as part of their daily routine and find unique ways to present clear messages to their audiences.
What Is a Technical Writer?
Sometimes referred to as technical communicators, technical writers create a bridge between highly technical information and accessibility for individuals. They tailor their writing to fit a specific audience and understand the nuances between job titles to create better content for the right people. 
No matter the industry, these writers are highly skilled and can understand complicated information. In every project, they must understand who their audience is and the best ways to communicate information. Many projects combine text and media to better interact with consumers.
If you're interested in technical writing, you will need a bachelor's degree in English, communications, or a degree in a technical field, such as IT, computer science, healthcare, or engineering.
What is The Difference Between Content Writer and Technical Writer?
Content writers and technical writers are often confused with one another. Both careers require communication, research, and writing skills, but the main difference is the type of projects completed. 
While technical writers often create tutorials, user guides, and manuals, content writers create articles, blogs, and landing pages that are aimed at consumers and search engines. Content writing also includes other skills such as SEO. 
Like many careers, content writing and technical writing may have overlapping responsibilities. In short, technical writing is project-oriented and simplifies complex topics. Content writing is audience-driven and aims to draw consumers towards websites to create new customers and clients for businesses. 
What Does a Technical Writer Do?
Technical writers have a wide range of job responsibilities that may differ depending on the industry, seniority, and area that the writer works. Some general day-to-day responsibilities include: 
Writing how-to guides based on products and services.
Interview product developers to create diagrams of the product design. 

Write supporting content for services and products.

Create and use animations, graphics, and photographs to illustrate content. 

Receive feedback from editors and rewrite content.

Collect feedback from consumers to update content and create new content.

Manage the flow of information in group projects. 
As a technical writer, you will be working with teams of computer specialists, software developers, and product designers to collect and present information to the consumers. Your goal is to create clear content that explains the purpose of a product or service.
What Education and Qualifications Does a Technical Writer Need?
Technical writers often have a bachelor's degree in English or a related field. However, there is a wide range of education options for those interested in becoming technical writers. Additionally, a technical writer's education will likely vary depending on their interests. 
For example, an individual who loves writing and who is interested in technology and computers should get a bachelor's degree in IT to better understand the specific technological elements they will be writing about. Earning a higher education degree can open more career options and advancement options for technical writers and allow them to move into management positions.
Information Technology – B.S.
Award-winning coursework and value-add certifications make this...
Award-winning coursework and value-add...
Award-winning coursework and value-add certifications make this online program a top choice.
Time: 70% of graduates finish within 48 months.
Tuition and fees: $3,920 per 6-month term.
Certifications: Includes CIW, ITIL, LPI and CompTIA.
The CIW User Interface Designer, LPI Linux Essentials and ITIL® Foundation Certification are central to this program. Included CompTIA certifications are A+, Network+, Security+, and Project+.
College of I.T.
IT Management – B.S. Business Administration
IT managers are needed in nearly every organization:...
IT managers are needed in nearly every...
IT managers are needed in nearly every organization:
Time: 70% of graduates finish within 41 months.
Tuition and fees: $3,720 per 6-month term.
Some careers and jobs this business degree will prepare you for:

Vice president of risk management
Product security incident manager
Vice president of technical services
CTO and CIO
Director of IT
Key competencies of these online courses align with industry needs: management and leadership, networks and security, and information systems management.
College of Business
---
Our online university degree programs start on the first of every month, all year long.
No need to wait for spring or fall semester. It's back-to-school time at WGU year-round. Get started by talking to an Enrollment Counselor today, and you'll be on your way to realizing your dream of a bachelor's or master's degree—sooner than you might think!

---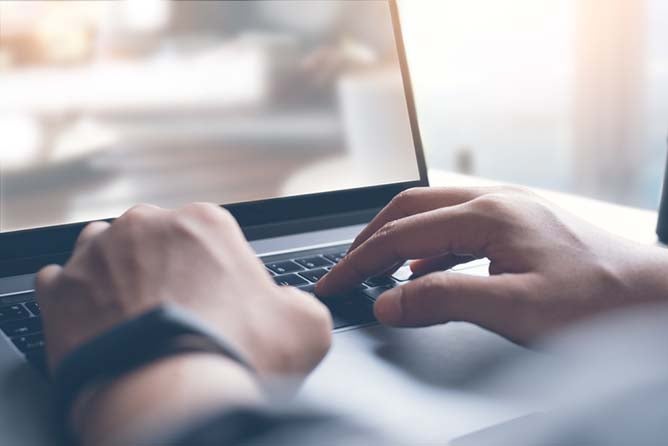 What Skills Does a Technical Writer Need?
As a prospective technical writer, you will need to develop several important skills to excel. Some of the most important skills needed for technical writers include: 
Critical thinking skills: This skill allows you to develop strategies in your writing to better communicate with your audience.
Technical skills: This skill means that you can understand and communicate complex information.

Writing skills: This skill means that you have excellent grammar, and an understanding of written language.

Teamwork: This skill means that you can work with a team and complete projects with designers, illustrators, and editors. 

Creativity: This skill means that you are inventive in your writing and can convey complicated ideas through interesting phrasing.

Communication skills: This skill means that you can convey concepts to coworkers and your audience with ease. 
To begin a career as a technical writer, you must have a complete understanding of the industry you chose to work in. You will be expected to understand high-level concepts with ease and communicate to those with little or no experience in the industry. 
How Much Does a Technical Writer Make?
$74,650
The BLS reports that technical writers earn an average of $74,650 a year. The lowest 10% earn less than $45,510 a year, and the highest 10% earn more than $199,040 a year. Technical writing wages may vary depending on the industry. In addition, your level of experience working in the industry and your willingness to stand out in your career will also affect your salary.
What Is the Projected Job Growth?
7%
The BLS reports that the employment for technical writers is expected to grow by 7% by 2029, adding more than 4,300 new positions. Technical writing careers align closely with the projected job growth in technical and scientific fields — as technical businesses grow and expand, the demand for technical writers increases as well. Technical writing is a great career path for those who are looking to work in IT and English. It is a stable, fast-growing industry with growth opportunities. 
Where Do Technical Writers Work?
Varies
The Bureau of Labor Statistics lists four main industries where technical writers work. These industries include: 
Professional, scientific, and technical services: The BLS reports that 35% of technical writers work in this industry, writing white papers, research papers, and other extremely technical or scientific projects. 
Manufacturing: About 15% work in manufacturing to create how-to guides and help consumers better understand the purpose of products. 

Administrative and support services: About 9% work in administrative services where they use their skills to clarify communication channels both within and outside of the business. 

Publishing industries: About 6% work in publishing and use their skills to create product descriptions, arrange page layouts and type, and ensure consistency across all publications.