WGU Academic Engagement Webinars
Advance Equity Speaker Series 2021
Learn from our speakers as they discuss advancing equity in their professions.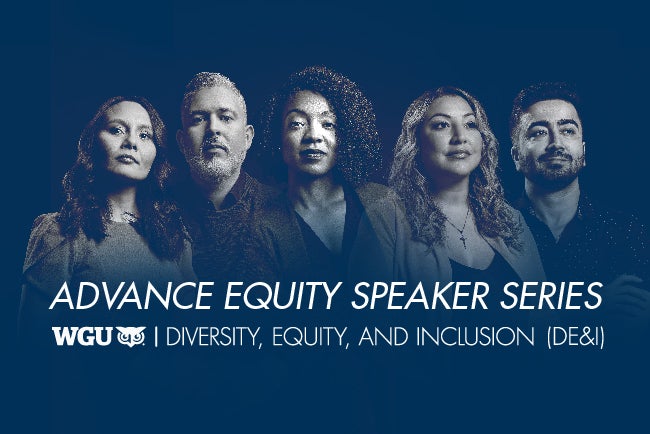 WGU's Office of Diversity, Equity, and Inclusion (ODEI) hosts this monthly speaker series as part of our commitment to change lives for the better by advancing equity and expanding access to opportunity. Our objective for this webinar series is to share insight and perspective on various DE&I topics. Each one-hour session will feature renowned DE&I experts and personalities such as Olympic gold medalist swimmer Cullen Jones, TED Talks speaker Sara Jones, executive leaders, and WGU faculty.

Can't make it in real time? Sign up anyway! After each seminar is complete, we will send out the presentations to all registrants. Recordings and resource materials from each session will be available on this page after the event.
Interested in becoming an AESS speaker? Click here for more information.
July 21: Lunch with Cullen Jones, a U.S. Olympic Champion
As a former world champion and Olympic gold medal swimmer, Cullen Jones began speaking with the purpose of motivating and inspiring others. Knowing the absence of diversity in swimming, Jones has built his career around changing the landscape of his sport. His topics include, mental toughness, overcoming cultural norms, setting goals and reaching them, and exceeding expectations. Using humor and life experiences, Jones develops speeches with a focus on displaying the parallels between the sports and business world. This pursuit has transformed into a career in public speaking with notable company's such as Deloitte, Boeing, Bank of America, Citibank, Phillips 66 and many universities.

At age five, Cullen Jones nearly drowned while splashing around at a Pennsylvania water park. Immediately after Jones was put into swim lessons and developed a passion for the water. Leaving his home state of New Jersey, Jones headed to Raleigh, North Carolina to attend North Carolina State University and quickly solidified himself as one of the greatest sprinters by winning the NCAA Championships in the 50 freestyle his senior year.
In 2008 Jones, along with Jason Lezak, Garrett Weber Gale and Michael Phelps won gold in the 4 x 100 freestyle relay in a world record time of 3:08.24 which still stands. Jones was not done and in 2012 Jones made his second Olympic Team. At the Games in London, he earned silver medals in the 50 free (21.54) and as part of the 400 free relay. Jones won a gold medal as a member of the 400 medley relay as well. Throughout his career, Jones realized he can impact people's lives beyond his performances in the pool. Knowing the absence of diversity in swimming , Jones has built his career around changing the landscape of his sport.
Understanding the power of his life story, Jones began speaking with the purpose of motivating and inspiring others. His topics include, mental toughness, overcoming cultural norms, setting goals and reaching them, and exceeding expectations. Using humor and life experiences, Jones develops speeches with a focus on displaying the parallels between the sports and business world. This pursuit has transformed into a career in public speaking with notable company's such as Deloitte, Boeing, Bank of America, Citibank, Phillips 66 and many universities.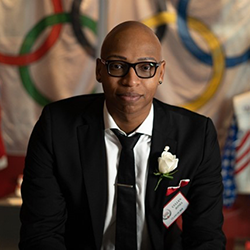 Cullen Jones
August 24 at 11 AM MT: DE&I Executive Roundtable
In this executive roundtable, Talia Mark Brookshire, Director of DE&I will discuss the successes, lessons learned and opportunities various professionals in the DE&I landscape face. Attendees will hear gain insight from:
Brandon Thompson, Vice President of Diversity, NASCAR
Sharese Shannon Mathis, Assistant Dean-Campus Life, Albion College
Kara Adams, Director of Guest Experience and Chairwoman for B.O.L.D, Portland Trailblazers
Jorge Quezada, Vice President-Inclusive Diversity, Granite Construction; Former DE&I Officer for Northwestern Mutual and Kraft Foods
Brandon Thompson

Brandon Thompson is Vice President, Diversity and Inclusion, leading NASCAR's strategy for diversity and inclusion as well as programs and initiatives designed to champion and enhance diversity across the NASCAR industry.
Thompson's career in motorsports began in 2003 as an intern at Nashville Superspeedway, a role he applied for through the NASCAR Diversity Internship Program.

This year, he became the first diversity intern graduate to join NASCAR's executive ranks as an officer. Thompson is a 2005 graduate of Clark Atlanta University and holds a bachelor's degree in Business Administration/Marketing. The Nashville native enjoys music, spending time with "framily"  and coaching youth sports in his spare time.
Sharese Shannon Mathis

Sharese Shannon Mathis is originally from Lansing, Michigan, and is currently serving as the Assistant Dean for Campus Life at Albion College where her portfolio includes the Women's Center, Greek Life, Student Programming, and Intercultural Affairs. She previously was the Director of Diversity & Inclusion and Conduct Administrator at Siena Heights University for six years. She has a B.S. in Public Administration from GVSU and an M.S in College Student Development from Eastern Illinois University. Her professional experience of over ten years includes Residential Education, Greek Life, Student Activities, Retention Programs, and HIV/AIDS Education. Additionally, Sharese serves on the leadership team for ACPA-Michigan.
Kara Adams

"To know her, is to know laughter! Kara Adams has been the Director of Guest Experience for Rip City Management. In this capacity, she oversees the guest experience for both venues on the Rose Quarter Property - Moda Center, where the Portland Trail Blazers play as well as Veteran's Memorial Coliseum, home to many entertainment events as well as the host to the Portland Winter Hawks Hockey team. She has been in this role since March of 2020 and was recently named as an inaugural board member of the Rip City Inclusion Board. Prior to relocating to Oregon, she served as the Sr. Manager of Guest Experience for the 2019 World Champion Washington Nationals. Her responsibilities included creating and managing the customer service for all ballpark guests, overseeing game day staff operations, executing hiring and coaching processes as well as generating and facilitating training for hourly employees.
In a previous chapter she served as the Marketing and Development Program Manager of the DC Trust for the Youth Sports arm. Adams is a great asset to the team with a diverse background ranging from non-profit to professional sports. During undergraduate at Howard University, she helped in advocating and creating the Sport Management major. She received her Bachelor of Science in that program. Upon completion of her degree, she continued her education when enrolling into the DeVos Sport Business Management Graduate Program at the University of Central Florida. She graduated from UCF with a Master's in Sport Business Management and a Master of Business Administration. During graduate school she was a Graduate Assistant for The Institute for Diversity and Ethics in Sport (TIDES), known globally for their annual publishing of sport gender and racial report cards.  Before becoming a full-time sports professional, she had experience as an intern with seven different sports organizations -- internships matter!"

Jorge Quezada

Jorge Quezada and his wife, Judith, live in Soquel, California. He is the proud father of his daughter, Venezia, and son Marc Anthony. He holds a bachelor's degree in Political Science from Whittier College and a Master's in Business Administration from the University of Illinois at Chicago.
Jorge is Granite Construction's Vice President of Inclusive Diversity. In his role, he is responsible for implementing strategies that address Granite's guiding belief that diverse backgrounds, perspectives, cultures, and experiences enhance creativity and innovation. He brings an innovative approach to Diversity & Inclusion and is looking to make a lasting impact at Granite and the construction industry.

Before joining Granite, Jorge served as Senior Director of Diversity and Inclusion – Leadership Development at Northwestern Mutual and Chief Diversity Officer at Kraft Foods. He spent over 25 years at Allstate Insurance Company, where he held leadership roles in Human Resources, D&I, Product Operations, Product Development, Marketing, Claims, and Sales.

Throughout the years, Jorge has been active in civic and community organizations, such as the Association of Hispanic Professionals for Education, the Urban League of Orange County (CA), Big Brothers and Big Sisters of Los Angeles, Leadership Greater Chicago, the Latino Policy Forum, the Hispanic Alliance for Career Enhancement (HACE), the Chicago Posse Foundation. He is currently is a board member at Rancho Cielo, in Salinas, CA. sits on the Diversity & Inclusion Committee for the Associated General Contractors of America and is the Co-Chair for the American Road & Transportation Builders Association's Workforce Development Committee.

Brandon Thompson
Kara Adams
Sharese Shannon Mathis
Jorge Quezada
---
September 16 at 1 PM MT: Latinx Speaker Panel with Edward Gonzales
As part of WGU's Hispanic Heritage month, Edward (Eddie) Gonzales will share his inspirational story about how he overcame childhood challenges to landing a career at NASA. Presently, Eddie leads diversity, equity, and inclusion efforts at the NASA Goddard Space Flight Center. Additionally, he serves as a mentor and promotes STEM engagement for underrepresented and underserved communities.
Edward Gonzales: An avid music lover and sneakerhead, Edward Gonzales has built a life walking the walk from street smart to business-savvy, first at one of Los Angeles's prestigious law firms, then to "student-whisperer" at NASA's Jet Propulsion Laboratory working with interns and underserved, underrepresented populations. Now, as NASA Goddard Space Flight Center's diversity, equity, and inclusion lead for Heliophysics, he brings his unique blend of experience to one of NASA's most prestigious missions. Edward has been honored by many NASA awards and recognition and has made it his personal mission to ensure that the agency's future workforce is more diverse and equitable than when he started his career there two decades ago. Having lost his father as a young teen, experienced police profiling and gang violence, he can relate to the struggles that many students face as they embark on their college and career journeys. He is eager to share that all paths to NASA aren't linear and emphasizes the critical importance of creating a workforce pipeline that starts in school, leading to an exciting current project called "Permission to Dream," collaborating with Christopher Gardner (The Pursuit of Happyness) to present inspirational talks at one thousand highs schools across the United States. Edward is the consummate comeback kid -- all setbacks set you up for a comeback.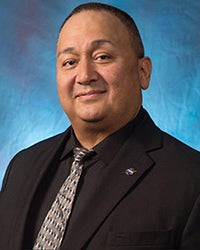 Edward Gonzales
October 26 at 11 AM MT: Building a Future-Ready Workforce [Virtual Series Hosted by WGU]: Race in the Workplace
Advancing racial equity in the workplace is a system-level challenge. Join our panel discussion to hear from leading employers regarding representation, advancement and experience of people of color. Plus, what does the path forward look like? This includes the key challenges to address, actions companies can take and additional steps for a wider set of stakeholders to accelerate progress on diversity, equity, inclusion and belonging.
This session will be moderated by Jason Thompson.
Karen Pavlin

North America Inclusion & Diversity Leader
Accenture 
As Managing Director of North America Inclusion and Diversity Leader, Karen Pavlin is responsible for further strengthening and accelerating the company's efforts to foster an inclusive. Karen leads the firm's efforts to advance change and continue accelerating equality across North America, creating a sense of belonging and ensuring all our people feel seen, safe, connected and courageous. 
Prior to her current role, Karen led account strategies to drive large-scale transformation, thought leadership and innovation for the firm's top Financial Services and Communication, Media and Technology (CMT) clients. Karen served as the client account lead for a global Financial Services account with overall P&L responsibility driving value-led innovation, deep client relationships and business transformation programs, while bringing industry expertise and insight. Most recently, Karen joined one of Accenture's largest CMT clients comprised of over 2,000 Accenture colleagues. She served as the account portfolio lead helping the client drive large-scale HR, finance and compliance transformations. 
In addition, Karen was Accenture's NE Inclusion & Diversity (I&D) Executive Sponsor as part of the NE Leadership Team, working closely with our I&D NE leader, national ERG's and other client account leaders to help drive the I&D agenda and programs at the account level and across the firm. 
Karen joined Accenture in September 2017 after spending 20+ years at Xerox Corporation as a global managing director - managing the firm's largest and most strategic Financial Services clients and global P&L. Over the span of her career at Xerox, she held leadership roles within Corporate Strategy, World-Wide Alliances and Digital Transformation Services. She was also a part of the Xerox/ACS integration team in 2010. Karen was also a co-founder of Xerox's Women in Tech, Xerox Global Mentoring Program and the Global Focus Executive Program (a program that aligned top Xerox Executives with the top 25 Strategic Accounts). 
Karen holds a BA and a master's degree from the University of Virginia in Marketing Communications and Business. She also sits on the Board of Directors of the Apollo Theater and iMentor National Organization. Karen was the recipient of The Network Journal's Top 25 Black Women in Business in May 2019. 
Crystal Andrews Banks
Diversity and Inclusion Director
Ulta Beauty
Crystal Andrews Banks is the Diversity and Inclusion Director at Ulta Beauty. As a proven cultural transformation change agent with over ten years of experience, she furthers Ulta's D&I efforts by identifying and formulating viable solutions to drive innovation. She drives the organization's D&I strategy, serves as the enterprise D&I consultant, and provides oversight for a myriad of diversity initiatives.  

Crystal's background includes stints in Marketing and Internal Communications which assist in her big picture ideology and creative approaches. She studied at St. John's University and received her MA in Sociology and BS in Communication with a business minor. A sought after thought leader and speaker, she was recently recognized by Essence Magazine as a revolutionary beauty industry executive and serves as the Co-Chair of the Retail Industry Leaders Association D&I Leadership Council. Previously, Crystal worked at the Federal Reserve Bank of Chicago, KPMG, Baxalta and Johnson Controls where she added value to develop and strengthen their D&I agendas.  
Heath Clayton
Executive Director, Head of Diversity, Equity and Inclusion
Consumer & Community Banking, JPMorgan Chase 
Heath Clayton is the Head of Diversity, Equity and Inclusion (DEI) for Consumer & Community Banking at JPMorgan Chase. In this role he sets the DEI strategy for Chase's 140,000 employees. He began his professional career in 2007 at The White House and worked in government for two years before ultimately deciding to continue his career by making an impact in the private sector. He previously served as the Chief of Staff to the Chief Inclusion Officer and as a talent development leader at Deloitte, creating engaging learning experiences for audiences around the world to help them reach their full potential. 
Heath is an Adjunct Professor at the Cox School of Business at Southern Methodist University, lecturing on corporate social responsibility and ethics, and serves on the Board of Directors for Out for Undergrad, a national non-profit that helps LGBTQ+ college students achieve their full potential, and is the Chair of the Board of Trustees for the Urban Inter-Tribal Center of Texas, a Native American health clinic and workforce development center. Heath is Chickasaw and attended Carnegie Mellon University for graduate school in Public Policy and Management on a tribal affairs fellowship.

Denise Banuelos
Equity, Inclusion, and Diversity & Workforce Development Director
Kaiser Permanente
Denise Banuelos has a track record of transforming company culture as a collaborative change agent that inspires employees to bring their best selves to work. She brings over 25 years of experience leading and implementing Diversity, Equity, and Inclusion programs in both non-profit and private sectors, including higher education, utilities, and healthcare.   

Denise previously worked as Manager of Diversity & Inclusion at the California State University San Bernardino leading university-wide diversity programs. Before that she served as Manager of Diversity & Inclusion at City of Hope, a comprehensive Cancer Research Hospital where she was actively engaged with managing employee resource groups and leading the expansion of Diversity & Inclusion strategies in the organization, the local community, and for patients.
She specializes in gender transition in the workplace and has developed inclusive policies, benefits, and training for non-binary, and Transgender employees. She is accredited to achieving designation in Healthcare Equality Index as a Leader in LGBTQ for City of Hope by the Human Rights Campaign and received the Diversity First award, a prestigious recognition by the National Diversity Council for her commitment to Diversity and Inclusion.  
She has championed equity in the workplace and fair treatment for all employees regardless of gender, sexual orientation, race or ethnic origin and persons with disabilities. She is driven by her passion to make a difference for the good of the whole no matter how difficult it may be. 
Denise has a Bachelor of Science in Marketing from Radford University, Radford Virginia and an MBA with a concentration in Human Resources from Keller Graduate School of Management, Pomona, California. 
Moderator: Jason R. Thompson
Vice President
Diversity, Equity & Inclusion, WGU
Jason Thompson is a thought leader in Diversity, Equity and Inclusion, having spent the past twenty-five years building DE&I programs in sports, health care, technology, and education. Jason is currently the Vice President for Diversity, Equity and Inclusion (DE&I) at Western Governors University (WGU) one of the largest fully accredited online universities in the US with over 125,000 students.
The diversity and inclusion programs developed by Jason have won several awards at the local and international level. Most recently, the D&I Scorecard developed by Jason received the top honor in the 2016 International Innovations in Diversity Awards program from the Profiles in Diversity Journal. Jason was also recognized as a 2017 and 2018 Diversity Leader by the Profiles in Diversity Journal. In 2015, the USOC D&I department received the Diversity Champion Award for Excellence from the Colorado SHRM.
Jason's work has been highlighted and quoted in the USAToday, Washington Post, CNN, The New York Times and The Guardian. Jason's new book Diversity and Inclusion Matters was released in May of 2021.
Karen Pavlin
Heath Clayton
Jason Thompson
Crystal A. Banks
Denise Banuelos
---
December 16th at 10 AM MT: TBD
Sign up now!
To register for individual or all sessions, please complete the brief form below.