RALEIGH— WGU North Carolina, an affiliate of the national online nonprofit Western Governors University, has signed a partnership agreement with Mako Medical Laboratories that will help Mako employees advance their professional development and personal education goals through scholarship opportunities with degrees in business, IT or healthcare. As an organization known for only employing veterans for many of their positions, and in alignment with WGU North Carolina's outreach to the military community, Mako Medical supports military veterans in their pursuit of meaningful employment and career success. 
All employees of Mako Medical will be eligible to apply for special Bridge to Success Scholarships from a dedicated fund of $500,000 just for them. A designated WGU scholarship team member will work one-on-one with each employee to help them through the financial aid process to ensure they are maximizing all grant options available, and then help them apply for last-dollar funds to make it possible to earn their degree debt-free.
Additionally, employees will receive an application fee waiver code, and have access to WGU career services resources and onsite events such as lunch-and-learn sessions.
WGU is an accredited online university offering more than 60 bachelor's and master's degree programs in healthcare, IT, business and K-12 education. The university has more than 114,000 students enrolled nationwide, including more than 3,100 in North Carolina. Tuition is around $3,225 per six-month term for most degree programs.
"Mako Medical has been named the fastest growing company in the Triangle for three years running," said WGU North Carolina Chancellor Catherine Truitt. "As the company continues to achieve unprecedented growth, we look forward to helping its employees achieve success through a competency-based education model that is flexible, affordable and conducive to the needs of working adults."
"Our company is proud to hire a large number of veterans who have the desire and discipline to improve their knowledge and skills while serving our overall mission of providing industry-leading laboratory services to patients and healthcare professionals," said Chad Price, founder and CEO of Mako Medical. "This partnership with WGU North Carolina will allow our employees to apply for scholarships at a student-centered university with a proven model that recognizes their existing knowledge and fosters accelerated learning."
For more information about WGU North Carolina, visit www.wgu.edu/north-carolina.html. To learn more about Mako Medical, visit www.makomedical.com.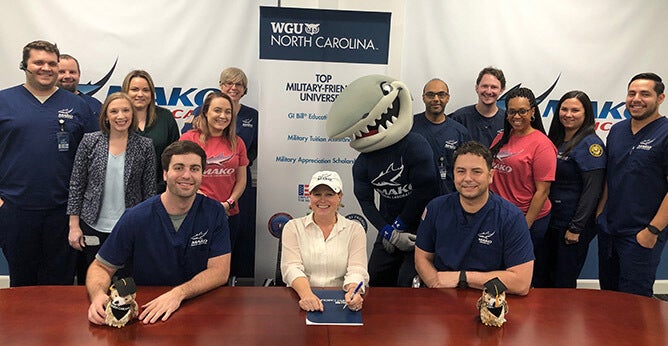 Seated at the table, left to right, are Josh Arant, founder and COO of Mako Medical, WGU North Carolina Chancellor Catherine Truitt, and Chad Price, founder and CEO of Mako Medical, surrounded by Mako staff and Mikey the Mako mascot.