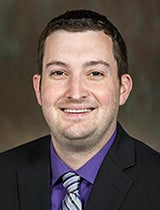 DURHAM — WGU North Carolina, an affiliate of the accredited online Western Governors University, has announced that Ryan Bower has been hired as a Communications Manager. Bower will manage WGU North Carolina's social media content while assisting in other aspects of communications, video production, and media relations in North Carolina and throughout the Southeast.
Bower joins WGU North Carolina after spending the last decade in a variety of communications roles in college athletics, higher education, and state government. 
Most recently, he served as a communications specialist with the North Carolina Office of State Human Resources. He is also an award-winning graphic designer, having won numerous design awards from the College Sports Information Directors of America (CoSIDA).
"We're very excited to have Ryan join our team and bring his creative talents to WGU North Carolina," said Kimberly Estep, Vice President of the Southeast Region for Western Governors University. "His extensive experience in communications, particularly in digital media, will be a great asset as we continue to expand our messaging in North Carolina and across the Southeast Region."
Bower currently resides in Cary, North Carolina, with his wife and two dogs. A native of Central Pennsylvania, Bower earned his Bachelor of Arts degree in electronic media from Cedarville University, and his Master of Science degree in recreation, park and tourism administration from Western Illinois University. He is an avid college football fan and is an active member of the media team at Freeway Church. He also assists local colleges and universities as a freelance statistician for athletic events. 
Designed for working adults, WGU offers an asynchronous, competency-based model that allows students to log in and access coursework at a time convenient for them, and to accelerate at their own pace. WGU offers more than 60 bachelor's and master's degrees in business, K-12 teacher education, information technology, and health professions, including nursing. Tuition is around $4,000 per six-month term for most undergraduate degree programs, and students can take as many courses as they and their assigned mentors are comfortable with during the term.
Established in 2017, WGU North Carolina has granted degrees to more than 5,200 North Carolinians and currently has about 3,700 active students enrolled in-state. For more information about WGU North Carolina, visit nc.wgu.edu.