FRISCO, TX – The College of Health Professions (CHP) at Western Governors University (WGU) has named Dr. Joseph Berumen, DNP, RN, CCRN-K, NEA-BC, vice president and chief nursing officer for BSW Medical Center – Centennial to its Nursing Advisory Council. The council serves as an academic-industry partnership to help ensure WGU's College of Health Professions' nursing program are aligned with current and emerging industry needs while meeting the unique student-centered learning approach for which WGU is known.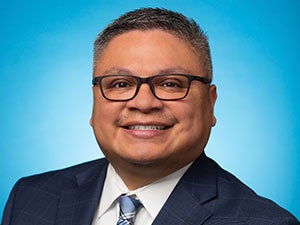 "We are thrilled to welcome Dr. Berumen to WGU's College of Health Professions Nursing Advisory Council," said Janelle Sokolowich PhD, RN, academic vice president and dean of the College of Health Professions at Western Governors University. "As an outstanding nursing leader, he joins an impressive group of advisors who are making a significant contribution to WGU as we educate the next generation of nurses who will embrace innovation, advance equity and equality in the profession, and provide world-class care to the marginalized and underserved in the communities we serve."
At BSW Centennial, Berumen is responsible for overseeing the team of nursing professionals who are committed to providing world-class patient-centered care. He has transformed the BSW Centennial nursing structure which has led to significant improvements in multiple areas, including the hospitals HCAHPS performance.  HCAHPS is the first national, standardized, publicly reported survey of patients' perspectives of hospital care that captures the patient's experience that contributes to the overall rating of the hospital. 

The WGU Nursing Advisory Council's core purpose is to advise, assist, support, and advocate for the CHP on matters that will strengthen the education and employment opportunities for the nursing students served by WGU. Members are nationally recognized experts who volunteer to share their knowledge of the competency requirements and current industry insights relevant to the nursing workforce.

Berumen received his bachelor's degree in Nursing from McMurry University and holds a master's degree and doctorate degree in Nursing from Texas Tech University Health Sciences Center. He has served as an active member with the American Organization of Nurse Leaders, Texas Organization of Nurse Leaders, American Nurses Association, Texas Nurses Association, and American Association of Critical Care Nurses. Most recently, he was elected to the Texas Nurses Association Leadership Succession Committee.

Western Governors University is the nation's first accredited competency-based university with more than 265,000 graduates in all 50 states. The College of Health Professions is currently educating more than 28,000 full-time and part-time bachelors and masters-level nursing and healthcare students in an online, self-paced learning environment. In 2020-21, more than 17% of all RN to BSN graduates in the United States were WGU-CHP educated.