University Governance
College of Health Professions
Education for Better Patient Outcomes
Healthcare professionals save lives every day. And having the right training ensures they are prepared for their important work. That is why the College of Health Professions works with health organizations on the local and national level to provide the support and education that medical professionals need in order to succeed. WGU's faculty works with students to ensure personalized learning while meeting industry standards.
"America needs a healthcare workforce that looks like America, equipped with cutting edge technical skills, and laser-focused on the competencies of care. At WGU, we provide students with a supportive community of care and mentorship, a mastery-focused tech-enabled education, and a curriculum designed in close partnership with employers. Our mission is to transform learners into leaders who improve the health of our nation."
—Jan Jones-Schenk
Senior Vice President, College of Health Professions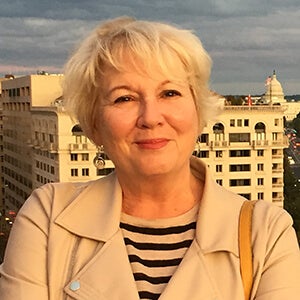 ---
Recent College of Health Professions Highlights
Graduates in 2020: 16,866
Designated a 2021 Center of Excellence for Enhanced Student Learning and Professional Development by the National League for Nursing (NLN)
Achieved American Nurses Credentialing Center accreditation for nursing continuing education.
Launched Medical Assistant Career Accelerator Program as part of partnership with Futuro Health.
Launched contact tracing continuing education module for all RN-to-BSN students.
Launched M.S. Nursing – Family Nurse Practitioner degree program.
Launched Chronic Care Coordinator certificate program with our first virtual reality clinical experience.
Launched Race to Value podcast, focused on moving to a value-based healthcare industry.
College of Health Professions Leadership
Jan Jones-Schenk, DHSc, RN, FAADN, FAAN
Pronouns: she/her/hers
Executive Dean / Senior Vice President
College of Health Professions
Scott W. Jones, MBA
Vice President, Academic Operations
College of Health Professions
Janelle Sokolowich, PhD, MSN, RN
Academic Vice President, Dean
College of Health Professions
Collaborating to Improve Healthcare for Everyone
As one of the leading sources of health professional graduates, WGU works with hospital networks, state and local associations, medical innovators, and others to ensure that the education provided supports the best in the science of care. By partnering with health professionals at all levels, WGU is not only a leader in health education but a trusted voice of the health industry, bringing continual improvement of patient outcomes through improved care. 
Health Professions Program Council
Wheeler Coleman 
CEO and Executive Partner 
Executive Consultants United, LLC 
Andrew Croshaw
CEO
Leavitt Partners, Salt Lake City, UT
Dr. Michelle L. Edwards, DNP, FACHE, FAANP
Chief Experience Officer
Providence, Renton, WA
Dr. Paul Handel
Board of Directors
Medecision, Inc.
Dr. Brent James
Medical Quality Guru
Quality Science, Salt Lake City, UT
Governor Mike Leavitt
Founder of Leavitt Partners
Former HHS Secretary and Governor of Utah, Salt Lake City, UT
David Nash, MD, MBA
Founding Dean Emeritus
Jefferson College of Population Health, Philadelphia, PA
Delphene (Dell) B. Oliver, MSN, MBA
Chief Nursing Officer
Mountainside Hospital, Hackensack Meridian Health, Monclair, NJ
Dale Prestipino, BSEE
Executive VP, CIO
Price Waterhouse Coopers, Philadelphia, PA
Marcus Osborne
Senior Vice President 
Walmart, AR 
Carol Ann D. Wilhelm, MPH, RHIA
Consultant and Adjunct Instructor
Loma Linda University, Cypress College, Loma Linda, CA
David Benton RGN, PhD, FFNF, FRCN, FAAN
Chief Executive Officer
National Council of State Boards of Nursing
Linda Knodel RN, FAAN
AONE Past President
Chief Nurse Executive, Senior Vice President, National Patient Care Services
Kaiser Permanente
Sylvain Trepanier DNP, RN, CENP
Regional Chief Clinical Executive
Providence St. Joseph Health
Donna Meyer MSN, RN, ANEF, FAADN, FAAN
Chief Executive Officer
Organization for Associate Degree Nursing
Kate FitzPatrick, DNP, RN, ACNP, FAAN, NEA-BC
Executive Vice President, Jefferson Health
Connelly Foundation Chief Nurse Executive Officer (CNEO)
Laurie Bigham RN, BSN, Med, MBA, FACHE
Vice President, Chief Nursing Officer
Ardent Health
Stacey Pfenning DNP, APRN, FNP, FAANP
Faculty, Doctor of Nursing Practice
Rocky Mountain University of Health Professions
Sylvia E. Morris MD, MPH
Hospitalist
The Southeast Permanente Medical Group
Healthcare Programs Have Earned Special Accreditations
CCNE accreditation: The baccalaureate degree program in nursing / master's degree program in nursing at WGU is accredited by the Commission on Collegiate Nursing Education (http://www.ccneaccreditation.org).
CAHIIM accreditation: WGU's B.S. Health Information Management degree program is accredited by the Commission on Accreditation for Health Informatics and Information Management Education (CAHIIM).

Vital Flexibility for Health Professionals
Health professionals have heavy demands placed on them, which make education, although important, difficult to achieve. Adding to the challenge are schedules that don't fit into traditional education timeframes. The College of Health Professions has crafted their support model, learning approaches, and schedule to provide health professionals the education they need in a way that fits into their lives. 
Shining a Light on the Darkest of Problems: A Forensic Nurse Fights Human Trafficking