Student Experience
Getting a Raise or Promotion
Step Up in Your Career with a Respected Degree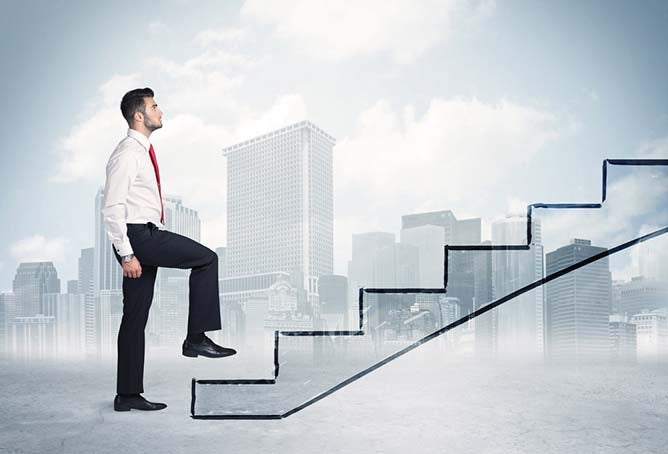 You want a degree that brings real results, and we want to help. Whether you're looking for a job promotion or to increase your earning power, we provide a path to a respected degree to get you there. The best news? You can earn it without quitting your full-time job.
Real return on investment matters to you, so it's also important to us. Ready to see the real ROI of a WGU degree?
"The moment I started my MBA at WGU, I got promoted as a director of IT. Now, with my new skills and credentials, I'm hoping for a C-level position." Manjit Sooch
MBA IT Management

---
Getting promoted at work brings greater status and career opportunities. Beyond that, it often increases your earning potential, which improves your quality of life. If you're pursuing a degree in order to get a promotion, we'll work with you one-on-one to help you reach that goal. 
Bachelor's Degrees and Promotions
A bachelor's degree is becoming increasingly essential if you want to be considered for jobs and promotions. The Bureau of Labor Statistics found that employment in bachelor's-level occupations is projected to grow by 10% from 2016 to 2026, compared to the 7% average for all other occupations.
Master's Degrees and Promotions
The number of jobs that require a master's degree is growing at an even faster rate than those that require a bachelor's degree. In fact, employment in master's-level jobs is expected to grow by an eye-opening 17% from 2016 to 2026. With the job market requiring ever-higher levels of education, a master's degree is key if you want to increase your opportunity for a promotion.
Boosting Your Résumé
If you're looking for increased opportunities and stability in your career, adding an advanced degree will give your résumé the boost it needs. When promotions are on the line, added skills and education can help you stand out against other internal or external candidates. Boosting your résumé with a degree shows an organization you're actively improving, bringing more skills and experience to the table and ensuring them you're the right candidate to promote.
Tips for Getting the Promotion
Here are some strategies to try when positioning yourself for a promotion:
Even before application and enrollment, discuss with your employer whether an additional degree will help advance your career. You might even consider asking if they offer tuition reimbursement or discounts.
Understand the industry standard for credentials and skills for the position you desire and work to obtain the education you need to compete and stand out.
Apply for higher-level positions within your company using your updated résumé that showcases your new degree and enhanced skills.
Write a cover letter discussing your educational advancement and how it's impactful to the business, including how it will help them reach their goals and key metrics.
"I chose WGU because of its ease, price, and the possibility of gaining IT certifications along with my degree. Now that I've graduated, I have four years of IT experience, a bachelor's degree, and five IT certifications that help show that my skills are valuable. That's a really good jumpstart for a career. After I graduated from WGU I quickly got a much better job and nearly doubled my salary." Eric Gardner
B.S. Information Technology

If you're earning a degree to qualify for a raise, you're not alone. A lot of our students have the same ambition, and we're proud to say we've helped many of them reach their goals. In fact, our students see an average increase in salary of over $12,000 within two years of graduation. That's almost twice the national average earning increase of graduates from other similar universities.
Bachelor's Degrees and Raises
Earning a bachelor's degree may help you earn more. Data from the Bureau of Labor Statistics indicates that the median weekly earnings for bachelor's degree holders sits at $1,248, compared to $746 for those with just a high school diploma.
Master's Degrees and Raises
A master's degree can serve as tangible evidence that you've gained more skills and are more qualified for a raise. BLS data shows that those with master's degrees make $1,497 per week compared to $1,248 for those with just a bachelor's degree—an earnings increase of nearly 17%.
WGU Raises
Within two years of graduating, WGU grads see an average salary increase of $12,300—and four years after graduating that average salary increase jumps to $21,800. This is nearly twice the national average. Through one-on-one mentorship and education tailored to your goals, we help you earn a degree that enables you to succeed. 
Tips for Getting the Raise
Here are some strategies to try when positioning yourself for a raise:
Talk to your employer before you even apply for a degree program to understand raise opportunities and show how a degree will be beneficial to the organization.

Understand the going rate for someone with your skills and education, and reference reputable data that shows how much others with your level of education get paid in the same industry and local market.
Have revenue-tied and performance-based evidence that shows the enhanced impact you're having on the business and supports why you should be paid a certain amount.
Show through your résumé and cover letter the new skills you gained through your degree and why they're beneficial to the company.
Actively apply to other open positions outside your organization; if you secure a better offer elsewhere, your current employer might match it. Don't take this approach unless you're prepared to leave your current job—in the event that they're unable to match salary offers.