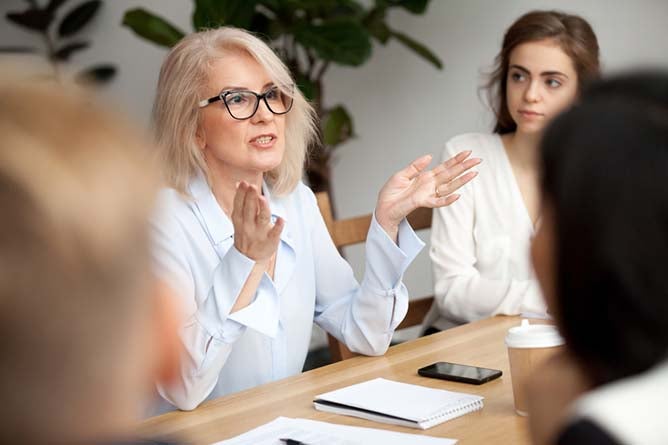 The business playing field has changed a lot in the past decade. Business careers for women are opening up every day, and more women are starting their own businesses. Research from Guidant Financial and LendingClub notes that there was a 58 percent uptick in businesses run by women between 2007 and 2018, and 4 out of every 10 small businesses are now owned by women. And according to Catalyst, there's at least one woman in senior management in 87 percent of global businesses.
How business careers benefit women.
These figures show that women are increasingly reaping the benefits of business careers. They're gaining . . . 
Flexibility in the workplace. As companies address important work-life balance issues, women stand to reap the windfall. Zenefit's 2018 The State of Flexible Work Arrangements study found that 67 percent of the small businesses surveyed offered some type of flexible work arrangements, such as telecommuting, job-sharing, parental and family leave, and personal time off for business travel. And 73 percent of their employees said that those arrangements increased their job satisfaction. For women who attend college, have a family, or travel frequently, a flexible job can be a game-changer.
Leadership opportunities. One of the top reasons women stayed in their jobs was because of the opportunity to make a difference, according to a report from the Center for Creative Leadership. The report also says that 74.1 percent of women surveyed were interested in leadership opportunities and the resources and support to be successful in leadership roles.
Effectiveness through emotional intelligence. In a 2016 Korn Ferry study on soft skills and effective leadership, women outperformed men on 11 of 12 emotional intelligence competencies; in the 12th, no gender differences were observed. These qualities included adaptability, leadership, teamwork, coaching, and organizational awareness—all qualities that improve efficiency and efficacy in the workplace.
Business careers for women.
Women can excel in any position in any business. With solid education and experience, they can succeed in roles such as:
1. Financial analyst.
Financial analyst is one of the highest-paying jobs for women, per Business Insider, which extrapolated data from the U.S. Census Bureau's 2017 American Community Survey. Financial analysts help businesses make important investment decisions. They usually have a bachelor's degree in business administration, accounting, or a related field of study that included courses in business, economics, financial management, and statistics. Business Insider estimates the median salary for women in financial analyst positions is around $71,000 a year.
2. Human resources specialist.
Human resources specialists are responsible for filling job openings, advocating for employees, and training and developing employees, among other tasks. They might even travel to job fairs to recruit and interview candidates. This role requires empathy, coaching skills, and organization—qualities in which women outperform men, according to the Korn Ferry study. The first step toward becoming a human resources specialist is to earn a bachelor's degree in human resource management or business administration. Even with a degree, candidates might need to have some analogous work experience, such as customer service work or an office job. Human resources specialists earn about $55,000 a year, PayScale says.
3. Health services manager.
Health services managers perform administrative duties for healthcare providers. Besides a bachelor's degree in healthcare management or business administration, prospective health services managers will need entry-level administrative experience in a healthcare environment. (Volunteer work at a hospital or private healthcare facility could be helpful.) The U.S. Bureau of Labor Statistics notes that health services managers make about $100,000 a year, on average, and predicts that the employment rate will increase 18 percent by 2028.
Advance your career through education.
Despite some advancements, the business field has yet to reach gender parity. Men still dominate the top positions in the top companies: three-quarters of the board seats at Fortune 500 and S&P 500 companies were held by men. And women still face pay and resource inequalities, earning only about 80 percent of what men earn. But women are nonetheless forging their own paths in the business world, and they're doing so largely by gaining the education and experience that can help them succeed.
Earning a master's degree in business is a prerequisite for advancing to executive positions. An MBA or a master's in management and leadership gives women in business the tools they need to lead teams, analyze data, and strategize about business procedures.
Certification can also help candidates find higher-level positions. For instance, a financial analyst who wants to grow within a company might need a master's degree in business and a license to sell financial products from the Financial Industry Regulatory Authority. A human resources specialist interested in being promoted could get a voluntary certification from the HR Certification Institute or the Society for Human Resource Management on top of earning a graduate degree.
The Center for Creative Leadership found that organizations with a higher proportion of women see higher rates of job satisfaction, stronger organizational dedication, and reduced burnout rates. It's clear that women are a driving force in the business world. How are you going to make your mark?