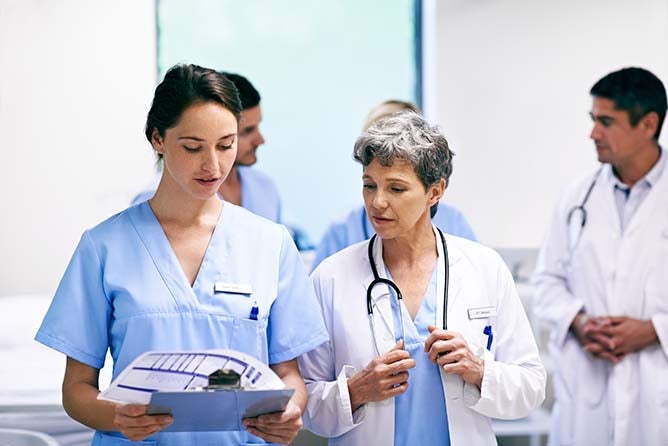 So you're a hardworking staff nurse and your sights are set on leadership. In fast-paced, high-stakes environments, it takes a lot to stand out and climb that ladder. And the necessary skills to succeed on an upward path are not the same as the skills you need to succeed where you are.
Here are four ways you can work toward becoming a nurse leader.
1. Choose a mentor.
One of the smartest moves someone who desires upward career mobility can make is choosing a mentor. Having someone who can provide guidance and the wisdom of experience is invaluable as you navigate your career.
Identify a nurse leader in your organization who exemplifies who and what you want to be in your nursing career. If you don't already know them, ask someone to introduce you and get to know them. (Be respectful of their time.) If you click and are able to build a strong connection, ask if they would be willing to mentor you.
2. Climb the clinical ladder.
The most accessible way to grow a leadership career is to climb the clinical ladder. Clinical ladders are used in nearly every hospital, and they allow bachelor's-prepared nurses to remain in their clinical positions and perform patient care while learning and developing skills, according to the Association of Clinical Research Professionals.
Nurses on the ladder are given designations specific to their experience—RN I, RN II, RN III, and so forth—and each hospital's clinical ladder has a unique structure. At each level, nurses participate in regular meetings and are assigned projects and initiatives to further their education and provide support to the operation of their unit or department. They also serve as mentors to less experienced nurses.
Nurses might need a specific amount of experience and education to climb the ladder. So a conversation with the nurse manager is the best way to find out if you qualify or how to get there.
3. Join a professional organization.
Joining professional nursing organizations will put you in direct contact with other like-minded nurses. You'll develop a network of colleagues that will serve you throughout your career. There are professional organizations that cover general nursing, specialty clinical areas, administrative roles—just about any nursing facet you can imagine. Sigma Nursing Excellence International is an example of a professional nursing organization that focuses on leadership and scholarship. 
You can join as many as you like, but don't overbook yourself—you'll only get out of a group as much you contribute to it. If you can, be more than just a dues-paying member. Become an active member of the group's infrastructure. Participate in sponsored events and initiatives. Take advantage of the opportunities the organization provides, such as access to experts in your field, leaders in your area of expertise, and certifications in your practice area.
4. Continue your education.
To grow their careers, nurses often need to pursue a master's degree.
One of the most direct paths to nurse leadership goes through the nurse manager position. Nurse managers are responsible for a unit or a department; they screen and interview new hires, schedule staff, plan and monitor their department's budget, resolve staffing issues, and, when necessary, fill in for clinical staff. A bachelor's-prepared nurse could be tapped to be a nurse manager, but preference might be given to nurses with master's degrees.
With a master's degree in nursing, nurses can also pursue other leadership roles, such as clinical nurse specialist or clinical nurse leader. They could also pursue roles in nursing administration, or such roles as director of nursing or chief nursing officer, once they have enough leadership experience to qualify.
Have the right stuff.
Regardless of how you'd like your leadership role to grow, you'll need the right combination of skills and traits. (Nursing Times outlines a few of the most important ones.) You will, of course, be expected to have years of clinical experience and possibly some leadership experience, too.
As a registered nurse, you have a leg up—you're already a leader. You advocate for your patients and make decisions that affect their lives. You're an important part of your team and your organization.
Good leaders are confident, compassionate, committed, and purposeful. They have integrity and are accountable for their actions. They are professional and approachable. Cultivate these traits, and you're bound to see success in your career.