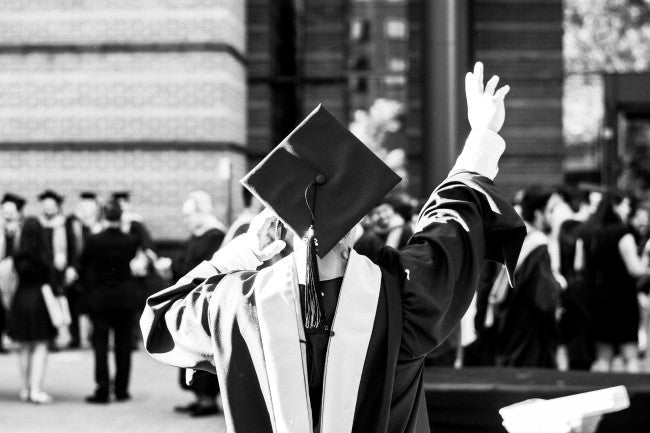 Why should I get a college degree?
Should you get a college degree? Is college worth the time, money, and effort? Many people are unsure if college is the right move for them, especially if they are facing economic uncertainty. But a bachelor's or master's degree has many valuable benefits, especially if you are facing financial hardship. There are also ways you can cut down on the cost of college dramatically increasing your ROI and making it well worth your time and energy. 
At WGU, our goal is to help adults pursue higher education who may not be able to attend college in the traditional way. That's why we offer low tuition, charged per six-month term instead of per credit, competency-based education that allows students to accelerate their classes, finishing a course as quickly as they can master the material, and offer fully online, flexible courses that you can work on whenever it is convenient for you.
A bachelor's or master's degree is becoming a crucial credential for many jobs. While it may feel that a college education is out of your reach, WGU helps put it within your grasp. And the rewards you can get with your college education and degree are invaluable. As we face a recession and high unemployment, it's extremely valuable to understand how college education and a degree can help you on your career path 
Discover 5 of the major benefits of earning a bachelor's or master's degree, and why now is the perfect time to continue your education. 
1. You will be more marketable.
In our world today, an increasing number of jobs require higher education In fact, over 80% of jobs in the fastest growing occupations (healthcare, STEM, education, and government) require a college degree. In the next few years, it's expected that 13 million jobs will be available and will require a bachelor's degree. Additionally, master's degrees are becoming increasingly important and valuable to employers in many professions. 
Earning a degree will greatly increase your marketability because it will make sure you are qualified for more positions, as well as making you a more competitive candidate. This is a major benefit, especially when jobs are more scarce. If you and another candidate have similar experience, your degree could put you over the edge, helping you land a position above someone else. 
While many jobs require a bachelor's degree or master's degree, even those that don't require them will likely prefer candidates who have that credential. A candidate that is a college graduate with a degree may be looked at more seriously than a candidate who doesn't have one. A college graduate may go to the top of a list for review, while someone with no college may not be given another look. Earning a bachelor's or master's degree is a huge step in making yourself more marketable, especially in a rougher job market.
2. Access to more job opportunities.
Not only will you be more marketable when you have a college education and a degree, many job possibilities will open up to you when you have one. College graduates see 57% more job opportunities than non-graduates. A degree enables you the opportunities that you're hoping for, and flexibility to choose where you work. 
Hiring managers may use a bachelor's or master's degree requirement as a primary requirement for candidates. They may not even consider someone who doesn't have a higher education degree. And these jobs are easier to find as well—80% of jobs for workers with a bachelor's degree are posted online, with only 50% of jobs requiring high school education are posted online. Candidates using the internet to help them find more job opportunities will find more options if they are college graduates.
Students with a bachelor's or master's degree may also find that their school network helps them have better access to job opportunities. Students can utilize their alumni resources to make connections and learn about jobs they may not have otherwise heard about. The friendships and relationships that students make in their courses with classmates and faculty can be key in helping them find new opportunities down the line. Current students can greatly benefit from utilizing their college experience to help them make important connections. Education and networking go hand in hand, and college graduates may find a former student classmate or professor ends up helping them land their dream job.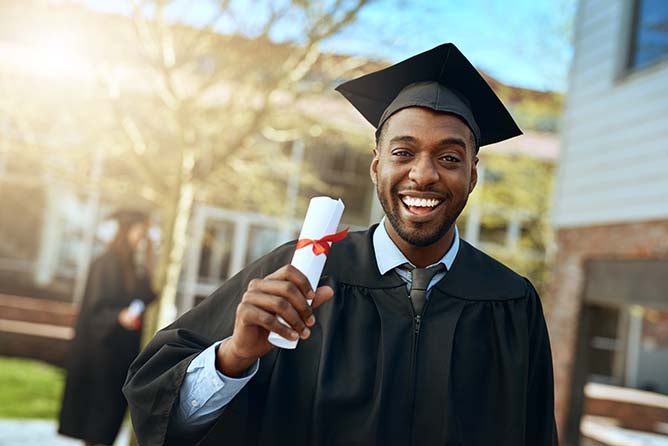 3. Higher earning potential.
The numbers just don't lie, those who have higher education can expect greater financial benefits and higher salaries than those with just a high school education. Those who have a high school diploma earn an average of $37,000 per year. Those with a bachelor's degree can expect to make an average of over $60,000 per year. And those with a master's degree can expect to earn an average of more than $72,000 per year—nearly twice what a high school graduate will expect to make. Clearly, higher education pays.
Within many industries, college is a critical element of a pay raise. For example, teachers and nurses who obtain a bachelor's or master's degree may automatically be eligible for a pay rise. The added credential is usually beneficial for your organization, maybe even helping with compliance or regulation standards. So college attendance and graduation for many industries may be directly connected to a pay increase. Some people may see a raise as soon as they enroll as a student in college, because their employer values and appreciates the many benefits that education can bring to them.
Similarly, college may prepare you for a higher paying industry, ensuring you are qualified for a new position that has a much higher pay. Ultimately, college usually pays for itself relatively quickly. For in a 2019 Harris Poll survey, recent WGU students reported earning, on average, $11,800 a year more within two years of graduation, compared with income prior to enrollment. By four years after graduation, that income increase averaged $20,300, compared with the national average of $8,200. With an average cost of $16,500 for a bachelor's degree, most WGU students see a positive return on their investment in less than 3 years.
4. Opportunity to change industries.
If you're looking to change industries, college may be the perfect way to get started in a new field. While your experience may somewhat help you be qualified, a bachelor's or master's degree in your chosen field will help show an employer that you have skills and knowledge in that field, and that you are a great fit. 
Especially if you're hoping to dive into a brand-new field, you will need knowledge and experience in that new field in order to get a job. And a recession is often an ideal time to consider a new position, so a degree is a must-have. A degree will help give you the resume boost, as well as the specific skills you are likely to need in order to succeed in a new field. For most people hoping to move into a new industry, a degree is the first step.
5. Greater job stability.
 Of the 11 million jobs created since 2010, 95% of them have gone to bachelor's degree holders. Unemployment for 25-34 year olds with bachelor's degrees was just 4% in 2014, while it was 12% for those with high school diplomas. Bachelor's and master's degree holders are more likely to have job stability—the positions that bachelor's and master's degree holders can get are usually more stable, and while not immune from layoffs or financial issues, they tend to fare better during economic uncertainty. According to Pew Research Center, only 6% of bachelor's degree holders live below the poverty line, while an alarming 22% of people without a college degree live in poverty. 
Industries that have greater job stability typically require degrees. Healthcare, education, IT, government, etc. usually look to degree-holders for the most qualified candidates, and many positions inside these fields will require a degree for someone to be eligible. A degree can help give you the financial and economic stability you are hoping for.
If you're considering getting a college degree, the time is now. You can expect your life to change in the best ways when you get a degree—you'll likely see more job opportunities, be a better job candidate, have higher earning potential, and enjoy greater economic and job stability if you are college-educated. No matter what your financial situation is today, there are ways that a degree can be affordable and within your reach. Consider WGU if you're ready to change your life.