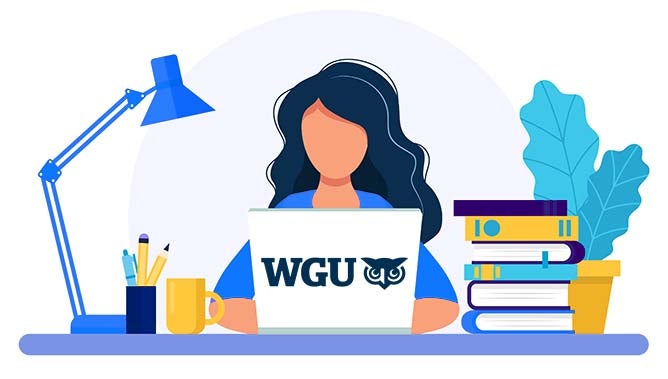 Online education has grown significantly, seemingly overnight, and now there are more online college programs than ever. But even though higher education is adapting to the internet, not all online programs are created equal. Western Governors University's model, in particular, stands apart—especially from traditional brick-and-mortar colleges, which have recently launched remote learning programs of their own.
Here are five key differences that set the WGU online experience apart.
1. How students learn.
WGU is unique for its competency-based model, which measures skills and knowledge rather than time spent in class. This fundamental principle means that WGU students aren't stringently bound by the "seat time" associated with traditional class schedules—they progress through coursework as they demonstrate mastery.
Further Reading: Four family members, seven degrees, one university.
That's a big difference from the centuries-old standard classroom model, which typically involves one teacher, about 30 students (or potentially hundreds for gen ed credits), and three months of lectures culminating in an exam. Every student must attend class at the same time and, for the most part, take exams on a set schedule that doesn't allow for much flexibility.
The competency-based model is the foundation for everything else that makes the WGU online student learning experience—where every aspect is tailored to each student's progress—unique. Coursework can be completed based on a student's pre-existing understanding of a subject, and they can spend more of their time focused on areas that are new or especially challenging without having to worry about being left behind or leaving others behind. And tests can be scheduled at all hours of the day and night, seven days a week, as soon as the student feels confident in their preparation. Often, pre-assessments and gut-check quizzes along the way help students gauge that preparation.
2. How students are taught.
Many students in online programs at traditional schools are feeling "Zoomed out" by socially distanced learning, according to the Chronicle of Higher Education. Because brick-and-mortar institutions rely on highly synchronous formats, professors insist on keeping regular class times, which means that students still have to show up for class.
Although newly online classes are feeling the brunt of this now, it's long been true that some programs too often try to replicate brick-and-mortar practices that don't translate well to an online program. But "online" is more than a delivery system—it's a tool that, when used well, can provide synchronous or asynchronous delivery methods, simulations, game theory learning, chat rooms, forums for discussion posts, pop-up tutorials, peer group time, and a host of other creative learning platforms that not only engage the learner but also demonstrate equivalent learning outcomes.
Being able to work and interact with others is important, of course, especially for online learning. That's why WGU integrates digital communication tools to ensure that students can study, complete assignments, and collaborate with one another on their terms. WGU students can also schedule time to interact directly with Course Instructors to address their questions and enhance their understanding of key concepts.
3. What students learn.
In contrast to many institutions' wide range of degree programs in seemingly innumerable courses of study, WGU's offerings are focused on areas where workforce needs are expected to remain strong for the foreseeable future. And in terms of the skills taught, WGU's degree programs are carefully designed to meet the shifting needs of the workforce. Every skill learned and every certification earned en route to a degree from WGU is connected to the in-demand skills, competencies, and knowledge that will qualify graduates for rewarding, in-demand jobs.
4. Who you work with.
In addition to a wide range of on-demand instructional materials in each course, WGU students receive one-on-one support from faculty members, including as-needed course-level instruction from Course Instructors and continuous support and guidance from a Program Mentor, who stays in touch via phone calls, video chats, and text messages throughout their academic journey. Students can often join cohorts composed of peers to discuss course material and share ideas, much as they would in a traditional classroom. The student-centered nature of WGU's model ensures that every step of their journey is personalized.
5. What you pay.
WGU's flat-rate tuition is about half that of most other online colleges, and there is a built-in incentive for students to accelerate their learning to make it even more affordable. Because the tuition per term is fixed, it doesn't matter how many courses students complete—they'll still pay the same rate. What's more, nearly half of WGU students are able to complete their degrees without taking on any new student debt, and among those who do borrow, the average student loan debt at graduation is less than half the national average.
In the months and years to come, online education will become a lot more familiar to a lot more people. It's important to know the key differences so that you can ask the right questions when deciding which program is right for you.