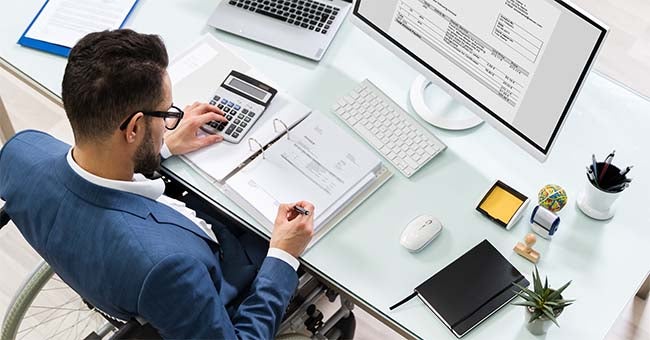 Accounting offers a wide variety of roles and responsibilities and a wide range of opportunities. It's a growing market: the job outlook for the profession is expected to grow 4 percent through 2029, the U.S. Bureau of Labor Statistics says. And it pays well, too: the median annual salary for accountants was north of $73,000 in 2020.
"As long as there are businesses," Carlos Carvajal, a graduate of WGU's accounting program, observes, "there will be a need for accountants."
Carvajal and many others have seen significant value from their WGU accounting degrees—from the program's flexibility to exceptional student supports and certification preparedness. Here are five advantages of earning an accounting degree from WGU.
1. CPA Preparation
A WGU accounting degree can be the first step toward becoming a certified public accountant. Earning a master's will help you meet the 150 semester hours required to sit for the CPA exam in most states. A CPA license gives you extra credentials, boosts your résumé, and qualifies you for elite positions in business and finance.
Carvajal earned his master's in accounting from WGU in 2016. Because he had already passed the exam, he just needed the required hours to become a full-fledged CPA. Earning his master's degree helped him fulfill that requirement.
"I chose WGU for a few reasons," Carvajal says. Among them, he says, was its certification, "so I wasn't going to throw my money into a money pit."
2. Flexibility
Alice Noel graduated from WGU with a bachelor's degree in accounting in September 2020. She works with a federally recognized Indigenous tribe in Washington, doing the accounting for their gas stations and convenience stores.
"I found the flexibility of WGU to be appealing," she says. She balanced a full-time job and raising children while earning her degree. Unlike the traditional college experience, WGU's flexibility helped Noel complete her studies on her own schedule. Having the power to manage her own time enabled her to progress in her career while acquiring the knowledge and skills she needed for further advancement.
And Noel's bachelor's degree has opened many doors since.
"There have been many jobs I've wanted to apply for that would not even look at my résumé because I didn't have a bachelor's degree," she says. Thanks to WGU, she no longer has that problem.
3. Affordability
Victoria Rodgers earned her bachelor's in accounting in December 2020. Now she prepares tax returns for people and corporations at a public accounting firm.
The biggest reason she chose WGU was the cost, she says. She'd attended a for-profit art college but couldn't afford to finish — leaving without a degree and with more than $12,000 in student loans.
"I didn't want to go into debt again," she says, "so I chose a school I could pay for out of pocket."
Without her WGU accounting degree, Rodgers wouldn't have attained her current position, she says.
"Even with some experience under my belt," she says, "it was essential that I had knowledge of certain principles I was exposed to only through school."
4. Accelerated Pacing
Tara Howard enrolled in WGU's undergraduate accounting program in December 2019 and finished just six months later. She earned her master's degree from WGU, too.
She now works as a project accountant for United E&C, and earning her master's degree is helping her move up through the ranks.
"I liked that it was flexible and that I could speed up the learning," she says. "I never liked having to just trod along in classes at a snail's pace. I wanted to be able to move at my own pace. It was a great choice for me."
5. Top-Notch Support
WGU connects every student with a Program Mentor who helps map their course load, answers questions, and regularly checks in on their progress. This high-touch partnership helped Sibil Iglesias keep her academic progress on track while she pursued her bachelor's in accounting at WGU.
"My mentor was extremely helpful and encouraging," she says. "All of the Course Instructors I worked with were also very helpful. I always felt that everyone I interacted with at WGU really cared about me and wanted to help me achieve my goals."
Earning an accounting degree from WGU was the right call for these professionals. It gave them the flexibility, affordability, pacing, and support they needed to succeed, and it prepared them for CPA licensing and well-paying careers.
If you like working with numbers and want to help other people, a WGU accounting degree can help you marry these passions over the course of a lucrative career.