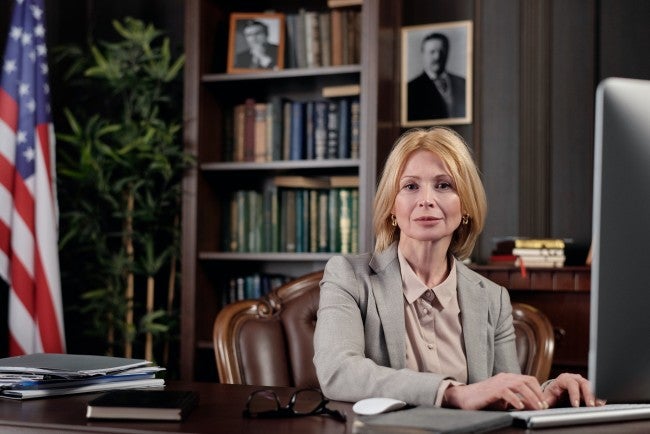 What is educational leadership?
Education leaders play a critical, powerful role in learning. It is their responsibility to ensure students receive the educational foundation they need to achieve personal and professional growth—growth that can deeply influence the rest of their lives. Educational leadership transcends basic management functions. Educators in leadership positions establish, maintain, and oversee the directions of schools and staff them with the best-qualified teachers. With these school leader's unique understanding of educators' concerns and challenges, these learning leaders serve as mentors to teachers, providing them the support they need to perform their best so that ultimately students can excel. Educational leaders also build strong relationships between schools, teachers, students, parents, and the overall community. 
Professional roles in educational leadership include principal and assistant principal positions at the elementary and secondary school level; superintendent positions at the district level; and multiple postsecondary education administrator roles at colleges and universities. Specific educational and professional requirements must be met before stepping into any type of educational leadership role. Online programs such as an educational leadership master's degree can prepare teachers who want to transition into leadership roles. This leadership degree helps aspiring education administrators meet minimum requirements and prepare them for certifications they need to become, for instance, a school principal or school district superintendent. Beyond earning a master's degree and completing certifications, those pursuing educational leadership roles should also have a solid foundation of nonacademic skills. As reported by the U.S. Bureau of Labor Statistics, the most important of these include:
Communication skills

Critical-thinking skills

Decision-making skills

Interpersonal skills

Leadership skills

Problem-solving skills
Also, it's critical that school leaders be confident in all these skills because they will apply them daily in interactions with fellow administrators, teachers, students, and parents. 
What are career opportunities in educational leadership?
A master's degree in educational leadership paves the way for multiple exciting career options. Here are a few of them along with a selection of their typical responsibilities. 
Elementary, middle or high school principal. 
Manage school activities and staff, including teachers and support personnel

Establish and oversee class schedules in a leadership capacity

Develop, implement, and maintain curriculum and learning standards

Counsel and discipline students

Observe teaching and evaluate teacher performance

Meet with parents and teachers to discuss students' progress and behavior

Assess and prepare learning reports on test scores and other student achievement data

Organize professional development programs and workshops for staff

Manage the school's budget, order school supplies, and schedule maintenance

Establish and coordinate security procedures for students, staff, and visitors
School district superintendents
Serve as chief executive officer, responsible for the academic achievement of a district

Lead big-picture educational goals for the district 

Manage administrators, programs, budgets, resources, and a variety of other high-level tasks

Foster and manage relationships with government agencies and other stakeholders
Instructional coordinator
Develop and implement curriculums

Plan, organize, and conduct teacher training, conferences, or workshops

Analyze students' test data

Recommend teaching techniques and the use of different or new technologies

Develop procedures for teachers to implement a curriculum

Train teachers and other instructional staff in new content or programs

Mentor or coach teachers to improve their skills
Postsecondary education administrator
This general title encompasses several positions at college or university, including leadership roles in admissions, the registrar's office, student affairs, and as provosts/academic deans. 
Admissions 
Recruit prospective students 

Review applications to determine which students should be admitted

Analyze data about applicants and admitted students
Provosts/academic deans (also known as chief academic officers) 
Help college presidents develop academic policies

Participate in making faculty appointments and tenure decisions

Oversee faculty research 

Coordinate activities of individual colleges or schools
Registrars 
Maintain student and course records

Schedule course offerings

Oversee student registration for classes

Prepare transcripts and diplomas for students
Student affairs
Advise students on housing, personal problems, or academics

Communicate with parents or guardians

Create, support, and assess nonacademic programs for students

Schedule programs and services, such as athletic events or recreational activities
Job advancement opportunities.
While a master's degree can put you on the path to increased career potential, it can also increase your professional credibility if you are already working in the field as a teacher or other educational leader. A master's program in educational leadership includes (but is not limited to) the following curriculum that will prepare you for career advancement in an education setting. 
Foundations and ethics

School law

School financial leadership

Curriculum design and instruction

Systems management and school operations

Data literacy and evidence-based practices

Cultural competency and social-emotional learning
Job growth and stability.
The BLS projects a 4% growth in education administrator jobs by 2029. The demand for these positions is attributable to the following factors: 
More education administrators like principals and superintendents are needed to serve the needs of additional students

Additional admissions officers will be needed to process students' applications

Registrars will be needed to direct student registration for classes and ensure that they meet graduation requirements

Student affairs workers will be needed to make housing assignments and plan events for students

Current school administrators retiring soon, leaving their positions open
For the most part, education administrators earn comfortable salaries and enjoy great perks and benefits such as health and life insurance, retirement plans, and flexible spending accounts. Depending on the institution or district they serve, they may also receive professional development assistance and loan forgiveness benefits. If they work at a university, they may receive access to campus facilities and tuition waivers or a discount on courses. Education administrators and principals in public schools, at every level, tend to receive great healthcare benefits from the government. 
Other benefits may include: 
Prescription drug insurance

Commuter assistance

Accidental death and dismemberment insurance

Disability insurance

Paid time off and family leave 

Wellness program
Why is educational leadership important?
Education is a hot-button issue in the U.S., largely due to the emotionally delicate nature that comes with developing young minds and helping people prosper. Leaders in education are brave navigators of our vast, often complex educational system. They are ready to face inevitable challenges because having a direct impact on a student's future is, in a word, everything to them. 
Working with students and helping them reach their potential is one of the most meaningful and rewarding professions there is. If you have the courage to stand up for what's right in education, have a vision and want to share it, and have the utmost respect for faculty, parents, and students, then you are definitely onto the right career. WGU can help you in your pursuit to become an education leader. Get started today!