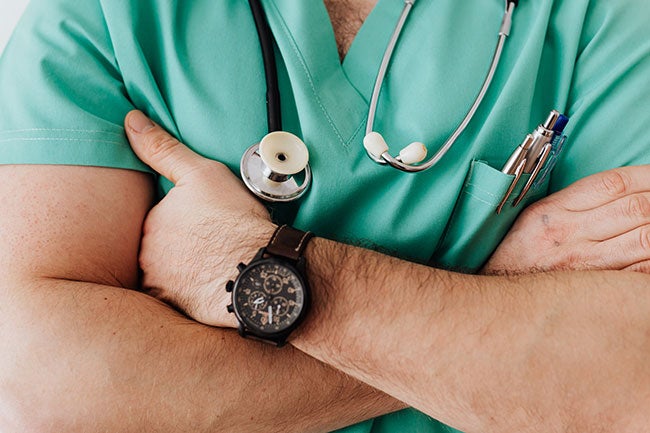 Careers Similar to Nursing
The world of professional healthcare and nursing is incredibly vast. When many people think of entering a career that allows them to provide support and care to others, their minds often go straight to the way nurses work at a patient's bedside, but truthfully, that's just the tip of the iceberg.
You can find jobs similar to nursing in offices, remotely, in hospitals, and with all different types of private businesses. Depending on which direction you go, nurses and non-nurses have their own training, education, salary, and other requirements according to each profession. By opting for a non-nursing career you can save time and money, start your career quickly, maintain a full-time job while completing any necessary training or certification, have a fulfilling role in helping people heal, have access to a wide range of job variety, and get the job security of working in a rapidly growing field with thousands of jobs.
Many of the skills you would learn in a nursing program make you eligible for different kinds of roles. If you have a broad interest in helping and caring for people, then you can find a career that suits you. This article will discuss top careers that are similar to nursing, salaries, education requirements, and steps you can take to pursue a healthcare career that's right for you.
Ten Careers Similar to Nursing
Nurse assistants, or certified nursing assistants (CNAs), perform some of the same tasks as registered nurses working in long-term care facilities and supporting treatment. Overall, though, this role requires fewer responsibilities and less education. CNAs are responsible for direct patient care.
These professionals are responsible for:
taking vital signs
keeping records
moving or turning patients
bathing patients
answering patient calls
cleaning rooms and linens
stocking supplies
assisting with some medical procedures
gathering patient histories
and more
CNAs work in all different kinds of medical facilities, including hospitals, long-term residential facilities, nursing homes, rehabilitation centers, adult day care centers, and sometimes clinical facilities. CNAs may also perform their duties in a home healthcare setting.
CNAs are required to hold a high school diploma and have taken a CNA training course, which is typically a few months long. Additionally, in most states CNAs must earn a certification, which often includes a written or oral exam, as well as a demonstration exam where students show their ability to perform certain tasks.
While being a CNA is a great role in and of itself, it's often used as a stepping stone to other, higher-paying careers. The skills you'll learn in this career will set you up well to advance your career in many potential ways. CNAs earn $35,000 a year on average. Learn more about the responsibilities and job outlook for certified nursing assistants.
Professional sonographers, also referred to as diagnostic medical sonographers, use ultrasound tools and technologies to take images of a patient's internal organs and tissues. This is a very important job in the healthcare field because physicians use these images to diagnose illnesses and diseases and provide treatment regimens that save lives.
Some responsibilities of a sonographer include:
evaluating the quality of sonographic images
creating reports on the images to support informed diagnoses
answering
patient questions and concerns
gathering medical histories
maintaining and preparing diagnostic equipment
and more
What's exciting about a career in sonography is the opportunity for specialization. There are many routes you can take, which include adult echocardiography, obstetrics and gynecology, musculoskeletal sonography, breast sonography, abdomen and small parts, and others.
The overwhelming majority of sonographers work in hospitals, but they also may work in medical and diagnostic laboratories.
This role typically requires an associate degree with additional training and certification. On average, sonographers earn $78,000 a year.
Radiologic technologists, or rad techs, use specialized equipment to help physicians determine proper diagnoses for patients. These health professionals work in hospitals and other healthcare facilities.
Radiologic technologists are responsible for:
maintaining diagnostic imaging equipment
preparing patients for diagnostic imaging and examination
supporting patients and answering their questions
protecting patients from unnecessary radiation exposure
delivering accurate image capture
evaluating images for clarity
keeping accurate patient records.
These professionals are required to have an associate degree, and many states require certification. Additionally, there are options for a bachelor's degree in radiology that can help rad techs advance their careers and practice scope. Based on data from the U.S. Department of Labor, O*NET reports that 63% of radiologic technologists have an associate degree and 24% hold a bachelor's degree. In comparison to other careers that require similar levels of schooling, these healthcare professionals have the potential to earn a competitive living. Radiologic technologists earn an average annual salary of $63,000.
Clinical technologists collect samples from patients to perform tests of tissues, fluids, and other materials in order to find microorganisms, bacteria, or abnormal cells that indicate disease or infection. They often work in hospitals, clinics, laboratories, or postsecondary schools.
Some other duties include:
analyzing patient body fluids
matching donor blood for transfusions
spotting blood abnormalities
testing blood for drug levels
recommending treatments
discussing lab results
and more
Like many of the other careers in this article, this one allows professionals the freedom to advance their careers into other areas of healthcare. With some years of experience and certifications, clinical technologists can move up into specialized roles such as laboratory manager, cytotechnologist, histotechnologist, all of which unlock more salary opportunities.
There is a very high demand for clinical technologists, making this a desirable and secure career to pursue. Usually this job role requires an associate degree with additional training and certification, depending on specialization. These professionals make $62,000 a year on average.
Physical Therapist Assistant
This type of healthcare professional watches moods, movement, and speech of clients for physical therapist treatment courses after surgery or disability. Physical therapist assistants (PTAs) play an essential role in patient rehabilitation.
Some of the job responsibilities in this role include:
observing physical therapy patients
helping patients complete physical exercises
using therapeutic interventions such as massage to treat patients
teaching patients how to use PT equipment
educating patients and their families
PTAs get to communicate and work with a variety of patients in their journey to healing, so it's an excellent professional route for those who want a hands-on role in helping people.
Approximately 72% of PTAs work in hospitals or privately-owned physical therapy practices, while the majority of the rest work in home health, schools, and rehab facilities.
Physical therapist assistants must earn an associate degree and, in most states, must pass the National Physical Therapy Exam. The average annual salary for this role is $49,000.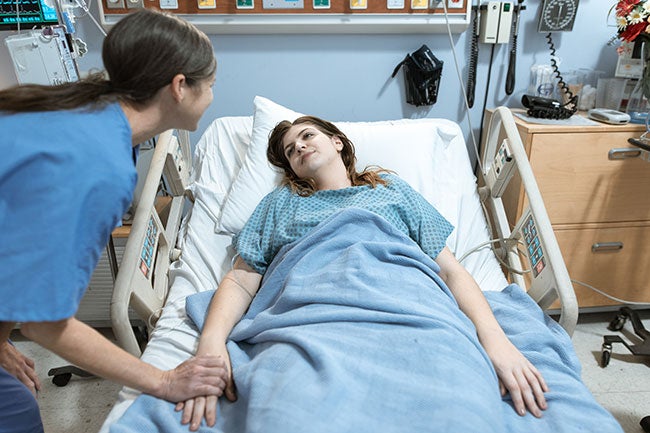 Medical transcriptionists take notes on medical provider appointments in clinics with specialized equipment for records and treatment of illnesses.
Common tasks for healthcare professionals in this role include:
reviewing patient data for quality and accuracy
organizing patient data for clinical databases
tracking patient outcomes for quality assessment purposes
using classification software to code and categorize health information
recording data for collection, storage, analysis, retrieval, and reporting
maintaining confidentiality, security, and accessibility of medical records.
Medical transcriptionists most often work for hospitals, doctors' offices, and transcription service companies that provide the service to healthcare facilities. Some are self-employed, so if the prospect of being your own boss in the healthcare industry is attractive to you, this could be a great path.
Depending on prior experience, professional medical transcriptionists may need a training degree in order to practice. These professionals typically earn around $57,000 a year.
Surgical technologists (ST) in the healthcare field offer specialized education and experience with surgical equipment during operating procedures and more.
Surgical technologists work directly with physicians, registered nurses, and other healthcare providers. Before medical procedures, STs set up the room with the proper tools and equipment. They ensure everything is working properly and also prepare sterile solutions and medications so that the physician can effectively and safely treat the patient.
Some other responsibilities include:
preparing patients for surgery by disinfecting the affected area,
passing instruments and sterile supplies to the physician during the procedure
keeping track of supplies so that no foreign objects are left inside the patient
maintaining an extremely clean environment to prevent risk of infection
Surgical technologists work in hospital operating rooms, outpatient centers, and doctors' offices.
Professionals working in this role need certifications in some states on top of an associate degree. Surgical technologists earn $ 51,510 a year on average. The U.S. Bureau of Labor Statistics projects 9% employment growth for this profession from 2020 to 2030, equaling more than 9,000 new jobs.
Nurse case managers perform a wide range of duties that contribute to ensuring efficient medical care for patients.
They are responsible for:
updating and revising healthcare plans and handling claims
creating and managing the plan of care for patients with serious conditions such as diabetes, heart disease, Alzheimer's, and cancer
advocating for personalized treatment plans for each patient's unique needs
offering education and guidance for navigating complex medical decisions
and more
Becoming a nurse case manager requires professionals to gain full credentials as a registered nurse (RN) before pursuing this specialization. If you're passionate about holistic care and like the sound of assisting patients through the entire course of their illness and treatment, this is an excellent professional route.
Nurse case managers typically work in hospitals, hospice care facilities, clinics, and private practices.
Individuals seeking this career path would be smart to pursue an online health and human services program or an online healthcare management degree. Nurse case managers earn $72,000 a year and can earn even more by seeking a master's degree and a nurse practitioner (NP) or registered nurse (RN) license.
Different from a CNA, nursing assistants perform some of the same tasks as nurses working in long-term care facilities and supporting treatment, but this role requires less responsibility and less education.
Nursing assistants duties include:
basic care and helping patients with daily living activities
helping patients maintain personal hygiene
helping patients use the bathroom and get dressed
turning or moving patients between beds and chairs
listening to and reporting patients' health questions and concerns
measuring patients' vitals
serving meals and helping patients eat
dispense medication (depending on training level and state)
Nursing assistants work as principal caregivers in nursing and residential care facilities. They often create trusting relationships with their patients because some patients have long-term stays in these facilities.
In order to work as a nursing assistant, professionals are required to hold a high school diploma as well as attend a state-approved education program. These healthcare workers earn $30,000 annually on average.
Pharmacy technicians dispense medication to pharmacy patrons and professionals. These healthcare workers are required to not only supply the medication, but also understand the uses and effects.
The daily responsibilities of a pharmacy technician include:
accurately preparing and dispensing medication to patients
keeping medications sterile
collecting patient information
processing billing claims and assisting with prior authorization completion
obtaining patient medication histories in order to provide more accurate service
using technology to track patient records
medication inventory, and medication orders
Ensuring compliance with pharmaceutical regulations
Pharmacy technicians work in pharmacies, hospitals, and grocery stores, among other healthcare locations.
Varying by state, pharmacy technicians need to complete an accredited program and earn a certification. Healthcare professionals in this role earn a median salary of $34,000.
A nursing career can be a huge undertaking, requiring professionals to spend years in school, doing in-the-field training, and earning advanced degrees and certifications. Luckily, the skills you acquire from an education and career in nursing have a lot of overlap with other healthcare professions. Many of these career paths don't require as many years of education nor as much money invested, but still offer competitive salaries, healthy and growing job markets, job variety, and the self-fulfillment of dedicating your time to help others.
There are numerous healthcare degree programs from WGU that tick all the boxes. And the benefits of earning one of these degrees go beyond those mentioned above. If you want to be a part of a life-saving team, browse and compare online nursing and healthcare degree programs to find the best fit for your needs.
Why WGU? Here are five major reasons to earn your healthcare degree from WGU:
1. WGU's programs are recognized for excellence
The National League for Nursing named WGU a 2021 Center of Excellence in Nursing Education.
2. WGU is an accredited and respected learning institution
The baccalaureate degree program in nursing and master's degree programs in nursing at WGU are accredited by the Commission on Collegiate Nursing Education (http://www.ccneaccreditation.org).
3. Students recommend WGU
According to a 2020 Harris Poll, 95% of WGU alumni would choose to go to WGU again. Out of nearly 2,000 reviews on Trustpilot, students and graduates rate WGU 4.7 out of 5
4. Learn on your own time and at your own pace
The online format of WGU's degree programs give control back to the students. Your life is busy, which is why you can go at your own pace and earn your degree while holding a full-time job and taking care of your family.
5. It's affordable
Higher education prices aren't accessible for everyone, but WGU strives to change that. Our degree programs are priced so that financial factors don't prevent you from pursuing your dream career.