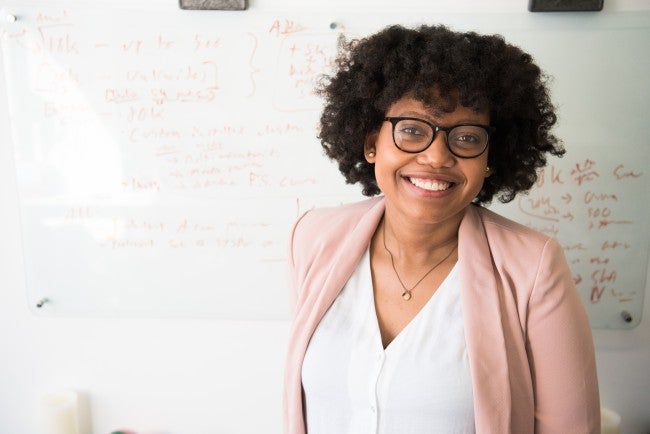 The "lightbulb" moment when it just clicks, when a student gets a concept or nails a right answer and they are thrilled. The joy they get from reading something interesting or exciting. The note they write telling you how grateful they are to have a teacher like you. These are just some of the joys that come from being a teacher. 
If this sounds like a dream to you, getting a teaching degree is the first step to getting inside a classroom. Teachers must have a bachelor's degree in order to qualify to get licensed. WGU offers teaching degrees that can get you licensed in all 50 states. After you accomplish in-classroom teaching hours and get your licensure, the journey is really just beginning. 
Getting a degree is just one step, after that you have to nail a teaching interview to get offered a position to teach in an actual school. Put your degree to use by preparing for teaching interviews so you can impress with more than your resume. Preparing for a job interview can help you properly showcase your skills, education, and experience. When you know how to give a great impression, you'll be able to land your dream job. This guide will go over common questions in teaching interviews and the best way to answer them.
Teacher interview questions.
Why did you decide to become a teacher? In this question, the principal is looking for your motivation to teach. It's important to make it clear what you're passionate about when it comes to education. A brief personal mission statement can explain how being a teacher will enrich your life, and provide you the opportunity to change the lives of students. If possible, take a look at your school's mission statement and see how your motivations line up with the school's goal.
What is your teaching style or philosophy? The principal or department head will ask this question to see how your style will work with the school and other teachers. It's important to understand how you'll connect with students and what your daily teaching will look like. It's best to answer this question by having a specific example of a philosophy or style in mind that you can give as an example. You can reference a practiced teaching philosophy, or share an example of how you want to be as a teacher. This is a great opportunity to showcase your understanding of teaching theories and styles that are practiced. 
What does a typical lesson plan look like? With this question the interviewer is trying to understand how you structure your lessons and your day. They want to know that you understand how a lesson plan should look, and make sure that it fits well with what their goals are for their school. It's valuable to have one or two lesson plan samples prepared that you can show and talk about during your interview. Different types of lessons can show your range and ability to adapt plans to specific students and circumstances. 
What can you bring to our school that makes you unique? With this question, the principal is looking to understand why they should choose you over another candidate. Teacher's all come to the table with a bachelor's degree, so the interviewer is wanting to know what beyond your credentials makes you a great fit. Have something in your pocket to answer this question—it can be about past experience working with students, your unique outlook on the subject, your own background in education, or your passion to help students succeed.
How do you cultivate positive relationships with your students? At the end of the day, teacher and student relationships are key to learning. Students who don't have a positive relationship with teachers are reluctant to learn from them. It's important to answer this question by explaining why these relationships are important to you. It's smart to have a specific program or example that helps demonstrate what you do to create good student relationships. This can be a fun reward system, time at the beginning of class to chat about the day, using memes, and other things. 
Why do you want to teach at this school? The principal and teachers at the school want to know why you're a good fit for their specific school. It's important to research the school where you are interviewing before your interview questions start. Understand what is unique about their situation, what kind of students they have, how their programs run, and more. You can talk about your specific qualifications that ensure you'll fit in well and be a great member of the team.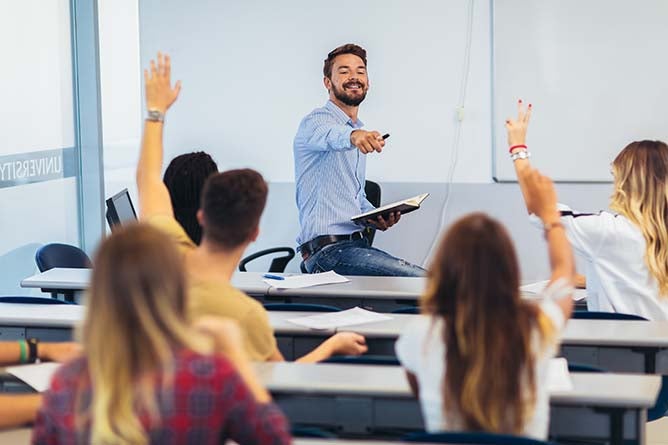 Special education teacher questions.
Special education teachers have unique responsibilities in a school. They need an additional measure of patience and perseverance to really help their students grow and succeed. It's important for teachers to know how to prepare for a teacher interview that will be specific to a special education job. Highlight your experience with a bachelor's degree in special education, or a master's degree in special education. Some teachers will have a unique appeal with a dual licensure in special education and elementary education, making them a specific and ideal fit for an elementary school position. Some questions for special education teachers could include:
What is your experience with Individualized Education Plans? Individualized Education Plans or IEPs create opportunities for teachers, parents, and administrators to connect and work to improve educational goals. The IEP is a crucial cornerstone for children with disabilities. Teacher candidates can answer this question by discussing what they have learned about IEPs, their plan to make parents and students feel confident in educational goals, and more.
What methods do you use to maintain discipline in your classroom? In a special education classroom discipline is an important and difficult balance. It's important to discuss with the interviewer how you plan to implement discipline while maintaining a safe and secure environment for students. Answer the question by sharing how important it is to make sure students understand the rules and boundaries, and using positive reinforcement to encourage those rules and boundaries.
English language learning teacher questions.
English language learning teachers are vital to a school. These teachers help students who have English as a second language. Because not many teachers are qualified with ELL certifications, these jobs are important and valuable in a school. It's important to highlight your ELL/ESL master's degree or ELL certification to make sure you stand out. Some questions an ELL teacher candidate may get asked include:
How will your ELL classroom look different from a traditional classroom? It's important to understand that an ELL classroom will look different than a traditional classroom. Talk about how you'll include lots of imagery and reading opportunities in your classroom to help students learn new words and understand meaning. 
What do you think your biggest challenge will be as an ELL teacher and how will you address that challenge? Principals want to know that you're aware of the challenges working with ELL students. It's important to be willing and able to acknowledge weakness, but also show that you have a plan of action to get over this challenge. You can talk about how it can be difficult to communicate with ELL students, and discuss apps you have that can help you connect. You can talk about how teaching a different subject in English can be challenging for students, and share how you plan to learn some terms in other languages to help your ELL students grasp concepts. 

Preschool teacher interview.
Preschool teachers are unique in the age group that they teach. There are specific skills that preschoolers simply haven't developed that make learning more challenging for them. Preschool work has to be engaging and easy to understand for these young minds. Some teacher interview questions for preschool may include:
How do you help parents who are nervous leaving their child for the first time? Preschool teachers often have to interact with parents who are nervous about leaving their children, often for the first time. It's important to show that you sympathize and want parents to feel secure as part of the interview. Talk about the plans you have to make sure the parents know you and feel comfortable with you, and how you'll help make children feel excited and at ease, which will help their parents feel at ease.
How do you keep young children engaged? Preschool children have extremely short attention spans, so it's crucial for preschool teachers to have a plan to keep their students engaged. Share with the interviewer your plan for reward systems to help students stay motivated, your curriculum that involves games and activities, as well your intention to change activities frequently to help students stay excited about learning.
Elementary school interview questions.
Elementary school teachers have to be able to teach a variety of curriculum and engage younger students. Teacher candidates can share how their bachelor's degree in elementary education or their master's degree in elementary education has helped them get the specific skills they need to succeed. Common teacher interview questions may include:
What age of elementary school students would you most like to teach? Elementary education teachers are often qualified to teach K-6 grade, but most teachers have a specific grade they are most confident and excited about teaching. Tell your administrator why the specific grade you're applying for is your favorite. Share the curriculum for history, math, and science that you are excited to teach to students. 
How will you design your classroom to engage young students? Classroom design is important for students in elementary school. They need to be able to create a fun, inviting environment so students will be excited about learning. Share your plans for a theme, reading, spelling, and math elements that will create a great environment for students of all ages. 
Middle school teacher interview questions.
Middle school students are a unique age and have interesting learning needs. It's important that teachers understand the unique needs of middle school students, and convey in an interview how they're ready to help students succeed. Highlight how your educational background ensures that you're qualified for this position. Your bachelor's degree in science education or in math education can help ensure that you're ready for a middle school teaching job. Some of the teacher interview questions to expect include:
How do you connect your lessons to the real world? It's important for teachers to convey how they will show their middle schoolers that what they are learning will apply in the real world. Give specific examples related to your specialty, for example—in a science lesson teacher's can show that they will need to understand biology to grow a garden or raise a pet. Math teachers can talk about different careers that will need this math knowledge, etc. 
How will you assess student progress? Answering this question is important. Middle school teachers need to be able to show their hiring manager what they will do to measure learning success in the classroom. While end-of-year testing is a common way, teachers need to be able to measure progress throughout the year. Talk about quizzes, assignments, tests, and other programs you will implement as a teacher to help foster learning and measure progress.
High school teacher interview questions.
High schoolers are the oldest age group that teachers deal with. It's important in an interview to really dive into your qualifications and preparation for a high school teaching position. Talk about your degree—a biology degree, a chemistry degree, a physics degree, a math degree, or an English degree can all help your interviewer see that you are prepared for that specific job. Some interview questions you may encounter include:
How will you communicate and build relationships with parents? High schoolers are old enough to take control of their own schooling and education, but it's still very important for teachers to connect to parents. Talk about your plans to make connections with parents including through email or phone calls, parent-teacher conferences, a website so parents can understand what their students are learning, and more.
What can you contribute to our school beyond your specific classes? Answering this question will show the interviewer a lot about you. In the high school setting there are many extra-curricular activities that students can participate in. Often teachers are needed to help run these programs, so an interviewer may want to know what kinds of clubs or teams you could help run. Have a couple ideas in mind that you can share—talk about your extra-curricular experiences in high school or your hobbies and how they could lend themselves to a great experience in the school. 
Interviewers are often looking for certain skills when hiring for a teaching position. It's important to highlight skills on your resume and in your interview as well. Some of the skills you should mention include:
Teaching Skills and Experience. Highlight your past experience as a teacher or working in education to demonstrate that you're prepared for a teaching job.

Tech Proficiency. Talk about your experience with technology and how you can implement it in the classroom. Technology is changing the way we live and how students learn, so it's important to focus on what you can do to implement digital devices in your classroom.

Subject Matter Expertise. Discuss your knowledge with different subject matter areas and show how you're prepared to teach them to students. Share the courses you've taken on different subject matter areas, as well as your experience teaching them to students.

Teamwork. Teachers are part of a larger team in their school, so it's vital for teachers to be ready to work with other teachers on their team. Talk about how important you view teamwork, how you plan to meet with and share ideas with other teachers at your school.

Organization. Organization is key to being a successful teacher. Talk about your digital and analog organization plans to help keep student's papers and assignments organized. Teachers and parents rely on teachers being organized and timely with their grading and assigning.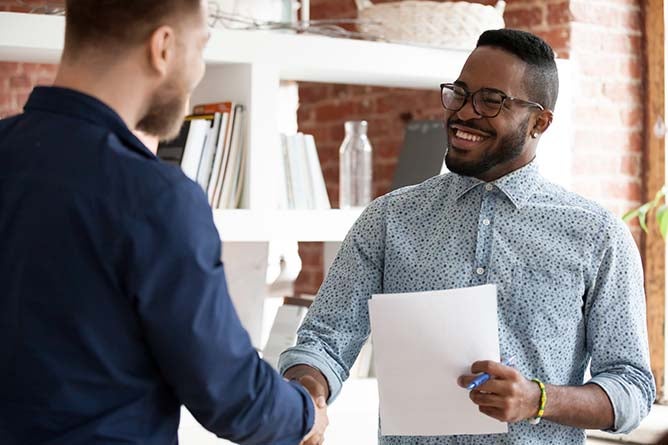 When going to a job interview, there are some important things to consider in order to be successful:
Dress the part. Wear a skirt/dress or a suit and tie to show that you take the interview seriously.

Don't wear a perfume or cologne that is too strong.

Give a firm handshake at the beginning of the interview.

Be on time, or a few minutes early to the interview.

Do your research on the school before the interview so you are prepared.

Be positive and confident, giving a big smile to the interviewer.
Questions to ask in your interview.
Being prepared for a job interview involves having questions of your own to ask at the end. You can show that you are engaged in the interview and excited about the school by asking questions and getting the answers you need to ensure it's a good fit for you. Some of these questions may include: 
Can you tell me about the culture here at the school?

What is the most important factor for potential teachers at your school?

Is there a teacher mentoring program here?

What goals and expectations do you have for your teachers?

What is the average classroom size?

Are there any programs at the school that I could help run or be involved with?

Is the school a part of a community?
If you're preparing to become a teacher, it's important to get ready for the step after graduation. You need to be ready to nail your interview at schools so you can land your dream job, and get started in a classroom sooner than you think.