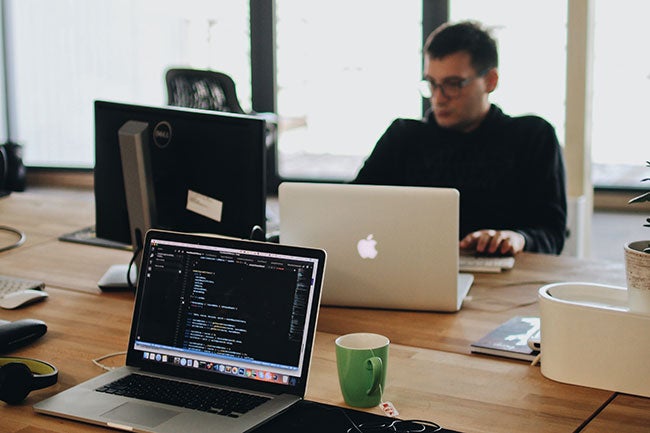 Earning a degree in computer science (CS) comes with many benefits: it can give you the tech skills today's employers are looking for and set you up for a stable, high-earning career in countless exciting fields.  
 
If you see a future working in new technologies, complex code, and computer software, a CS degree will help you develop the technical skills needed to design, develop, and optimize these systems in an always-changing industry. In this article, we'll explore the advantages of a CS degree and some common questions and answers about this degree path. 
Pros of a Computer Science Degree
Before investing in your education, it's important to understand the salary, job opportunities, and skills that come with a computer science degree and if they fall in line with what you're looking for. Below are some of the benefits of earning a degree in CS. 
A positive job outlook.   
Computer science jobs can be found in nearly every sector and every field, and by earning a degree in computer science, you can set yourself up for a lucrative career in a growing industry. In fact, employment of computer scientists is projected to grow 22% from now to 2030, with about 3,200 job openings projected each year, on average, over the decade.
Diverse career paths. 
Since CS graduates can apply their knowledge in nearly every area of business, career opportunities are endless. This degree can prepare you for a range of careers in data analytics, network administration, artificial intelligence, systems management, cybersecurity, computer and software engineering, and more. 
 
Six-figure salaries. 
The average annual salary for computer and information research scientists is $126,830, according to the U.S. Bureau of Labor Statistics (BLS). The lowest 10% earn less than $72,210, and the highest 10% earn more than $194,430, making this a high-paying career choice. 
 
Critical skill development. 
With a degree in CS, you'll gain vital skills in logic, architecture systems, data structures, AI, and computer theory, making you a highly qualified and in-demand professional in a diverse and exciting industry.  
 
Industry certifications. 
In the computer science field, certifications are extremely valuable. That's why WGU's CS degree program includes the opportunity to pursue top industry certification exams online and as part of the curriculum—at no extra cost, which helps you boost your résumé before you even graduate.  

How Hard Is a Computer Science Degree?
Computer science can be a challenging degree path. But if you enjoy math, technology, science, and the idea of new languages, computer science will likely be a rewarding degree for you. Your coursework will cover complex subjects such as network systems, computer architecture, and network fundamentals. It also involves coding, which can be like learning another language. Taking into consideration the fast-paced nature of the field, it's key that you possess a desire to learn and think creatively to find innovative solutions in your work. 
Is Computer Science in Demand?
CS professionals take on a vital position in whatever organization they work for, and they're sought after by employers across all industries. By completing a computer science program, you'll be prepared for a future of continuous employment opportunities and job growth. In fact, the BLS projects 7% employment growth for computer systems analysts between 2020 and 2030 and an estimated 42,800 job openings.  
 
Some of the most in-demand computer science jobs you can land with a CS degree include: 
Data scientist  
Software tester  

Web developer  

Systems analyst  

Business analyst  

Product manager  

Network architect  

Software engineer  

Computer engineering  

Machine learning  

Data scientist  

Network architecture 
Is a Computer Science Degree Worth It?
If you have a strong foundation in math and the desire to build a dynamic career, then a CS degree is worth it. This degree can put you on the path to a variety of high-paying, in-demand career options—and it's the key you need to open any door in the IT field. The program trains you in the fundamentals of information technology and allows you to specialize in a specific area, such as security, systems management, or data analysis.  
 
Ready to join one of the most in-demand and exciting fields in technology? Get started today by applying for WGU's online computer science degree program.