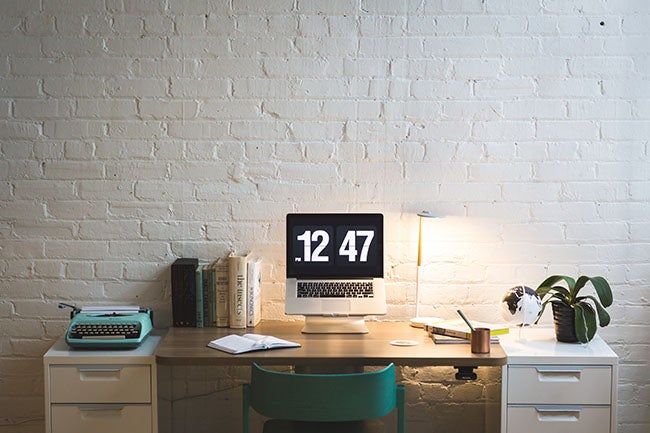 Even before COVID-19 changed the workforce, the typical office environment as we've come to know it was shifting and evolving. For years, employees have been clamoring for additional control of full time work schedules and location. Some employees have even pushing for permanent off-site, flexible hours, or other situations where it's not the company, but the individual, that controls employee scheduling. While most businesses have traditionally been skeptical of such a situation, more and more have been allowing a more flexible shift schedule or unique location options.
With the onset of the COVID-19 pandemic, many companies and businesses were forced to quickly reimagine how the office environment could thrive in a remote working space. This meant that they would need to allow adjustments to not only where people worked, but some companies were forced to also adjust their work schedules for full and part time employees to accommodate the new realities of a fully at home work force. This ever-changing landscape has since given rise to the hybrid office, which offers the best of both worlds. Typically, hybrid office environments allow for a flex-work environment that grants employees the opportunity to work from home part of the week and come into the office for the remaining days on their work schedule. Some allow for additional types of schedule changes, such as different hours or more lenient time off requests, or other updated work shift policies. And if many in the workforce have their way, these trends will become the new normal.
As the months passed and people began returning to the office employers and employees have settled in to a professional hybrid groove that has stuck around, according to a report from McKinsey & Company. Their research found that more than 20 percent of the workforce could work remotely three to five days a week as effectively as they could if working from an office—and that could mean three to four times as many people working from home than before the pandemic. Meanwhile, PwC's survey about remote work found that executives and employees alike aren't ready to completely abandon the office but appreciate the flexibility of a hybrid approach. A whopping 83% of employers state that remote work has been successful for their company, with only 21% believing a five-day in-office workweek is necessary to uphold company culture (by comparison, 29% believe three days per week is sufficient, while 18% think two days is enough).
For employees, the hybrid office approach helps decrease stressors associated with commuting and allow for more flexibility of working hours, which helps amp up productivity. And that's just one of the bonuses for businesses that adopt a hybrid office approach. They can also save costs on unused office space, create a more dynamic and inclusive workplace, enhance automated processes that don't need as many interactions, and enjoy fewer disruptions due to illnesses, appointments, and other day-to-day challenges. But business leaders have a lot to consider when it comes to successfully building a hybrid office. Crafting a hybrid office may not have been covered in previous education and training, so while we've curated some touchpoints to consider, it's always wise to explore advanced education options that can enhance business leadership and office management skills.

While it's not the sole reason for an employee signing on with a company, having perks such as bringing their dog to work, a fully-stocked kitchen, company-sponsored events and outings, or even catered lunches can go a long way to strengthening office culture. These perks and benefits can be carried into a hybrid setting by offering remote workers stipends or credits to meal delivery services, subsidizing subscriptions to health and wellness apps or online courses that can strengthen their professional knowledge base, or online discounts to retail partners that may help create an optimal work-from-home space.
Every hybrid office should start with a firm foundation built on company policies to ensure everyone is on the same page regarding rules, expectations, and communication protocols. This can include finding the right type of hybrid model—such as designating which days are remote workdays, how flexible the employees work schedule can be, defining what constitutes overtime when employees are working at home, or allowing employees to choose their remote days and designate them as such in relevant scheduling software. This can also include sharing expectations for remote workdays, for both management and employees. These policies may change over time, so it's important to ensure clear lines of communication are established from the onset to make the hybrid office a success.
Switching to a hybrid office, or flexible work schedule, means employers will have to consider both the in-office and work-from-home setup for each employee—and for the office itself. This may mean downsizing to a smaller office space and allowing for hot-desking, with unassigned desk space that can be used by whoever is in the office on in-office days. Or, it may make more sense to go open concept for better use of space. Similarly, employers may need to collaborate with employees on their at-home needs, ensuring they have the right devices, desks, and seating.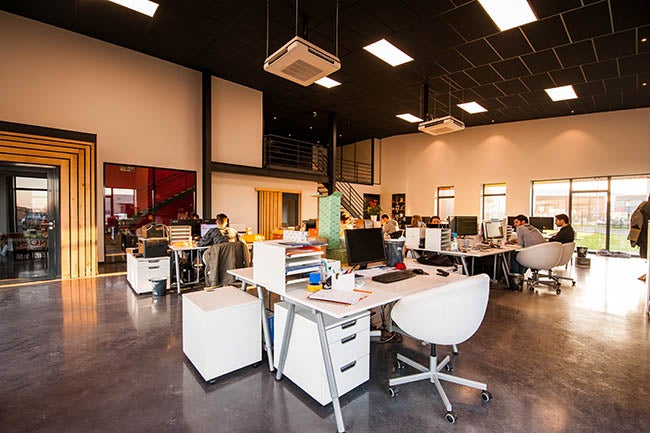 Equally as important is determining what kind of infrastructure is needed on a digital and technological front. This may mean finding the right cloud solutions for company files, which can allow for easier access by employees anytime, anywhere. It's also important to make sure everyone has the bandwidth they need to do their work, both in and out of the office.
Does the company have enough laptops and company cell phones for everyone? This might be necessary for businesses that prefer to keep sensitive information within the company ecosystem, rather than entrusting it to an employee's home computer. If the company has a BYOD policy that allows employees to use their own devices, IT may want to double check the setup so that employees have access to everything they need—and are restricted from sensitive files as needed.
Active company-wide communication is key to a successful hybrid office setup, especially if employees get to choose which days they're in office versus remote. This may mean using scheduling software to keep track of which days employees are in the office, or having dedicated company chat channels through a platform such as Slack or Microsoft Teams where employees can alert colleagues to their time schedules and whether they're in the office or working from home—which can be especially important in the event of an in-office emergency.
 Similarly, a reliable video conferencing app such as Teams or Zoom can help make meetings a breeze—especially if it has the capability to record the event so all team members have access to the meeting if they were unable to attend. If the company doesn't mandate business cell phones, not every employee will want to give out their personal number to the company or clients. Both Cisco and Zoom have options that will port calls made to a business landline to a computer—and even offer voicemail access.
Just because the company has adopted a hybrid office approach doesn't mean recruitment and hiring stops dead in its tracks; it just means HR needs a slight shift in approach. These days, much of recruiting is already done digitally, thanks to LinkedIn and services like Greenhouse making it easier for potential employees to send in their resume—but this usually leads to an in-person interview.
Now, HR can shift the process to an online experience by scheduling interviews by Zoom or Microsoft Teams and collaborating with IT to accomplish a seamless onboarding experience once a candidate is hired. This may mean setting up a reliable device delivery system, having laptops and phones preloaded with company software, printed instructions that help new employees get their computers up and running, and if all else fails, an IT help line that may include remote porting to finish computer setup.
It may seem daunting, but creating a successful hybrid office is easier than one might think. The key is to communicate and collaborate with employees, make sure everyone is on the same page, work out the problem areas when they arise, and then allow everyone the space and time they need to do what they do best. Soon, everything will run like clockwork—and the company will reap the benefits of this new approach.