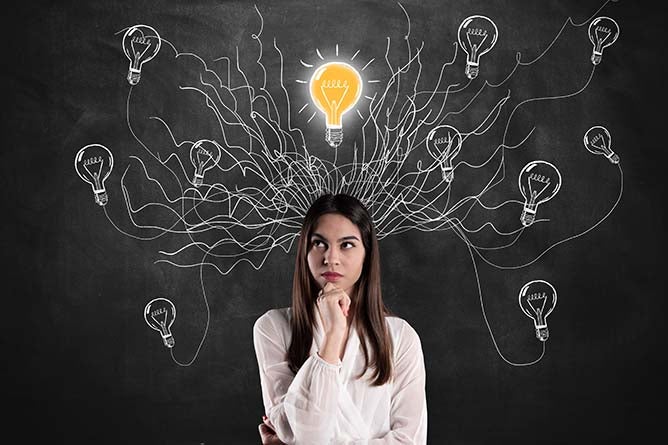 Maybe you like the idea of being your own boss. Maybe you're convinced that you have a brilliant idea that can change the world. Whatever your reasoning, you've decided that your dreams will be best realized by launching a startup.
Of course, launching a startup involves more than just printing business cards and putting up a website. It requires a lot of hard work and smart planning. If you want to achieve that entrepreneurial dream, you need to equip yourself with some general knowledge on how to build a startup.
Here are a few things to think about and some resources that can help you plan and start building your business.
Figure out what your business is.
You might already be thinking of turning a longtime hobby into a full-time venture or becoming an independent consultant in a field in which you have experience and expertise. Or maybe you've invented a great solution to a longstanding problem that you'd like to take to market.
Further Reading: The lesson that took this man to the NCAA and beyond.
Whatever your idea is, you'll need to determine whether it's viable. Business News Daily suggests conducting a quick online search of companies in the industry and market you're thinking of entering. As you read about those businesses, think about whether you can offer something better by adding your product or service to the market. Having an idea, product, or service that addresses an unmet need is even better.
Once you're confident that you have something valuable, you're ready for the next step in the startup-building process.
Write your business plan.
Your enthusiasm for what you're certain is the next big thing could blind you into skipping the next crucial step: creating a business plan. A business plan helps you define your business and its goals—and it's essential if you need to acquire funding to start your business.
The U.S. Small Business Administration offers a good basic overview of two common business plan formats: traditional and lean startups. You can find many versions of free business plan templates online.
In general, your plan should include:
A description of your business, including what it will sell and whether it will be legally structured as a sole proprietorship, a partnership, or a corporation.

An in-depth market analysis that demonstrates your understanding of your industry outlook, your target market, and your competition.

A section that lays out how the business will operate.

An estimate of your operating costs and financial projections for the first few years.
SCORE, a nationwide network of volunteer business mentors, offers a brief guide to conducting a market analysis for your business plan.
Consider your funding needs.
To fill in the financial section of your business plan, you'll need to research how much it'll cost to launch your business. If you have enough money stashed away or if you have a business partner or generous benefactor who's ready to pitch in, you're good to go. But if your current funding falls short, your next step will be to figure out how you'll acquire what you need.
Potential funding sources include loans, investments, and grants. Because commercial bank loans and conventional investment funds are sometimes out of reach for new entrepreneurs, Business News Daily suggests looking into options such as applying for a loan through the Small Business Administration or an alternative lender (i.e., a lender that isn't a bank) or raising money through crowdfunding (i.e., getting lots of people to invest small amounts into your company).
Whereas lenders require repayment and investors are entitled to a share of your business profits, grants provide free money for your business. There are companies, nonprofit organizations, and government agencies that provide small business grants, sometimes through competitions. And several federal departments and agencies offer grants to entrepreneurs who are developing technology or offering services in areas related to an entity's particular mission; you can learn more about these opportunities at grants.gov.
Find supportive people and resources.
Figuring out how to build a startup is easier when you don't have to go at it alone.
If you think you'd benefit from a business partnership, pick team members whose skills and expertise complement yours and whose business philosophies and ethics align with yours. They, along with your family, will likely constitute your core support network as you're launching your business. But even if you plan to be the sole owner of your business, you can still benefit from the advice of and resources provided by small business advisers and other professionals in your field.
SCORE's online library is flush with information about starting and running a small business, and it links to more than 70 startup resources. The organization also offers training and one-on-one counseling for small-business owners.
Earning a business degree will provide you the opportunity to interact with experts in business management, finance, and marketing inside and outside the classroom. You'll also develop some of the skills needed to run a successful business. By earning your business degree, you'll have formed a solid foundation for building a business of your own.