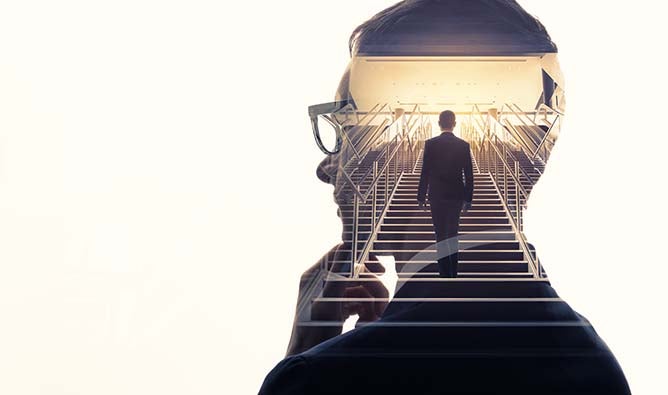 The business world spans a vast array of careers in innumerable industries. Many business school grads get their foot in the door by starting on the bottom rung of the business ladder and working their way up to management- or executive-level positions.
With so many avenues available, there's always room to grow. According to Monster, earning a bachelor's degree can give you a leg up by helping you develop the critical-thinking and problem-solving skills that companies desire. An MBA can propel you even further by honing your leadership skills; MBA.com reports that three in four employers said they plan to hire MBAs in 2019 and 37 percent plan to hire more MBAs than they did in 2018.
Earning the right degree is just the first step. You also need to know how to grow your business career. Here's a look at four levels of business careers and how to advance through each on the road to long-term success.
Entry-level careers.
According to The Balance Careers, recent college grads spend about one year at their first job, and most people change jobs 10 times—if not more—during their careers. A bachelor's degree in business can open up myriad entry-level career opportunities. If you specialized in finance, look for job titles such as junior accountant, financial analyst, or auditor. If you have a background in retail, consider management or customer relations positions. If you hope to run a human resources department someday, starting out as an HR coordinator can be a great first step.
While your responsibilities will vary depending on your role, field, and organization, you'll nonetheless play a supportive role on a team that's critical to the business. And you'll have opportunities for advancement. To prepare that move to the next tier, Inc. recommends finding a mentor, networking, taking initiative, and learning new skills. Above all, you should have a plan with clear goals to help you get to the next level.
Management jobs.
Moving into management means that you've likely proven yourself as a skilled and hard worker. It also means taking on additional responsibilities, such as managing people, processes, or systems. Jobs in this middle-career tier include sales manager, certified public accountant, senior marketer, store manager, and human resources manager. In each of these positions, you'll likely coordinate employees, manage processes, and make strategic decisions.
It can take 5 to 10 years to reach the management tier, The Balance Careers notes. But this time frame depends on your field, your organization, and your background. To climb that ladder a little quicker, LinkedIn recommends developing yourself professionally, building strong relationships within your organization, and working on seeing the bigger organizational picture.
Director-level positions.
After paying your dues and proving your worth, you'll be ready to move up to a director-level position, where you'll execute your department's strategy, manage teams, and communicate with other directors. Roles at this level include director of sales, director of marketing, director of finance, and executive director. To fill a director role, you'll need strong leadership and communication skills and management experience. Earning a master's degree in business can help you develop these skills and the business acumen you need to take the next step into the C-suite.
How long you spend as a director before graduating to a C-suite position can vary, but you should expect to spend several years in managerial and directorial positions. The Harvard Business Review says you can give yourself an advantage when applying for C-suite roles by putting yourself in the right place at the right time and by being able to demonstrate that you've helped your company grow. Learning the culture of the company to make sure you're a good fit and building a strong relationship with the current leadership team can also get you into that corporate corner office.
C-suite roles.
If you want to see chief technical officer, chief financial officer, chief executive officer, or any other C-suite title on your business cards, you're going to need several years of experience in director-level positions to prove that you can manage teams, create and execute high-level strategies, and make critical business decisions.
Being successful in a C-suite role involves more than just taking care of your day-to-day responsibilities. Monster says that being the executive face of an organization or a department means managing your personal and civic responsibilities and scaling as the organization grows. C-suite executives must have strong leadership skills in addition to solid backgrounds in their areas of expertise.
The right combination of skills and experience will help you advance your career quickly and efficiently. Develop soft skills, invest in professional development opportunities, and earn your MBA. By focusing on these things, you'll be in a good position to land your dream business career.