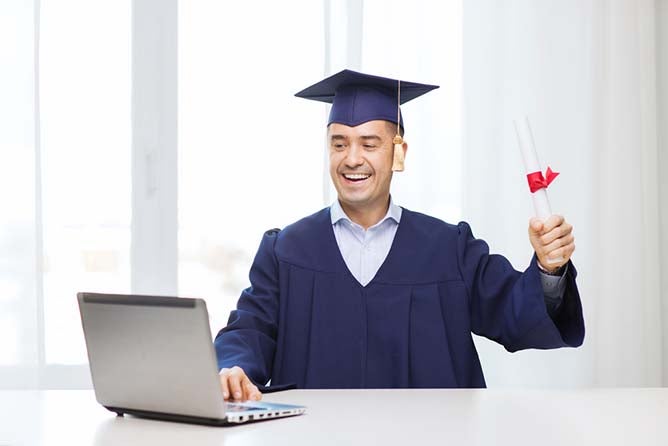 Whether you're beginning your IT career or want to advance it, earning an IT degree, achieving IT certifications, or completing a coding boot camp can help you progress to the next level. But figuring out which educational opportunity offers the best boost for your career can be difficult.
The first step is to determine your goals. Do you want to jumpstart your career? Do you want to save money? Do you want to balance education with family? If you're looking for an option that can provide all of these benefits, earning an IT degree is the way to go. Here's a look at how the right program can give you a flexible, affordable education.
Degree, boot camp: what's the difference?
Coding boot camps are great for people who want quick but intensive exposure to programming and software development. They teach the fundamentals of coding, and they usually last between two and nine months. If you're looking for condensed training in a specific IT skill, a boot camp is ideal.
IT degree programs offer much more. IT programs are accredited, which means that they adhere to regulated quality standards within the IT field. Earning a bachelor's or master's degree gives students a broad, deep pool of knowledge in existing and emerging IT professions, such as cloud systems administration, DevOps, data science, and cybersecurity. It also exposes them to additional skills that employers are looking for, such as communication, business, and management.
Here are a few other ways degree programs differ from coding boot camps.
More industry certifications.
Due to their condensed time frame, coding boot camps are intensely focused on exposing students to a particular set of coding skills for a particular job or programming language. It may culminate in obtaining a narrow set of certifications, but what about all of the others? In a degree program, students are immersed in a comprehensive program with classes that go deep into one particular field or program. A bachelor's degree from WGU in information technology, for instance, includes more than 10 top-industry certifications—at no extra cost—from Oracle, CompTIA, and ITIL in programs such as Linux, database management, and cloud computing.
Flexibility.
The time commitment required for a coding camp is intense. Coding camps teach you as much as possible as quickly as possible. That's by design: the sooner you're trained and certified, the sooner you're on the job market and applying for jobs. According to CourseReport's 2019 Coding Bootcamp Market Study, the average length of an in-person boot camp is 15 weeks, while the average online boot camp lasts 24 weeks. And TechRepublic reports that one coding camp expects students to spend 30 to 40 total hours per week in and out of class.
That kind of schedule isn't for everyone, especially people with full- or part-time jobs. Online degree programs can offer more flexibility to students who want to get started without putting their lives on hold. And in a competency-based program, you learn at your own pace, completing classes as you master the material. These online education features can help students who are working part-time or full-time to juggle family and other responsibilities while earning their degrees.
Affordability.
Coding boot camps are, historically, the cheaper option, but they're getting more expensive. CourseReport's 2019 study found that the average tuition for a 15-week coding camp was $13,584, up from $11,400 in 2017. Online camps are, on average, slightly less expensive at $12,898.
Tuition for IT programs vary based on the university you attend and your course of study, but tuition is typically higher at traditional, brick-and-mortar institutions than at online schools. For a six-month term at WGU, for example, IT students pay just over $3,500. Charging per term, rather than per credit, gives students more ownership over the speed and cost of their degrees. A student who finishes their cybersecurity degree in two years, for instance, pays a total of $14,080 in tuition. If they took three years, they'd pay $21,120. The cost of an IT degree might be higher, but its value is greater.
Earning a degree through accredited universities also means greater access to financial aid, grants, and scholarships. New and returning WGU students, for instance, are eligible for up to $2,000 in scholarships, and the school provides military assistance, corporate reimbursement, and veteran benefits.
Things to consider.
Investing in education is a serious part of career development, and students should consider all factors when weighing the benefits of attending a coding camp or earning an IT degree. Consider the IT specialty you want to pursue, the skills you hope to obtain, and the kind of learning experience you're looking for. Be realistic about what you can afford and how much time you can invest, too.
Whether you choose an IT degree or a coding boot camp, you'll be learning new skills for some of the fastest-growing and highest-paying IT jobs in the country—and giving your IT career a jump start.