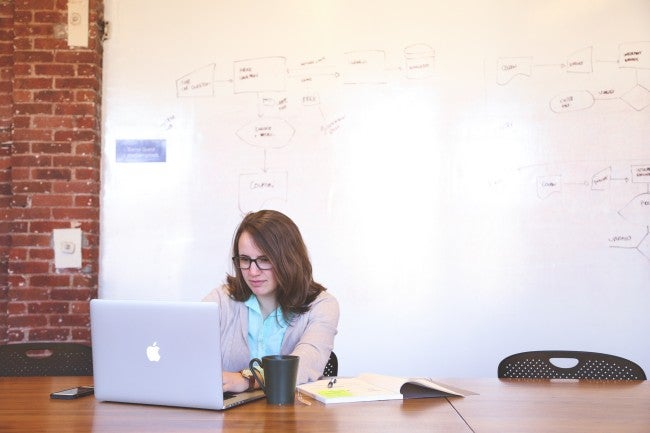 If you're considering pursuing an online degree, you probably have a million questions and some concerns. It's a whole new ballgame when it comes to learning all the ins and outs of online education, and online degree programs are not created equal! It's so important to do your research and really know what your options are before choosing an online university. 
This guide is for online learning beginners and will help answer questions and address any concerns you may have about attending an online university.  
Q: How can I choose a good online college?
A: How do you know if an online university is legit? This is usually the top concern students have about pursuing an online degree. How do they know an online university isn't a scam. There are a few ways you can be sure that your online university is a good, reputable institution. Accreditation is key in knowing that a school is reputable and high-quality. It's important to know that there are two types of accreditation for universities in the U.S.; regional and national. Traditional universities are typically accredited by regional institutions, while technical schools and online colleges are normally nationally accredited.
Regional accreditation is more widely accepted in transfers and results in more respected degrees.. National accreditation, meanwhile, usually results in lower costs and more forgiving admission standards. Western Governors University is regionally accredited.
For national accreditation, the two most reputable organizations are the Distance Education & Training Council (DETC) and the Accrediting Commission of Career Schools and Colleges (ACCSC). You can't always be sure at first glance that a school has the credentials it says it does, so don't be afraid to call the accrediting institution or check the lists to see if the school is there. If it's not, it's not legit.
Learn more about WGU's accreditation.
Q: Do employers take online college degrees seriously?
A: Is an online degree credible? It's a common myth that employers don't respect online degrees. There are currently over 6 million online learners, so employers are getting more and more acclimated to the idea that "online learning" is just another method of learning. Many employers are starting to appreciate that online learners have advanced tech skills and unique ways of thinking due to their online coursework. Additionally for grad students, online education is a great option because you don't have to quit your job. Employers appreciate that you are able to further your education without having to take time away from work responsibilities. And WGU students prove to employers all the time that online education is a great education. 97% of employers surveyed said WGU grads met or exceeded their expectations.
Q: How can I avoid technical issues with my online degree program?
A: With an online degree program you'll need to make sure you understand the technical requirements for your program For most, including WGU, the main requirement is that you'll need access to a computer and an internet connection. You may also need a phone to be able to contact your Program Mentor or other college advisors. Make sure your internet connection is strong to avoid issues. It's also smart to have another location with internet that you can plan to go to if you're home internet is acting up. WGU has technical experts that can let you know about any technical issues on our end.
Q: Is online education cheaper than regular college?
A: Many people believe that online education will be much more expensive than traditional colleges, but that's just not the case. Most online colleges have tuition ranging anywhere from $5,000 to $10,000 per year. For-profit schools will likely cost more. Because WGU is a nonprofit online university, we are able to keep our fees and tuition cost low and the quality of our education high. This is fair less expensive than traditional universities tend to be. As recently as the 2014-2015 school year, the average student shelled out around $25k per year for the whole package—from tuition to room and board.
As for WGU, our tuition costs vary by program, but we still tend to come in under the radar, ranking amongst the most affordable for online bachelor's degree programs. Our lowest tuition costs are just over $3,000 for a six month term. Taken over a four year span, that's just $24k in tuition, while saving you many of the additional costs like on-campus room and board.
You also always have the ability to utilize financial aid options. From scholarships to government grants, many students are able to go to college virtually tuition-free. Whether you're enrolled in an undergraduate or graduate online program, you shouldn't have to worry about paying hidden fees or a huge cost to learn. When you select the right online program, you don't have to worry as much about the cost. There simply isn't another school out there, online or campus-based, that can compete with the affordability and value of a WGU degree. Learn more about WGU's tuition rates.
Q: Are online classes harder?
A: Nothing worth having comes easy, and that includes a degree. Whether you choose an online education or traditional education, your coursework will take time and dedication. But here at WGU, we want to remove some of the other challenges that make earning a degree difficult, so it's accessible for you as possible. For traditional colleges, there are a few major things that can make it difficult to earn a degree. Here at WGU, we address all of those elements so earning a degree is straightforward and achievable. We want you to focus on your coursework and learning, not on any obstacles.
Cost. Earning a degree can be extremely expensive. Here at WGU, we aim to make it affordable. We offer low, flat-rate tuition that is charged per six-month term instead of per credit. This means that you can earn your degree for much less. And here you'll pay half what you may pay at other online universities. We also offer scholarships and financial aid to help make your degree even more affordable.
Time. Many students find it difficult or even impossible to take the time to go onto campus for classes. Many have full-time jobs, family responsibilities, or don't even live near enough to a college campus. So we've removed that barrier as well. You can do all of your coursework online, whenever your schedule allows.
Support. Many students in traditional settings feel their degree is difficult because they don't have support. Faculty members have hundreds of students every day that they deal with, and advisors are hard to schedule time with. That's not the case at WGU. We offer one-on-one interactions with your Program Mentor regularly, and you can contact faculty members day or night and they will make time just for you.
So earning a degree at WGU is still rigorous and will take work, but we remove all the other obstacles that can make earning a degree harder than it needs to be.
As online bachelor's and online master's programs grows, education experts predict that online colleges will actually be more effective than campus-based education within the next few years. WGU and its innovative competency-based academic approach are one step ahead of the curve.
If you're considering an online degree program, it's important to know what you're getting into. We want to make sure you feel comfortable and confident when starting WGU, so feel free to reach out to our enrollment counselors if you have any additional questions or concerns.