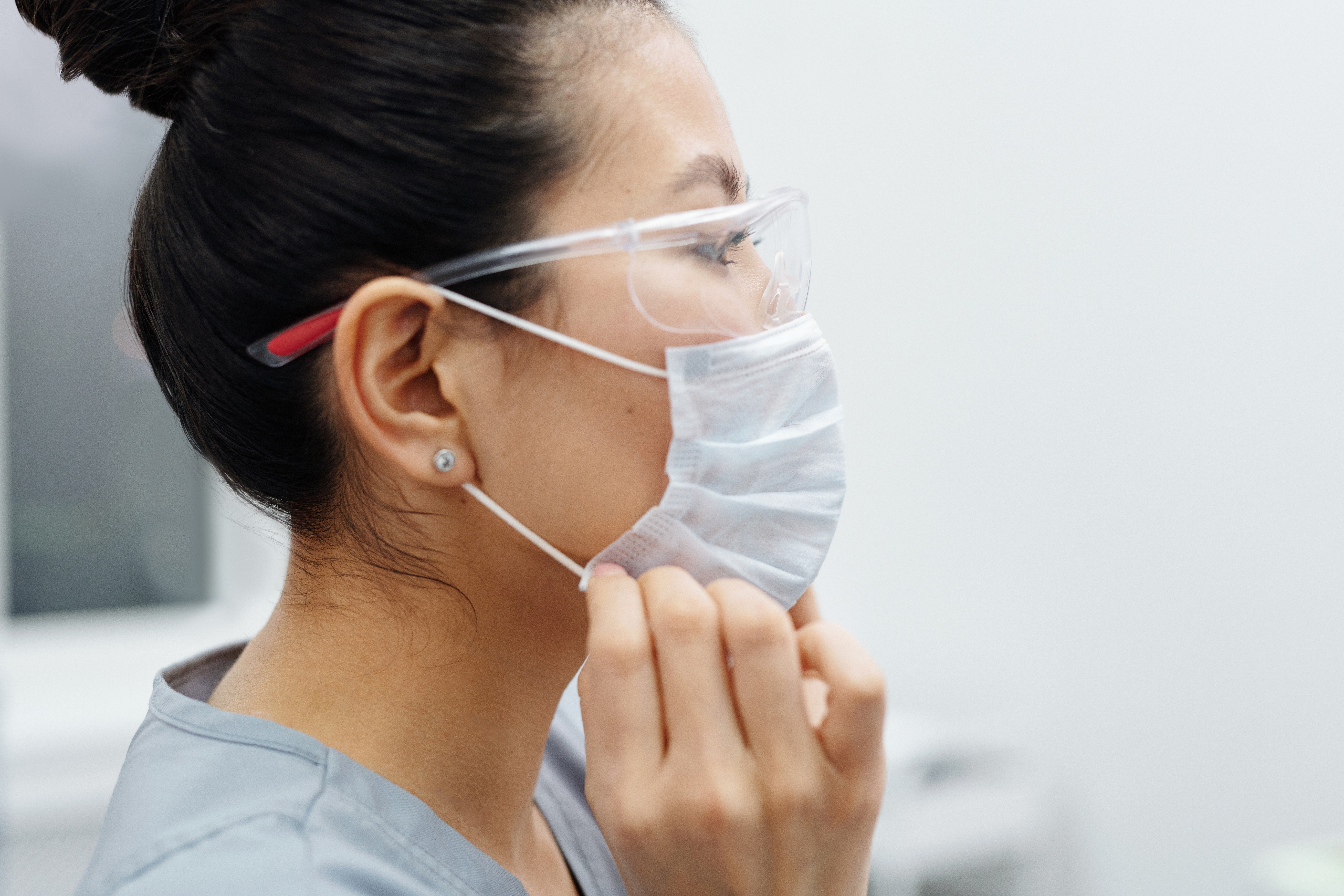 More than 8,500 students at WGU's College of Health Professions (CHP), most of who are frontline healthcare workers, received a special message of encouragement from a total stranger through the university's Hug a CHP Student Care Card Campaign.
Many CHP students are nurses and frontline healthcare workers attempting to meet the challenges of the pandemic and caring for their families while balancing the demands of advancing their education. More than 65% of the college's 27,000 students were delivering care at the bedside during the peak of the pandemic and experiencing the extreme stresses we've all seen and heard reported.
Many across the university expressed their worry for and support of those students and wanted to help in some way. Through the Care Card project, nearly 600 WGU employees from across the university volunteered to send personal messages of support to CHP students to help them stay motivated and engaged during these difficult times.
"We wanted to create an outreach that would make a more personal connection between our students and staff during the uncertainty and stresses of the pandemic," said Jan Jones-Schenk, senior vice president and dean College of Health Professions. "Many of the employees who volunteered for this project were not in student-facing roles. This initiative allowed them to interact in a very personal way with our students and demonstrate the university's support for each of these students."
The campaign illustrates one of the university's core values of "One-by-One," in helping each student achieve their educational goals.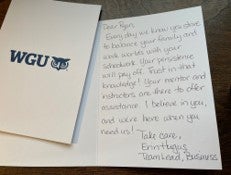 A handwritten card that was sent to a College of Health Professions student as part of the Care Card Campaign.
Late in 2021, WGU issued a call for employee volunteers interested in sending notes of encouragement to five CHP students each month for three months (a total of 15 students across November, December and January). The university provided the cards, envelopes, and stamps, along with the names and addresses of recipients. Volunteers committed to mailing the notes within five business days of receiving the student addresses.
The extra time and effort shown by WGU employees made a big impact on those students receiving the notes of encouragement.
One student, CHP MSN-Health Information Management student Therese LeDantec-Boswell, reported that, "Before I received the card in the mail that day, I had decided to withdraw from WGU because of all the external competing challenges that left me no time to devote to my coursework. I opened the card. The words they took the time to write to me literally shifted my resolve to make a final effort to push everything else aside and make a final "good faith" effort to wrap up all the semester's coursework. Their words literally changed my life in that moment."
Data from WGU's Environmental Barriers (EVB) Team collected from the university's four colleges was used to monitor and respond to the many challenges faced by students during the pandemic. Students at the College of Health Professions were especially impacted because clinical nature of their work. The EVB program provides support—term extensions, counseling services, emergency financial aid, and more—to proactively support students facing barriers to their academic success due to natural disasters or other major events.
The success of the CHP project is being considered being expanded to other colleges within the university and continues to illustrate WGU's commitment to being the world's most student-centric university.