Reach out to these thought leaders for pivotal points of view and meaningful insights around next-gen teaching, learning, and leading. Explore their areas of expertise through articles, media interviews, and conference presentations.
The Western Governors University School of Education has a wide range of experts who can take complex ideas in the K-12, higher education, and workforce learning spaces, and make them understandable for your audience. These experts were selected specifically for you as members of the media, or as conference hosting organizations – those featured here are experienced and interested in responding to inquiries. They are also contributing to articles in our Learning Community as thought leaders and subject matter experts. To contact any of these experts please reach out to our Senior Communications Representative, Mark Toth at mark.toth@wgu.edu. One page downloadable pdfs for each expert will be added to their profiles in Fall 2022 which will include links to their published articles, videos and or conference presentations. 

---
Stacey Ludwig Johnson, Ph.D.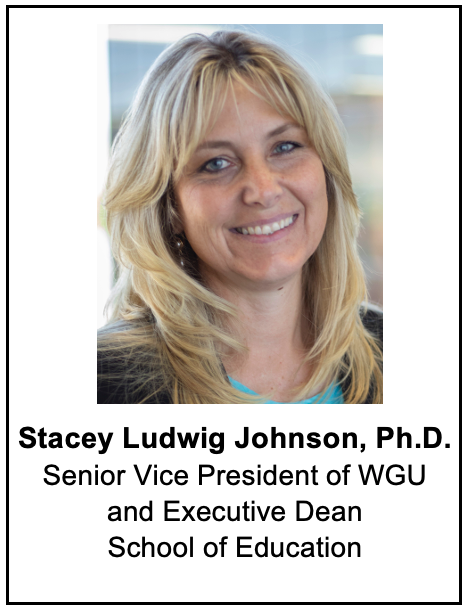 Senior Vice President of WGU and Executive Dean of the School of Education
Dr. Ludwig Johnson leads the academic and operational strategy for the largest non-profit, accredited school of education in the nation. As a pioneer in competency-based education, she has invested more than 24 years envisioning, creating, and implementing academic services, including faculty and clinical experience models, that optimize student progress and retention, attainment, and career success.
Academic Services, Admissions, Communities of Care, Competency-Based Learning, Educational Technology, Faculty and Clinical Experience Models, Higher Education Operations, Instructional Design, Staff Development, Student Affairs, Student Progress and Retainment.
---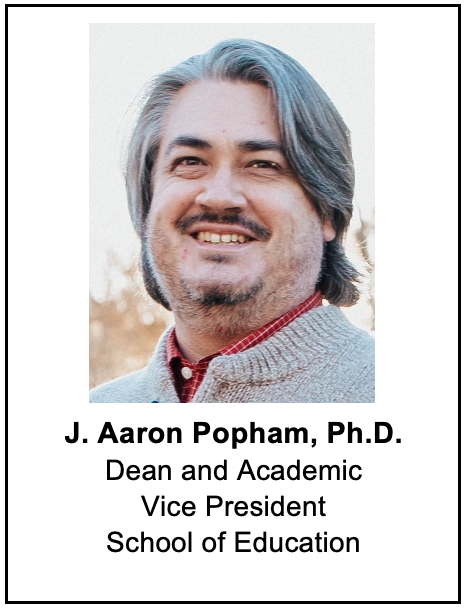 Dean and Academic Vice President of the School of Education
Dr. Popham drives the vision and strategy for the school's portfolio of degree programs, microcredentials, and non-degree offerings. He has focused his career in higher education on providing his academic expertise and servant leadership to improve academic performance and outcomes, accountability, and ROI for the universities that he has served. Dr. Popham currently serves on teh AAQEP Board of Directors leveraging his expertise with compliance and accreditation.
Learning Sciences, Academic ROI, Accreditation and Compliance, College Finance, Data Governance and Policy, Educator Assessment and Preparation, Enrollment Management, Grants, Licensure, Research, Human Subjects Protection.
---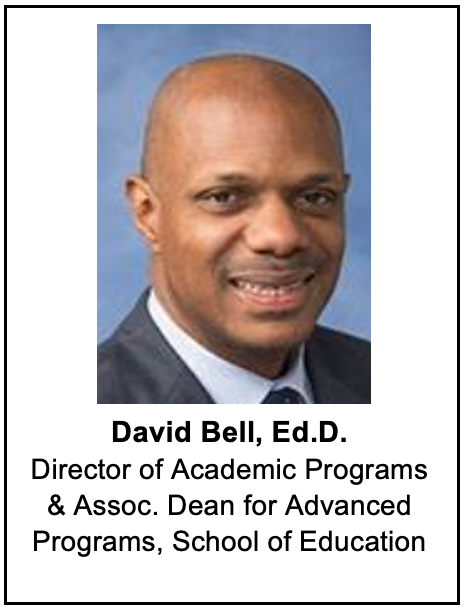 Director of Academic Programs & Associate Dean for Advanced Programs of the School of Education
Dr. Bell left a successful career in finance to have the social impact he needed via work in education where he served as a classroom teacher in Chicago public schools as well as in the roles of college and university professor and dean. While serving as Dean at St. John's University, he co-authored and received funding to develop the Robert Noyce Teacher Scholarship Program titled the Noyce Spatial Thinking Academy for career changers seeking to become STEM educators. He has numerous publications and articles.
Accreditation, Curriculum Design, K-12 Teaching, Professional Development, Program Evaluation, School District Strategies, STEM Education.
---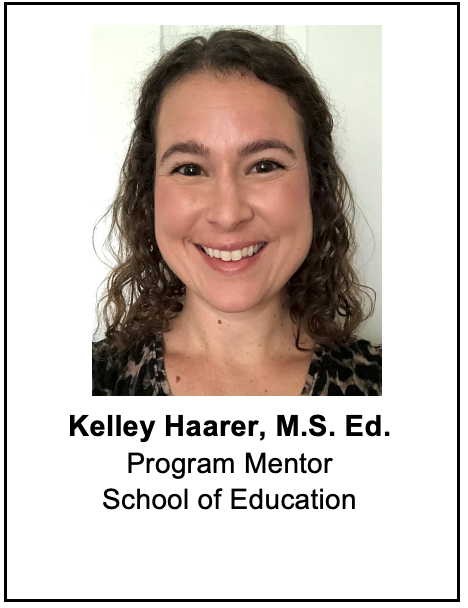 Program Mentor for the School of Education
Kelley Haarer mentors School of Education students through their degree program by providing one-on-one guidance and motivation. She previously served as an elementary school teacher and and interventionist, as well as a secondary reading coach in public school districts throughout Florida.
Educational Technology (K-12), Communications Skills, Curriculum Development and Evaluation, Elementary Education, English Education, Reading Education, Student Mentoring, Learning Experience Design.
---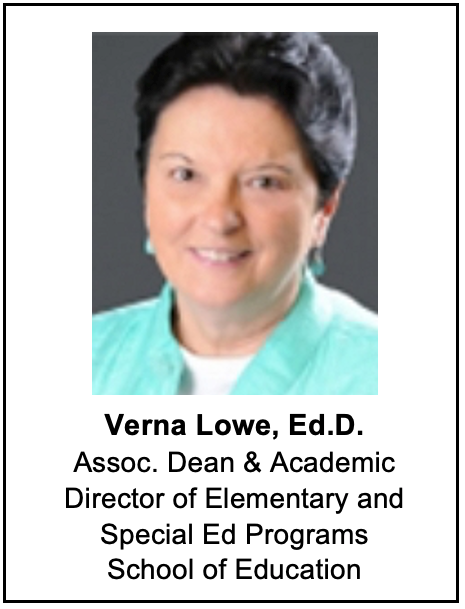 Associate Dean and Academic Director of Elementary and Special Education Programs for the School of Education
Dr. Lowe developed and modeled a support program for students with learning disabilities (SPSLD) in addition to teaching and serving as a school psychologist. At WGU she leads compliance and accreditation work for educator preparation programs in Elementary, Special Education, Math and Science Middle, Secondary Math, Science and English areas. She has served on the State Education Standards Board and on the former NCATE Accreditation Board (now CAEP). Lowe is an author and co-author of numerous publications in professional journals and has been a highly acclaimed speaker, seminar presenter, and panel member or facilitator at professional conferences across the United States.
Areas of Expertise: Developing Educator Preparation Programs, Compliance and Accreditation, Special Education, Assessment, Developing Support Programs for College Students with Learning Needs.
---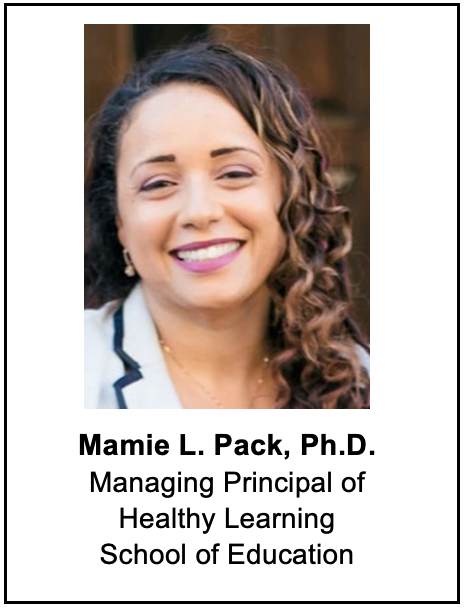 Managing Principal of Healthy Learning for Western Governors University
Dr. Pack is responsible for developing and implementing the strategic vision and roadmap for infusing the core pillars of Healthy Learning – DE&I, SEL, character core, professional dispositions and ethical practices, mental health, and basic needs – into the culture, standards, and practices of the School of Education. She has taught as a faculty member as well as a classroom teacher.
Diversity, Equity, and Inclusion (DE&I), Experiential Learning, Healthy Learning Environments, Military Students & Families, Professional Development for Faculty & Staff, Social Emotional Learning (SEL), Student Support.
---
Carrie Pottinger, PMP, Ph.D.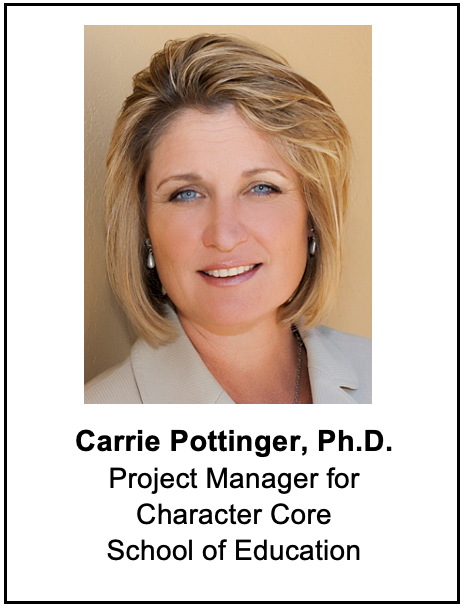 Project Manager for Character Education for the School of Education
Dr. Pottinger co-leads the School of Education's "Character Core" program and is responsible for the health and operations of the school's Character Education microcredentials, while directing and implementing special projects for the school's academic programs division. She was instrumental in federal grant administration to support funding for students in demonstration teaching or work-study programs.
Academic Budgeting, Character Education, Change Leadership, Data Analysis, Field Teaching Experience/Placement, Grants, Market Research, Financial Aid/Federal Work Study Programs.
---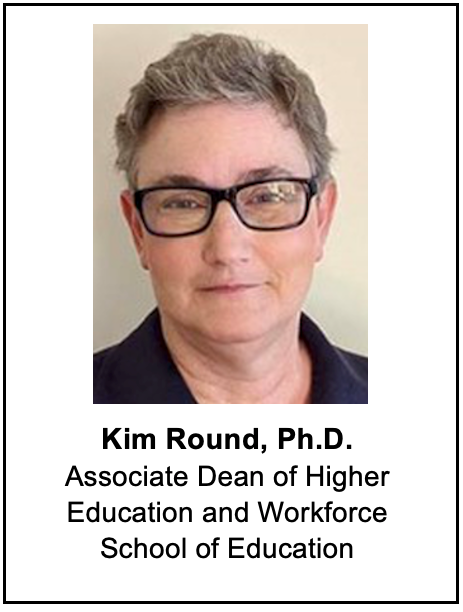 Associate Dean of Higher Education and Workforce for the School of Education
Dr. Round leads the strategic vision for the school's higher education and workforce development portfolio, including key initiative launches such as the M.S. in Learning Experience Design and Educational Technology and microcredential strategic planning. Round is frequently interviewed in the media and serves as a podcast guest and conference presenter and has deep expertise in design thinking and student-centered education models.
Adult Online Learning, Educational Technology, Higher Education Leadership, Instructional Design, Learning Experience Design, Design Thinking, Future of Education, Future of Work, Online and Blended Instruction, Faculty Development.
---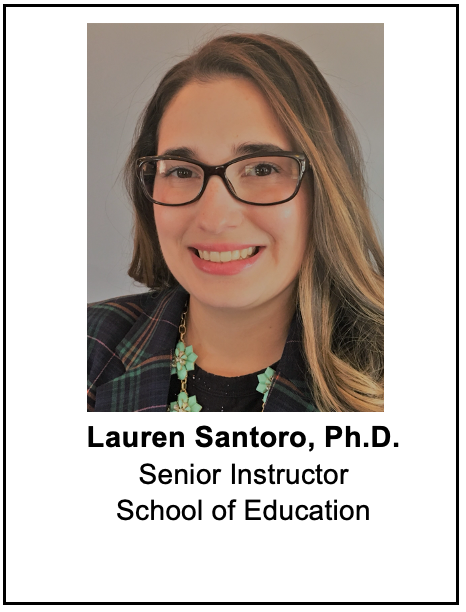 Senior Instructor at the School of Education
Dr. Santoro is a Senior Instructor who currently teaches the "American Government and the U.S. Constitution" course at WGU, and has previously taught courses in "Gender, Family, & Policy," "Public Policy Research Design," and "Empirical Political Analysis."
American Government, Political Science, Public Policy, Women in Politics, Women's Issues.
---
Avril Smart-Goggans, Ph.D.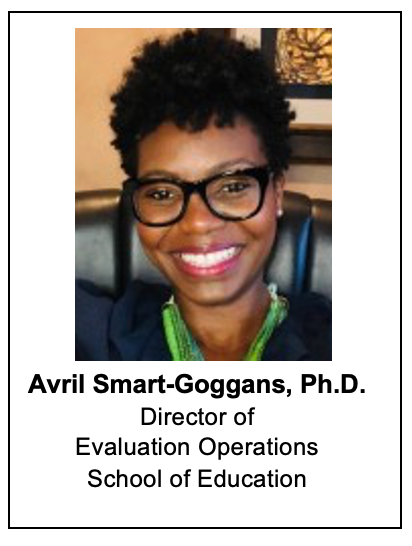 Director of Evaluation Operations
Dr. Smart-Goggans leads the Evaluation Operations at WGU, a complex aspect of the three-fold faculty model that focuses on the accurate, fair, helpful, and quick review of student competencies. She previouslyl served as the Research and Engagement Manager for Future Ready Schools at the Alliance for Excellent Education in Washington D.C. where she worked with education leaders across the country on implementing digital learning. Prior to that, she was a Research Scholar at the William and Ida Friday Institute for Educational Innovation where she led statewide research and evaluation initiatives investigating the use of technology for teaching and learning.
Data Analytics, Performance Management, Community Psychology, Evaluation and Assessment in Higher Education, Competency-based Education, Education Innovation.
---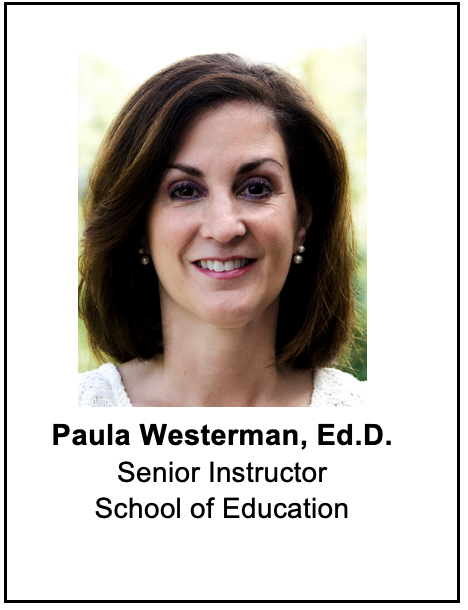 Senior Instructor at the School of Education
Dr. Westerman is a Senior Instructor for Curriculum and Instruction at the School of Education, and previously served as an elementary teacher, elementary and middle school principal, and central office administrator for Curriculum and Instruction in school districts located in central and eastern Pennsylvania.
Early Childhood Development, Elementary Education, K-12 Curriculum Development, K-12 Leadership, Professional Development for Educators, Public School Systems, School/District Administration
---
To contact these experts, please reach out to:
Mark Toth
Senior Communications Representative
WGU School of Education
mark.toth@wgu.edu